With its hidden meanings, revolutionary techniques and pieces that you just "might not get", the art world can sometimes seem pretentious. Although street-art is a different scene, I'd always assumed the artists would think themselves a little too cool to talk to me. That was until D7606 commented on my blog to thank me for featuring his work. I was so excited to be directly contacted by him. His crayola coloured pop-art paste ups brighten the grimy walls they adorn in such a fun way, that I wondered where he was coming from. Here's a little insight into his world...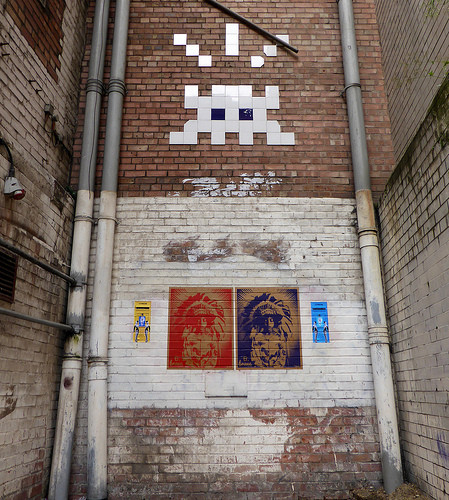 How do you pick the spots to put up your art? Are there any that you are particularly proud of?
Picking spots is not always easy, a lot of areas like the east end of London are quite saturated with street art, finding a spot without going over other peoples work and tags is always a priority. Being respectful to others work is very important to me. So I like to find new spots and go into areas where no one has been before, I did a series of Bollywood actors and found myself in a busy Southall one night, that was fun. I have been into the "urbex" spots around Sheffield where the spray can and letters are king, so adding brightly coloured paste ups to those grimy walls is a risk and one I'm glad I have taken, some will approve and others will not but that's the joy of trying new places.
I first found your work in Stokes Croft, Bristol. How do you find that sort of quirky neighbourhoods and what are your favourites in the UK?
Mostly I am a lover of other peoples work and my photography of that work is how I find different neighbourhoods. Most areas are well know so often I just wander around taking photos, this then gives me that opportunity to do my own work too. I guess my favourite areas right now are Sheffield in the UK and Kreuzberg in Berlin, the back streets are full of grimy walls and doors, a perfect place for paste ups, stickers and tags..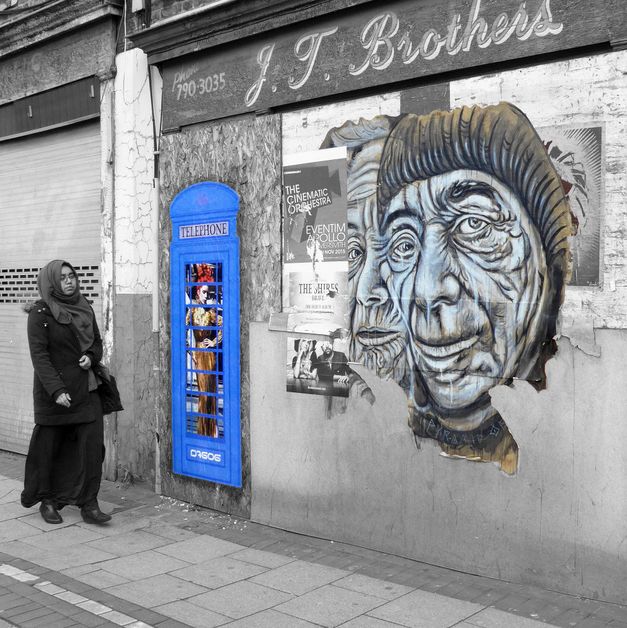 You're from North London originally, so I can see how the British theme is so influential in your work. Have you taken it abroad? 
Yes I love those iconic British symbols, ask an American to name an iconic British symbol and a lot will say our red phone box or post box. They featured in my first work and still do in a big way.
Oh yes, I love to take those iconic British symbols abroad, I have travelled a fair bit in the last year- France, Germany and the USA. Hard to say a favourite place really, all have great art and great spots. Overall New York was the most impressive but maybe that was a size thing? It is massive, so much to see and so much good original work around.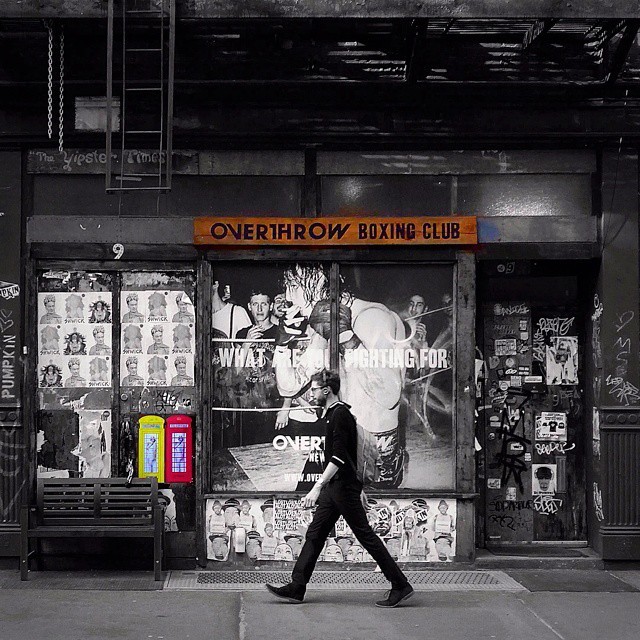 Have you ever got in trouble with the police or other people for putting up your work?
Ha… oh no, everything I do is within the law !!! I am sure I have annoyed people with my work, some artists are honest enough to say… stop !! That's too much !! or that latest work of yours is rubbish. Negative comments are hard to take sometimes but I respect them, we all need feedback good or bad, sometimes we can be lazy and just put sub-standard work up, it's good that some will be honest enough to tell me what they really think.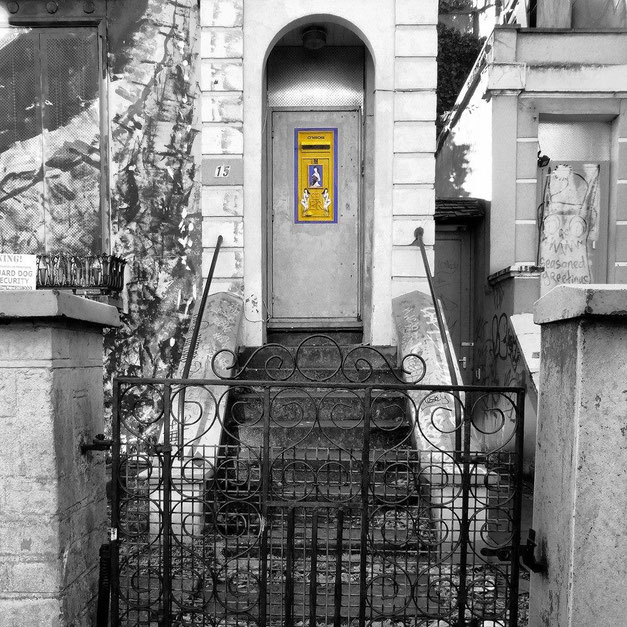 How did you first get into the world of street-art? Has there been anyone particularly influential on that journey?
Well I have followed the world of street art for a while now and just over 3 years ago picked up a digital camera and my new iphone and started to capture what I saw as I travelled around, this led me to wanting to do my own work. I have played around with digital photography and graphics for a while so the next step was to put some of my ideas on to paper then display it on our streets.
I have been influenced by many and continue to be so. Walking around the streets of London seeing walls covered in paste ups by the likes of Donk, Mr Fahrenheit, Swoon and Stikki Peaches spurred me on to do my own thing.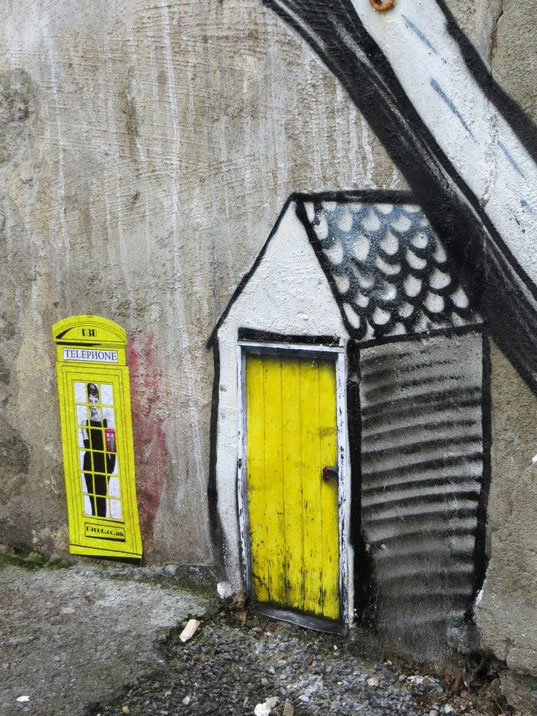 Do you enjoy collaborating with people? Who have you worked with before and how did it go?
Oh yes I love to collaborate with other artists, working with like-minded and talented people is such fun. I have worked with quite a few now and have a list of others who I want to work with and vice versa. When I first started, the collaborations I did gave not only confidence in my own work but their guidance and advice was so helpful. A big thanks to Gee Street Art, Benjamin Murphy and 616 who I first worked with :)
In a dream world, who would be your ideal street-artist to work with?
Ha, that's a hard one, there are many who I admire and would love to work with. Well I'll name just a couple, Mr Fahrenheit and Stikki Peaches.
One of the most interesting things I find about street art is it's temporary nature. I would struggle to see something I loved be covered up or torn down. Does your work often gets destroyed and does it bother you?
Oh yes, most street art is very temporary, often works only last a few days, I would love some to last a little longer but that's just how it is…. When you have spent time and money on a piece of work you do want it to last a little while, some locations are better than others, if you take Berlin, I've had work up in some places for over a year and they look almost brand new yet other works I've done in London have lasted less than a day.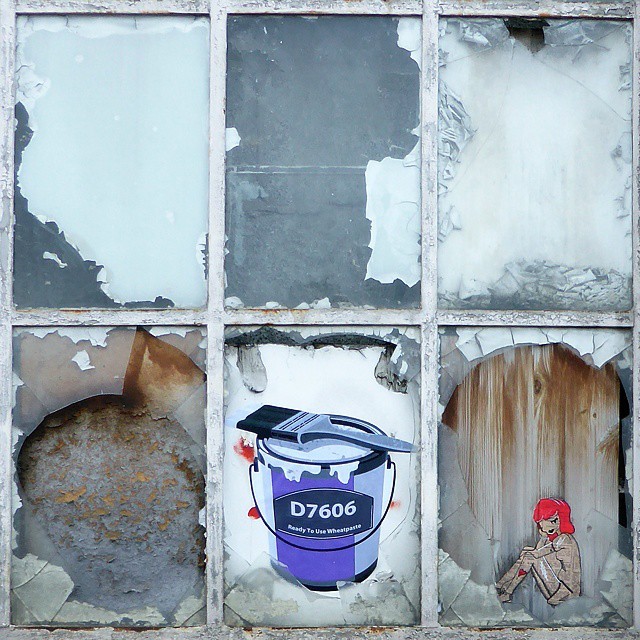 Your use of colours, everyday objects and famous women are very reminiscent of pop-art. Has your style been inspired by that movement and if so do you have any favourite pieces or artists?
Oh defiantly, I love all that 1960/70s pop art, Andy Warhol has certainly left his mark on me as well as the rest of the world, his influence of that time is all around us every day, just walk down any supermarket aisle and you can see pop art. I don't have a favourite piece as such but Andy Warhol is certainly my favourite pop art artist.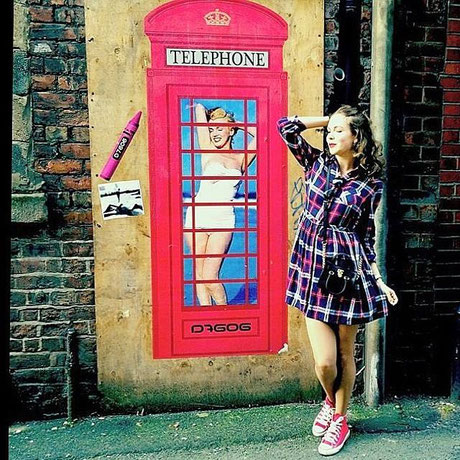 How have you chosen the people to squeeze in your phone boxes?
My first two ladies I chose to imprison in my telephone boxes were, Marilyn Monroe and Elizabeth Taylor, both are so iconic and big favourites of mine. My third was a request from a friend of mine, she was a big Rihanna fan so it just had to be done, just like my Samantha Fox, that was another request, that one worked so well I think.. Sam Fox in a Box !! Others are people I admire mostly or are iconic, I am a big music fan so many have been artists who's music I love.
What drives you to continue making more street art?
I just do it for fun, I don't do deep meaningful art or politics really !!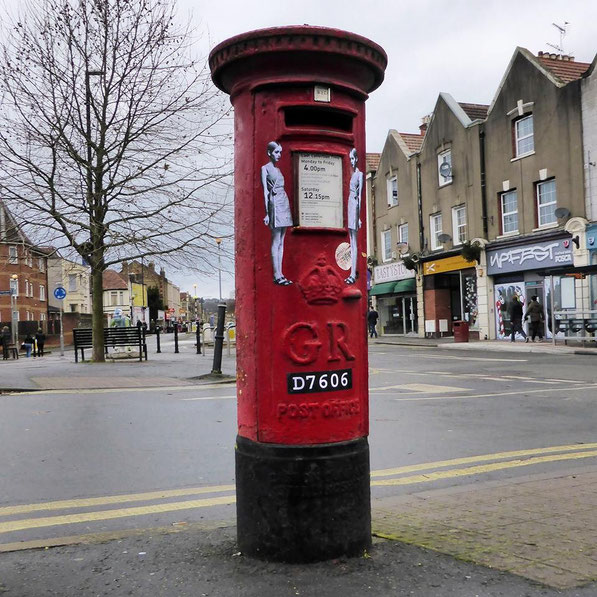 What direction do you want to head in with your work? I love your giant crayons! Will you be sticking with the Crayola colours in future?
Well thank you, the crayons were something a little different and went down really well so I am sure they will stick around for a while yet. I have some other projects lined up, I am working on my first ever screen printed art prints for a gallery in London. They mark an exciting venture away from digital printing, one that excites me and will give me some new options in my work.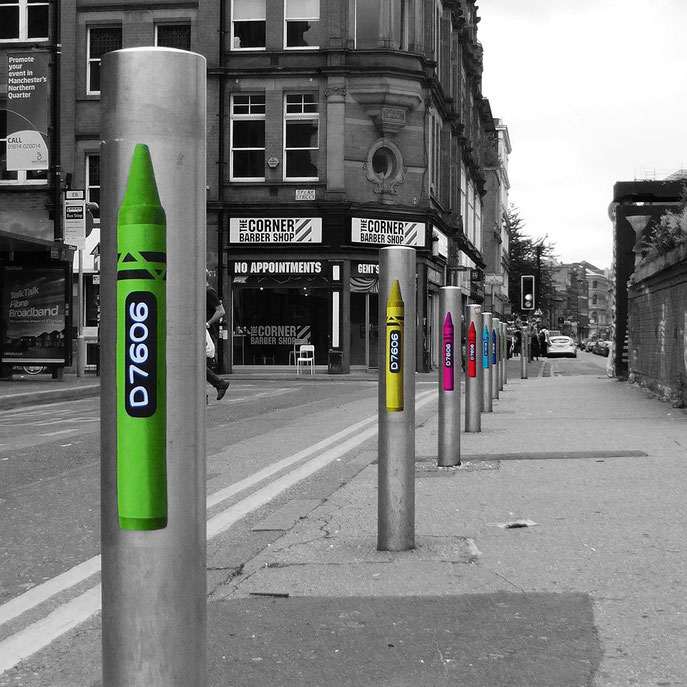 Finally, your name is pretty cryptic. Does it mean something?
Well sadly D7606 was a number of a British class 25 diesel locomotive, a long story but I have photographed many things in my life and one of those was our great British Railway. D7606 was a favourite of mine and the tag I used on my railway photographs.
Haha! That's great. Well, thank-you D7606, it really has been a pleasure.
***Most of the photos on here have been taken (with permission) from D7606 himself. Find him on facebook and instagram for more. :) ***
If you're interested in street-art you might also like...