As part of my usual expedition to catch up with as many of my favorite people as possible while I'm in England, I headed down to Bristol for New Years Eve to see my friends Sam and Steve and the rest of their motley crew I associate with festivals, raves and long days of doing very little. By the afternoon of the Second of January, I'd finally recovered enough to remember where I was and have a little explore...

This is Stokes Croft: Bristol's alternative cultural heart and home to a bohemian selection of squatters, hipsters and others who seem to enjoy a distinctly higher annual drug intake than elsewhere in the country. If you want to find street-art, Stokes Croft is the place to look.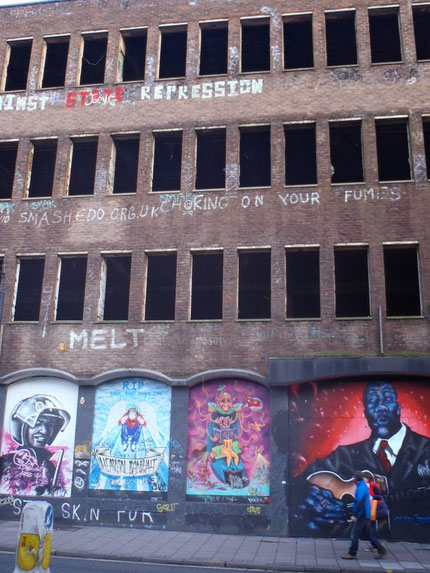 "The Mild Mild West..."
Unless you're walking around with your eyes closed, it is pretty hard to miss this Banksy from Jamaica Street Junction.
According to the fountain of knowledge that is Wikipedia, it's been here for over twenty years, but had to have some restoration work after some idiot decided to smear red paint over it in 2009. It's looking pretty good again now though.
You'd think that a Banksy would be the highlight of my discoveries, but ever since I found him on the internet a year or so ago, my favourite street artist has always been Phlegm. His intricate black and white drawings have the mystical quality of characters from a fantasy novel and here, imposed on top of this red Tsunami, create a striking, but essentially playful mural. I love how he has used stilts to stop their feet getting wet and what is that bird doing?!
At this point I could have left Stokes Croft pretty happy with my afternoon's discoveries, but everywhere I turned there was more...
These two, on opposite sides of a small side street, are particularly fantastic... The expression on that elephant's face is excellent.
Telephone boxes by D7606 who found themselves on my old blog and left me a comment! 
Find him/her on twitter @D7606ART or facebook.
The best way to find unusual pieces of street art that aren't immediately visible from the main street is to wander aimlessly down random alleyways until you find one that looks promising. 
Found this guy hiding in a corner...
So that is Stokes Croft. If you're in the area be sure to have a look for yourself as these walls get covered over fairly regularly and you're bound to find something new.