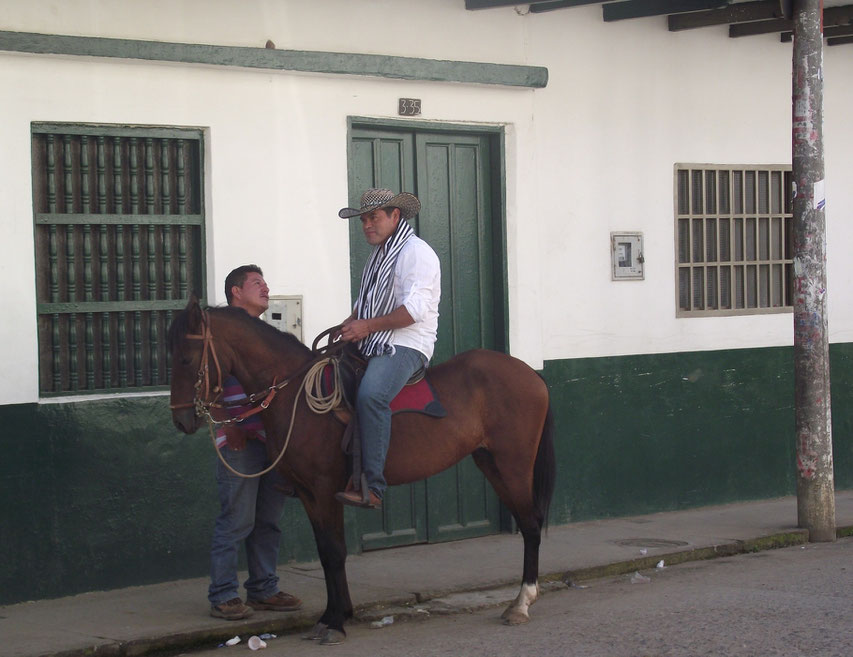 I don't know if it's just me, or maybe the presence of so many horses and those hats, but San Agustin feels a bit like the Wild Wild West. This small, isolated town up in the mountains of Southern Colombia is picturesque, but would never have been considered any more remarkable than its neighbours had it not been for the discovery of the largest group of religious monuments and megalithic sculptures in the whole of South America. It must have been quite some excavation!
Firstly though, the town itself is worth exploring: there are plenty of cheap, tasty places to eat, people are friendly and they've really been very patient as we've tried out our limited Spanish with them. I've been trying to capture some of the locals going about their every day lives. I find taking portraits very difficult, but this horse was tied up and therefore fair game...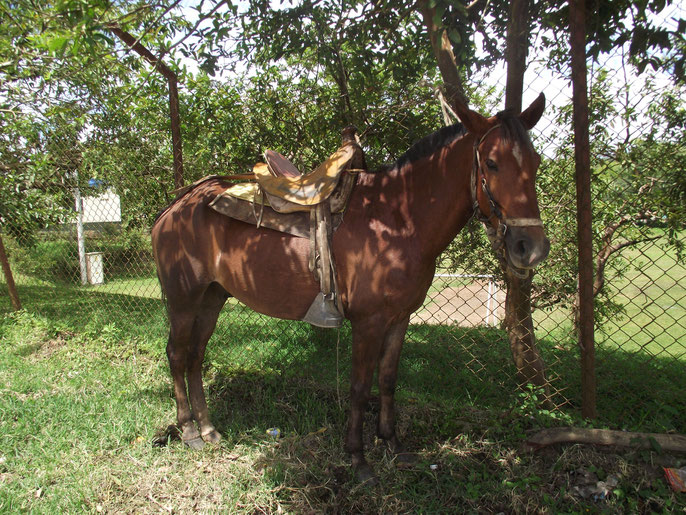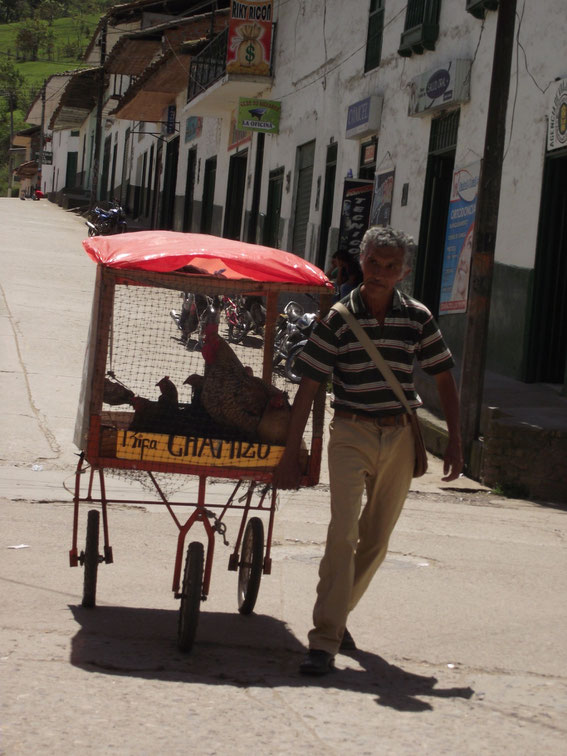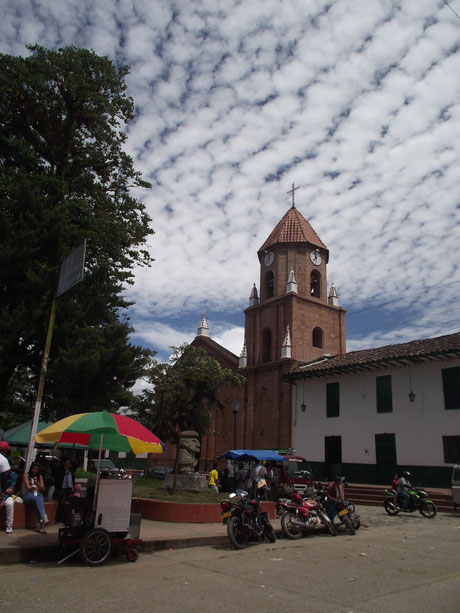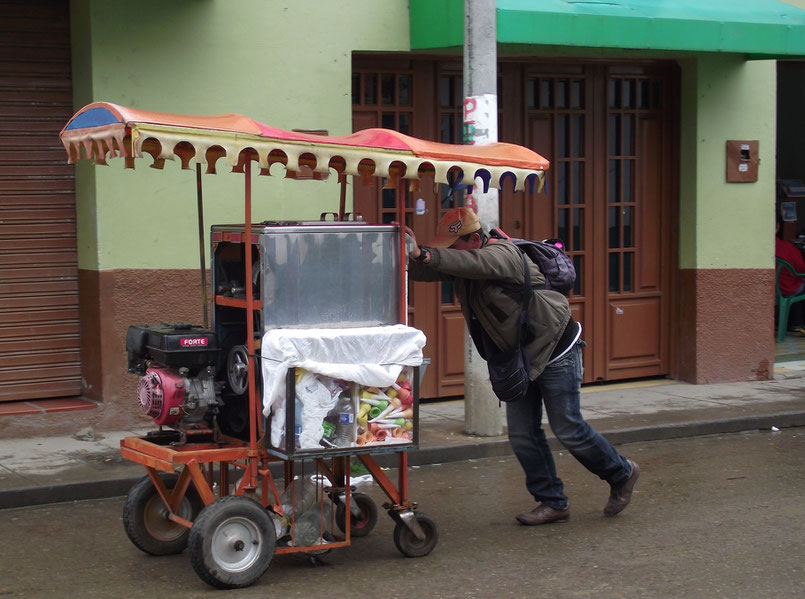 As I just mentioned, the wilderness surrounding San Agustin is home to a great many ancient statues. According to the somewhat vague information notices, these are older than the Incas (probably from around 100 to 700 AD) and after being damaged by looting in the 18th and 19th centuries, were protected in 1931. There are dozens of photographs of men pulling these stones out of the ground, but no solid theory as to what they are. According to the sign next to one "this figure may represent a frog", but to us it looked pretty sloth-like, so I think the real answer (as with most ancient history) is that nobody has any idea.
I think I like that though, San Agustin maintains a shroud of mystery and there are certainly enough to look at while you try to come up with the answer yourself.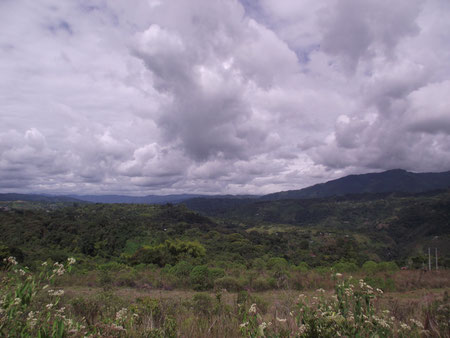 The general consensus is that these where burial tombs and that the statues show some sort of link between deceased ancestors and supernatural power. As they were found protecting the funeral rooms, sarcophagi and burial sites, they seem to be guardians of the dead and with some being more than four meters tall, I'd imagine they would do the job nicely! 
If, after a couple of hours, you are a little tired of statues, make sure to bother walking up the last hill. Even in the clouds the view was amazing.
The main archaeological park is only a couple of kilometres outside of San Agustin (ask anyone and they'll point you in the right direction), but to see more it's probably going to be a very long walk. I'm slightly ashamed to say we took a tour... For 25,000 pesos each (around £6 and rather a lot for our tiny budget) we were driven around from 9.30am until 6/7pm. I was pleased to find that this wasn't the sort of excursion where you are shepherded along in a group, but instead were given as long as we liked to explore each place independently.
The driver even let us ride on the top for a while, which was quite exhilarating along the potholed mountain roads...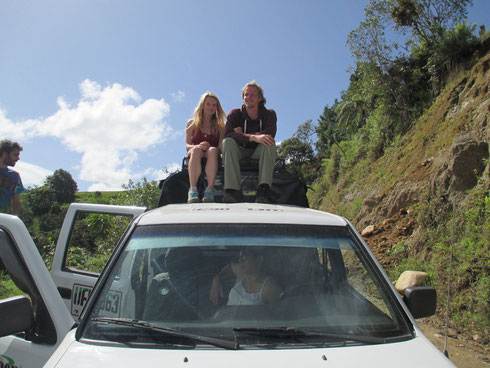 I won't bore you with more pictures of statues (although there were plenty and they are very intricate), but the scenery really was incredible.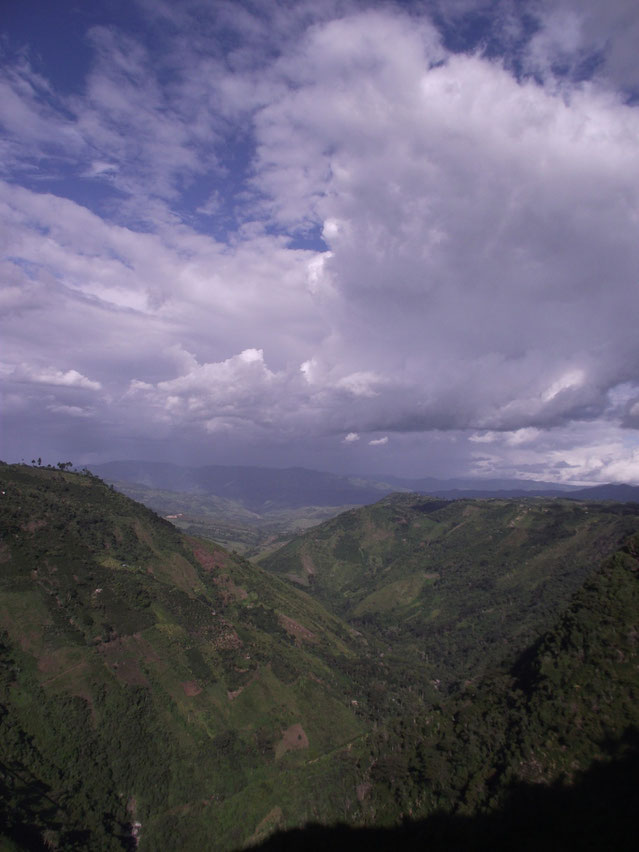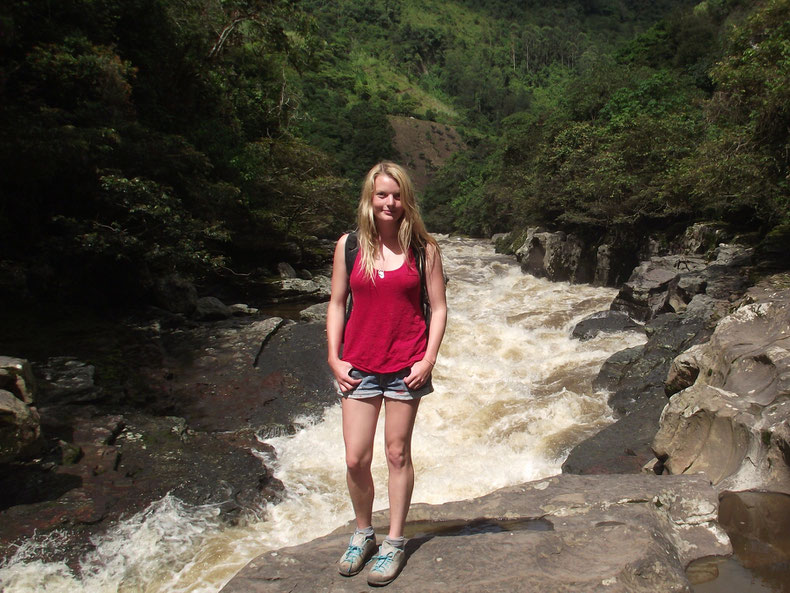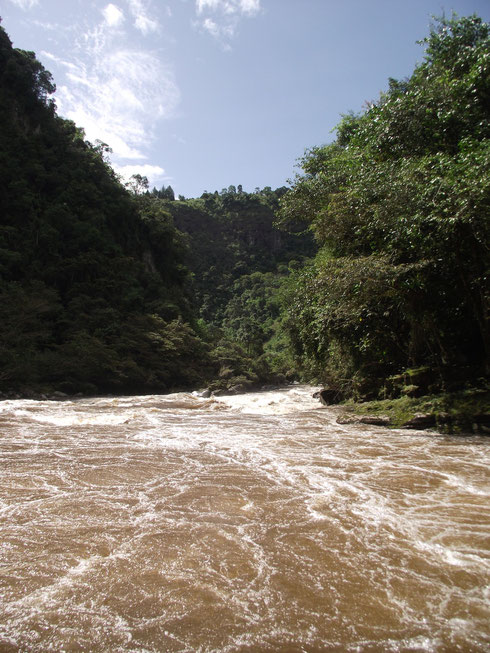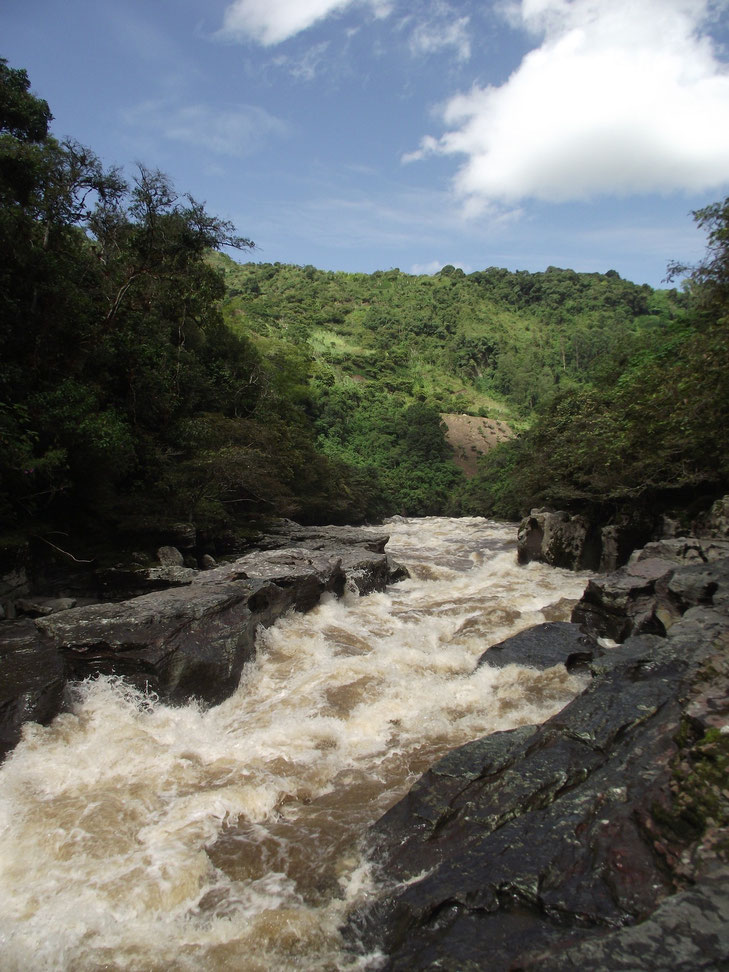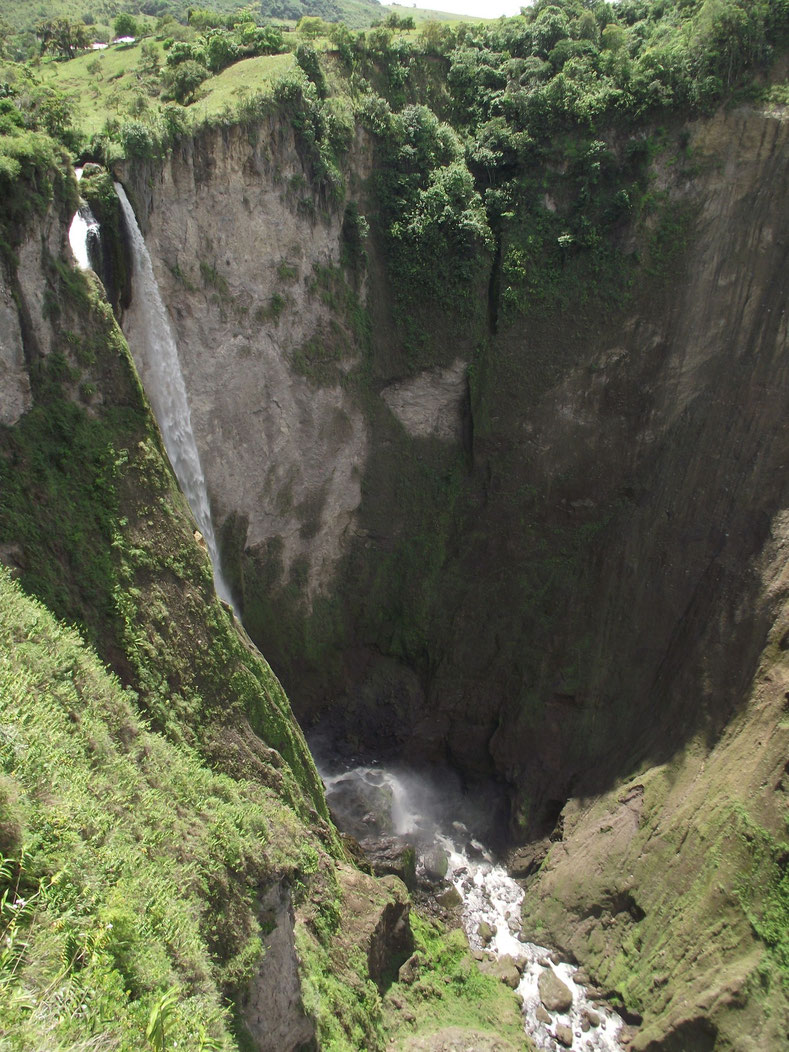 As usual, Dan and I have been enjoying as much food as we can afford to buy in San Agustin. For an affordable, filling and reasonably well balanced lunch the best thing to ask for is the "menu del dia". For around 5,000 pesos you'll get a soup, followed by a meat of your choice, rice, beans and usually some salad or vegetables, as well as a drink. For breakfast, which is a bit cheaper than lunch, the nicest thing is probably coffee, eggs and arepas (a Colombian speciality flat bread made with maize dough or cooked flour and sometimes containing cheese in the middle). You can choose how you want your eggs cooked, so it's good to learn the words for scrambled if you don't want them too oily- ask for "huevos revueltos".
These options are good for both your stomach and your pocket, but to live even more cheaply it's best to check out the small bakeries, street stalls and fast food shops which sell fried Colombian specialities such as these spicy treats above. It's always a little bit of a gamble if your Spanish is bad, as it can be hard to tell what's inside, but at around 500 pesos (this is about 15p!) each it's worth the risk.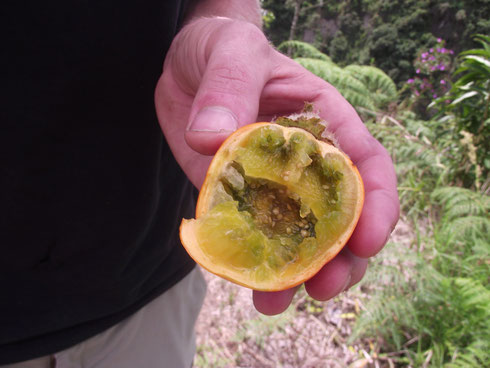 As a lot of the cheaper food here is often loaded with fat, sugar or salt, and can be a it much for our gringo digestive systems, it's good to get some vitamins from the local fruits and vegetables on offer. Above is the slightly strange tasting Lulu fruit, but there is also an abundance of guavas, plantain and many others to try.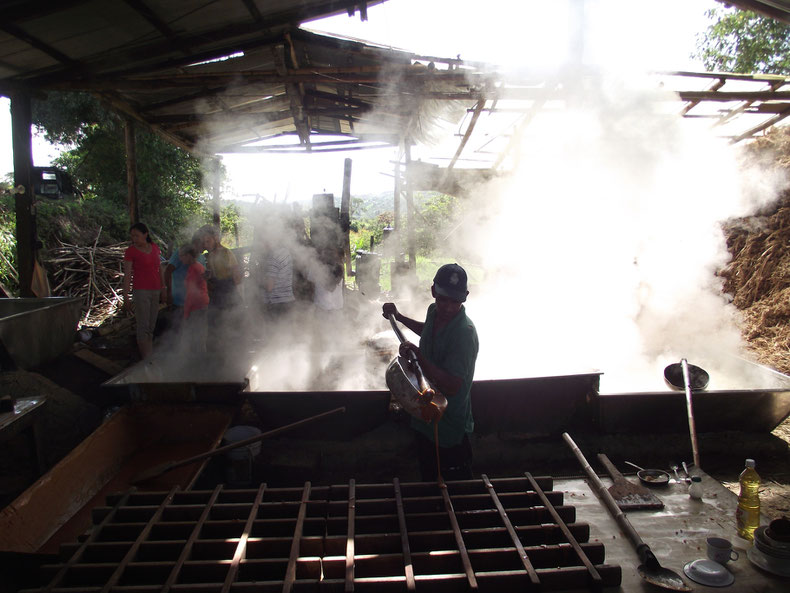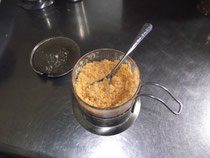 Panella is Colombia's sweetest secret. Made with fresh sugar-cane, the thick liquid is poured into a wooden frame and cooled to make solid bricks. You can you buy a whole one for 4000 pesos (£1.20ish) or just enjoy it ground up in your coffee from any of the local cafes. We've found just about everything from peanut sweets to bread and cake fillings are made with panella and considering how much people sweeten things here, it's a enjoyable change from processed white sugar.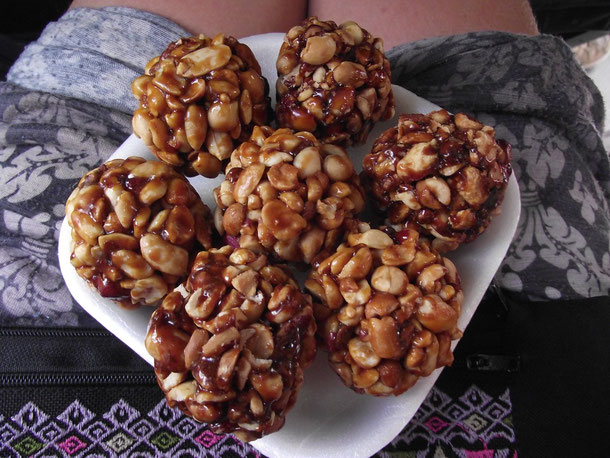 Apparently guinea-pig is tasty, but has a lot of bones to pick through. Having had them as childhood pets, I'm not sure I could eat one, but I'm sure Dan will try at some point...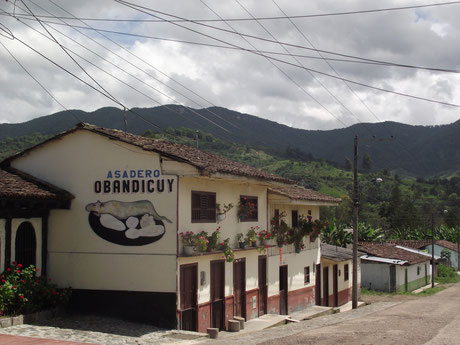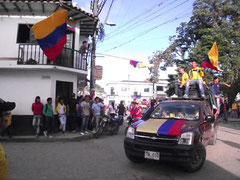 For a small town San Agustin certainly knows how to celebrate and we were lucky enough to be there when Colombia beat Uruguay in the World Cup and advanced to the quarter finals for the first time in history. Everyone took to the streets with their horns, flags and primary colours to celebrate and throw flour at each-other. We managed to avoid getting hit this time! 
Colombia generally has an abundance of public holidays and celebrations which give the population an excuse to party and the country a positive vibe. Below is a procession I came across one morning while looking for breakfast!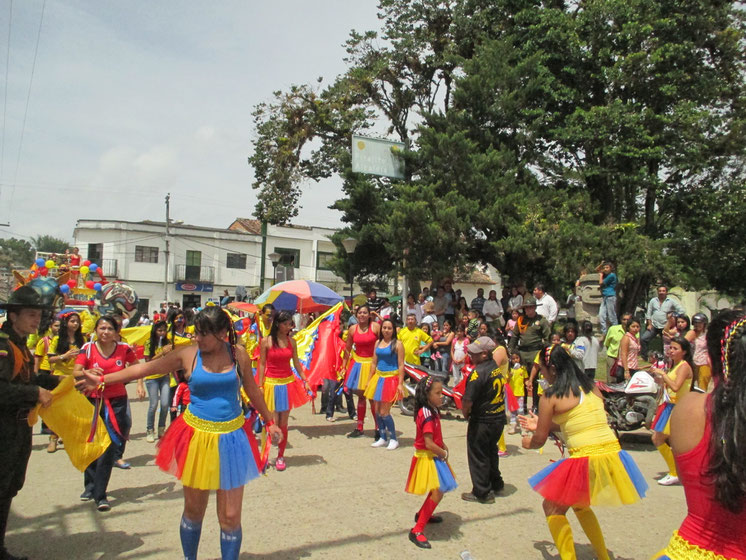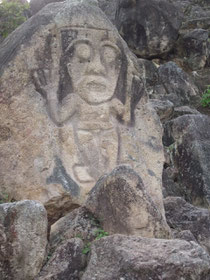 On our final day in San Agustin, we walked up to La Chaquira. Just a few kilometres out of town, this ancient sacrifice site is worth a visit even if you've had your fill of statues.
This carving overlooks an enormous valley, several waterfalls and the river below- on a clear day you can see the blue mountains in the distance while also appreciating the difficulty of the farmers who work on the impossibly steep sides of those a little closer. It can't be the easiest terrain for growing crops! 
Make sure to wear sturdy shoes as the walk is very muddy.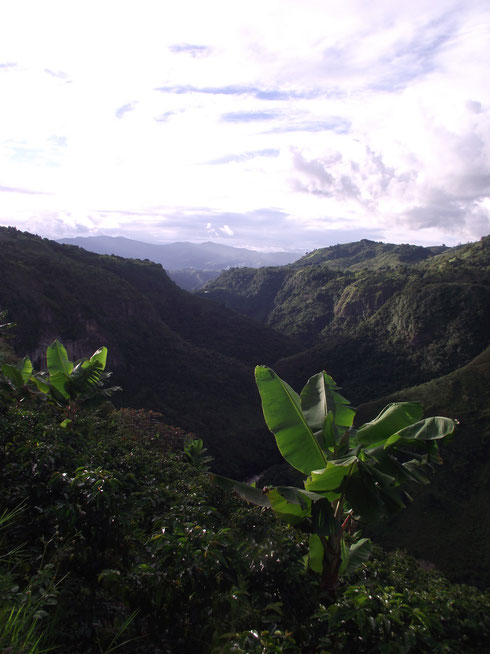 There's plenty of accommodation, but we stayed in Camping Gamcelat which cost 5,000 pesos (about £1.30) per night. It's on the way to the archaeological park, just outside of the town, and has toilets, cold showers and free wifi.
It was so relaxed and we were enjoying San Agustin so much that we ended up staying for nearly a week!