Camping next to the river, surrounded by cloud forest, with the occasional eagle swooping overhead, we've spent most of our time in Mindo cooking.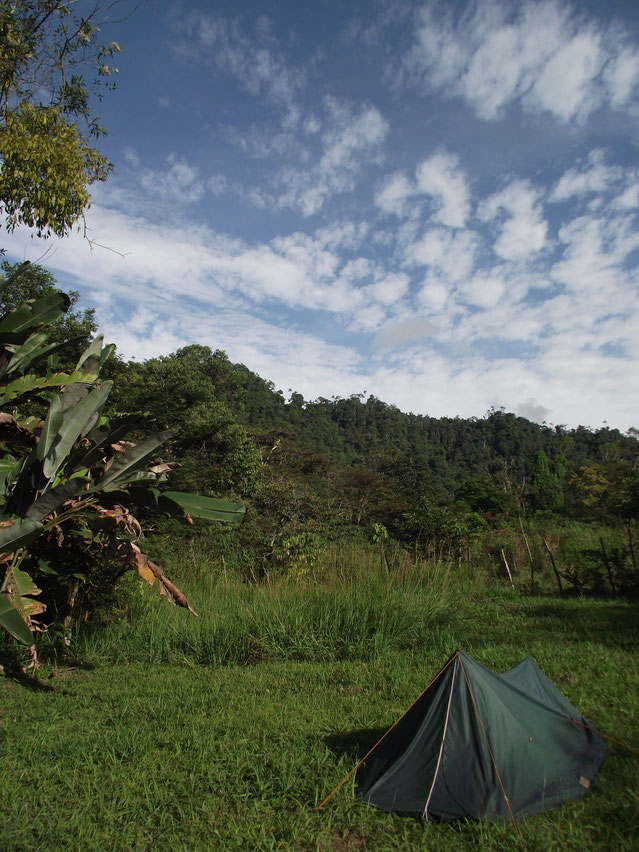 Six days ago, it wasn't the most carefree arrival... dithering and goodbyes set us back to 2pm leaving La Esperanza, but thankfully the buses to Ibarra, then Quito were straight forward. Only half an hour away from the capital (which we didn't have the money to stay in for now) did I read in our guidebook that the last bus to Mindo left at 3.45. It was 4 already and we were expecting to have to travel between terminals.
As luck would have it, there seemed to be a bus going from just where we were dropped off. Several people pointed us in its direction, but lacking a destination on the front or reliable enough Spanish to be sure there was no confusion, we started to get a little worried as darkness crept up on us and we wound further and further into the forest. What seemed like hours later (neither of us have a watch) there was a bit of commotion and "MINDO" was shouted down the bus- obviously directed purely at us.
We clambered out, grabbed our things and looked around us. We'd been left in a lay-by opposite a giant sign with "Mindo" and an arrow pointing down a dark side road. In the beginning there were street-lights, but they quickly died out leaving us walking in the pitch black round one corner after another, diving onto the verge every time a car came past. 
Around 45 minutes (maybe an hour) later we started to come into the town. Ideally we were looking for a campsite, but spotting a hostel sign for $6, all those intentions went out the window.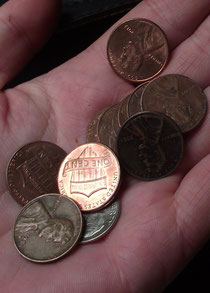 In the morning, just when we thought we could relax, Dan informed me that, after we'd payed for the night, there was only $1.20 left. It seemed that the only ATM in Mindo didn't accept Visa.
After scrabbling all our coppers together and paying for the bus to the next town, Los Bancos, this was what was left...
Thankfully the cash-point accepted my card and we've had a much more relaxing time since that morning. Mindo itself is a bit too much of a tourist hub for my liking, but a little out of town we've had a beautiful camping spot to ourselves since we arrived.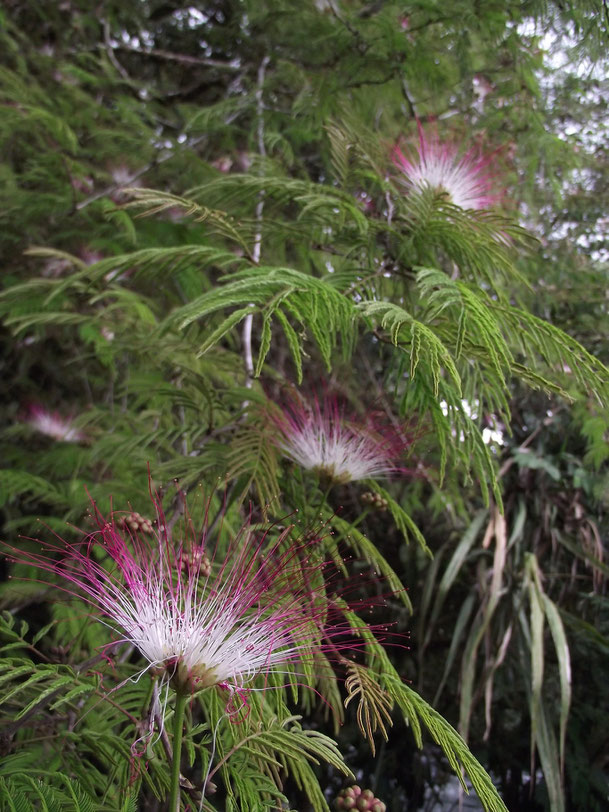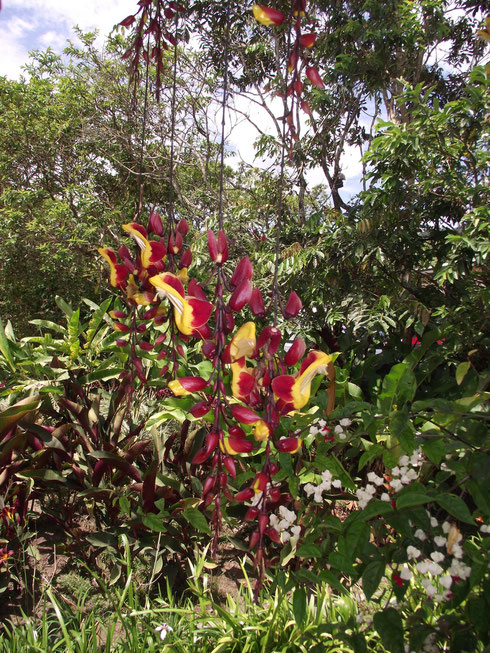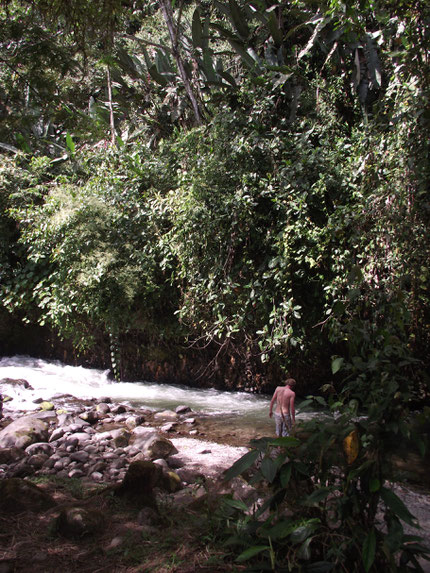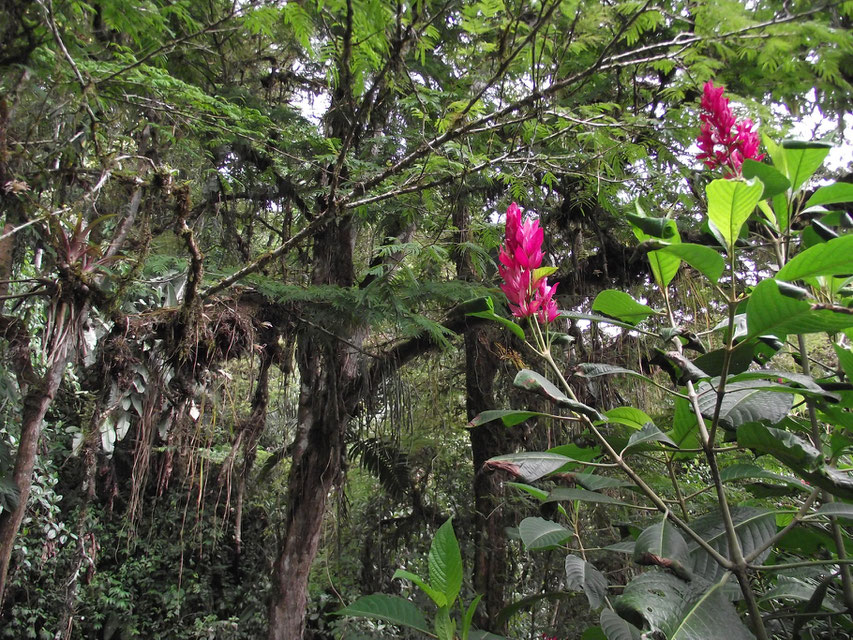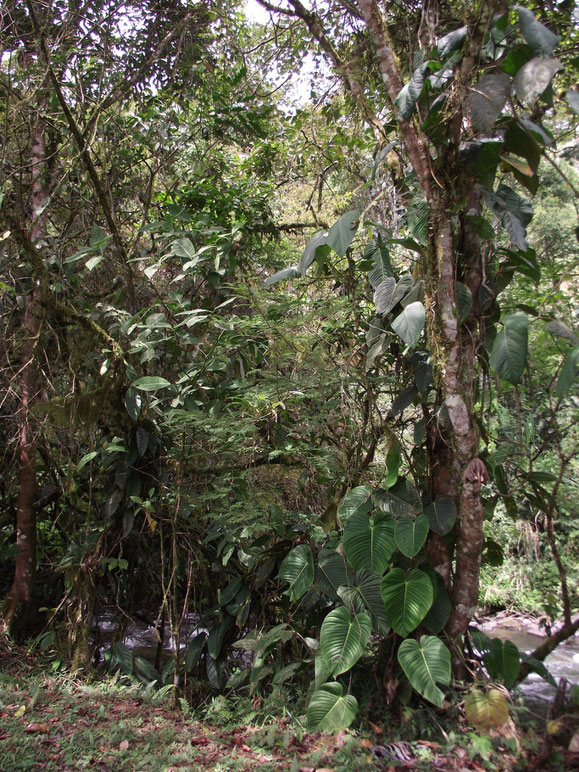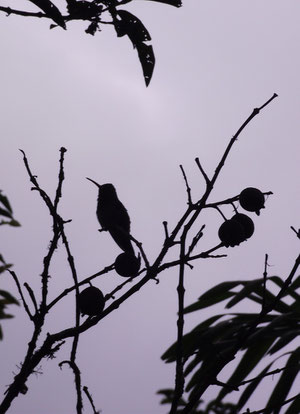 We originally came to Mindo to see the hummingbirds- of which there are many, but nearly all too quick for the camera.
As well as the birds there's red squirrels, butterflies and a range of weird and wonderful insects to see, including the enormous stick-insects below.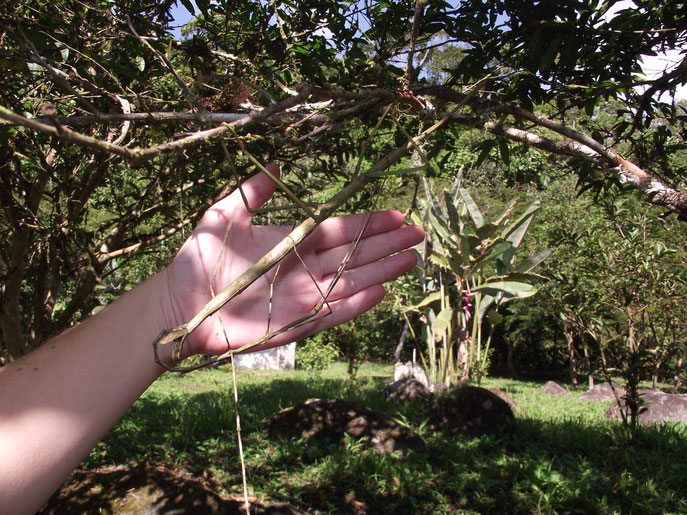 One evening I set up a moth trap with our mosquito net. Unsurprisingly, we caught a lot of mosquitoes, but there were a few moths too.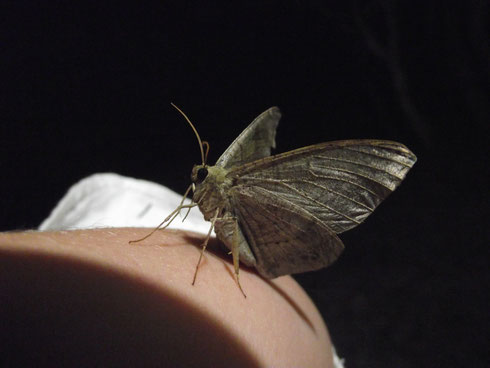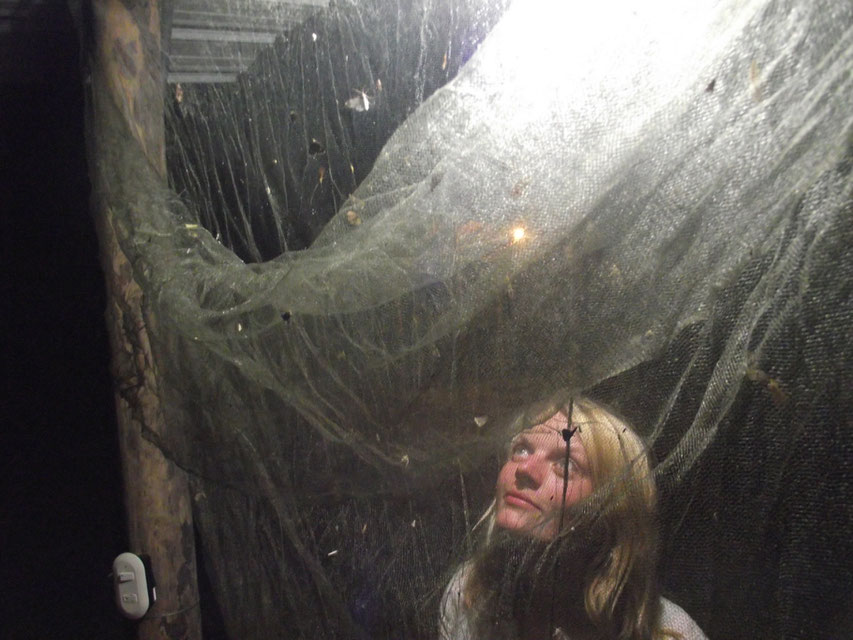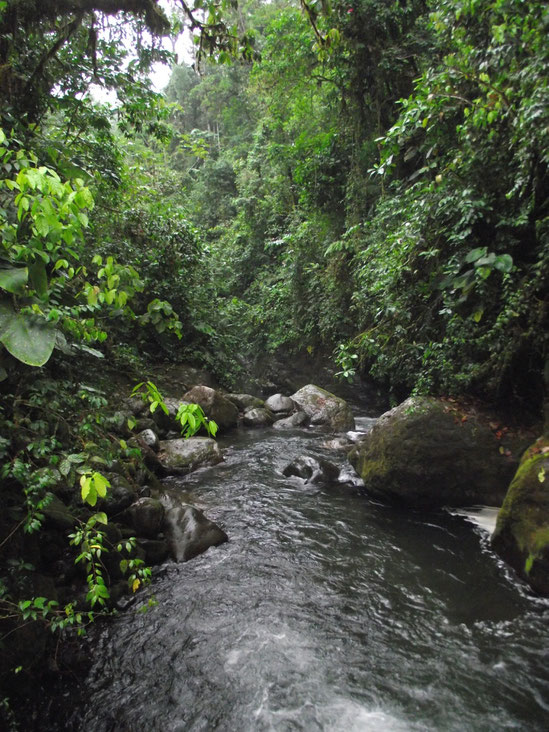 After several days of lolling around doing very little, it seemed like a good idea to get away from the tent. We followed the signs for a waterfall 7km along a side road, then down a little path into the jungle.
What people might not tell you about Mindo is that it rains for at least half of each day, usually in the afternoon, and by the time we reached the river we were soaked through. What we found was the eery remains of a water park with all manner of concrete constructions, slides into the river, abandoned toilets and tattered rope zip-lines that reminded me of the now banned 'tubing' site I once visited in Laos. Everything looked so ramshackle that you can only assume that it was closed after someone was seriously hurt.
A little further on we encountered a family who were making the best of the weather by going for a dip. Only after Dan asked which direction the waterfall was in did we realise we'd walked straight past it...
At at grand two meters high, it's safe to say the signs were a bit misleading.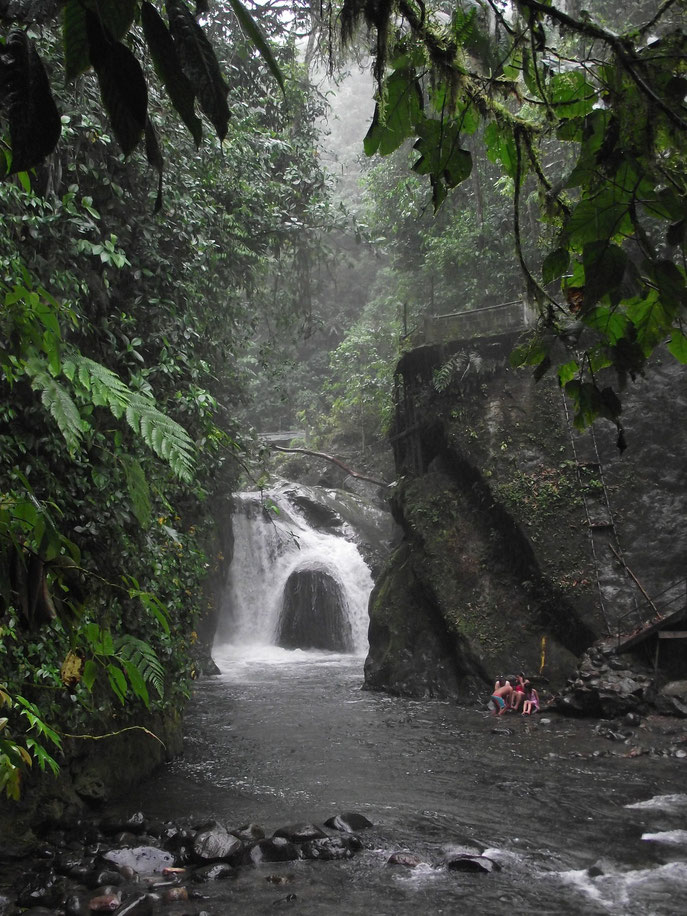 By the time we'd clambered back up to the road, the idea of another sodden 7kms walk back to Mindo wasn't very appealing. We were planning to hitchhike and after sheltering for a moment with a man selling brownies, realised he had the same idea.
Unfortunately only one, full car sped past, but by the time we were back to town we'd been invited for coffee. Before we knew it we were being given a three course meal in our new friend's flat.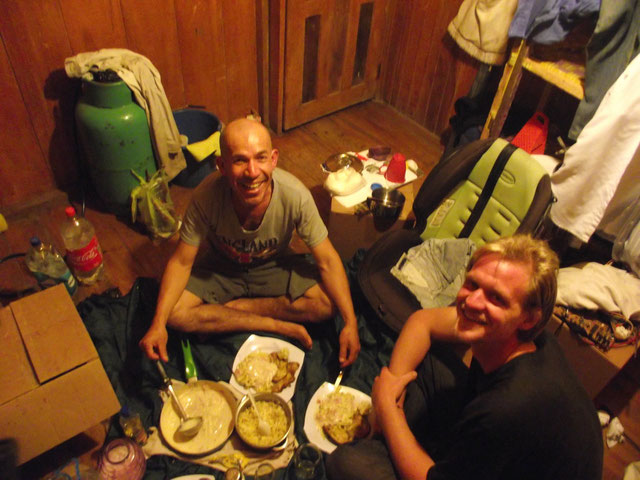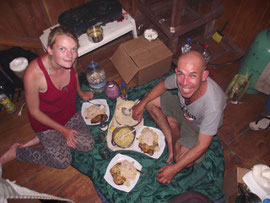 Although there were no chairs, tables or quite enough cooking utensils in his room, Jamie's food; coffee, bread, avocados, pasta with white sauce and ham, followed by strawberry pancakes and tea, was delicious.
We were invited to stay the night, a week, for a year, but eventually made our excuses and headed back to our tent to dry our soggy things. 
I'll leave you, and this rather lengthy post, with some butterflies.
Useful Information
We camped at Mindo Real for $4 a night. It's a bit holiday-park esc up by the entrance, but down here by the river is lovely and quiet. The people who run the place are also very friendly and have given us free fruit, wood to burn and occasional drink. In the camping area there are several places to cook (fire pits, bbqs etc), a covered area to eat under if it's raining and a toilet/shower block. 

*If you are looking for a cheap bed to stay in in Mindo, at $6  a night, Tia Mely is a good bet. The walls aren't very soundproof, but the owners are nice, it's interestingly decorated and there's free wifi.