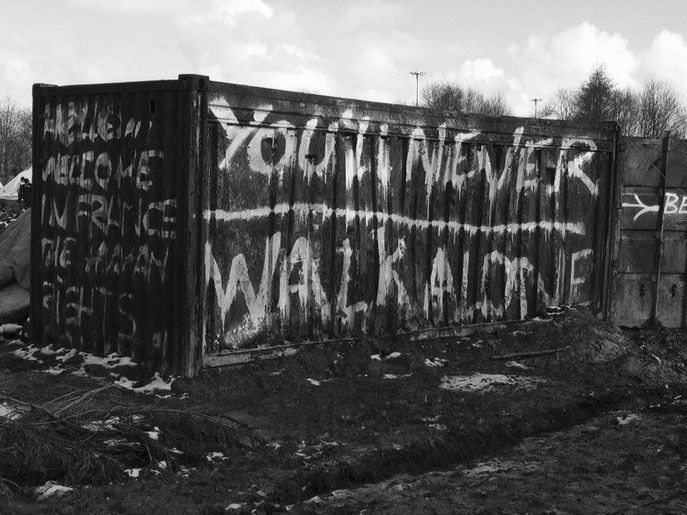 *If you haven't got time or energy to read my waffle and are simply interested in the logistics of
volunteering, slide right down to the bottom and read the useful information section.*
**These photos are borrowed from the friends I met in Calais. Thank-you in advance.** 
I'm struggling to find the tone of this article; shying away from self-congratulatory or callous, and after only a week there acutely aware of my naivety. On leaving, nearly everything in my normal life seems pointless and yet I still bumble along as if before. 
I've been wanting to help the people stuck at Calais since early last year, but excuses tumbled over each-other and it wasn't until last week that we finally sorted ourselves out enough to spend a little time around "the jungle"*. 
*The name made me uncomfortable before we went out, but since meeting a few of the refugees, I begin to think of it as a dark in-joke between those who've been forced to live in a situation that many of us wouldn't wish on our pets.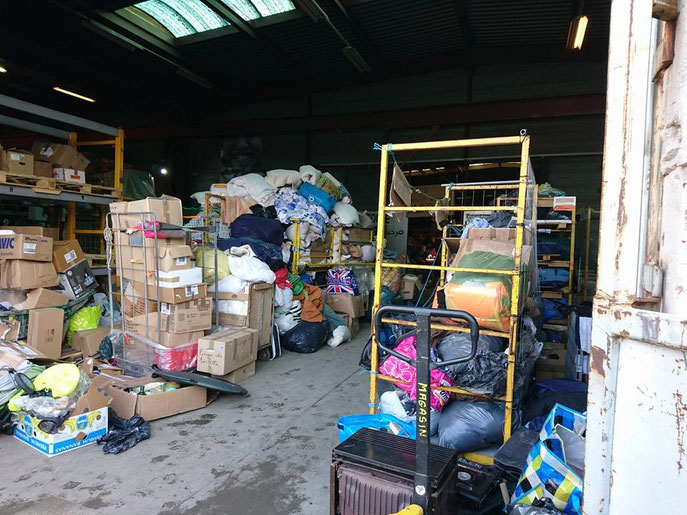 We made our way from Exeter to London and on towards Calais with the ineptitude of children. Accidentally ending up in the jungle, lost for hours and embarrassingly late, we were finally welcomed at the warehouse by people grateful for some extra pairs of hands. Where less than a week ago the donations had begun to dry up, there was now a mountain of unsorted bags to work through. We categorised loosely into male and female, putting anything debatable in the men's section to make up for the disparity in both donations and refugees in Calais. Anything broken or dirty was recycled, but the rest were then painstakingly divided down by clothing type and size. We learnt about the other people working there; long term volunteers and others who like us, were simply taking a break from their relative normality...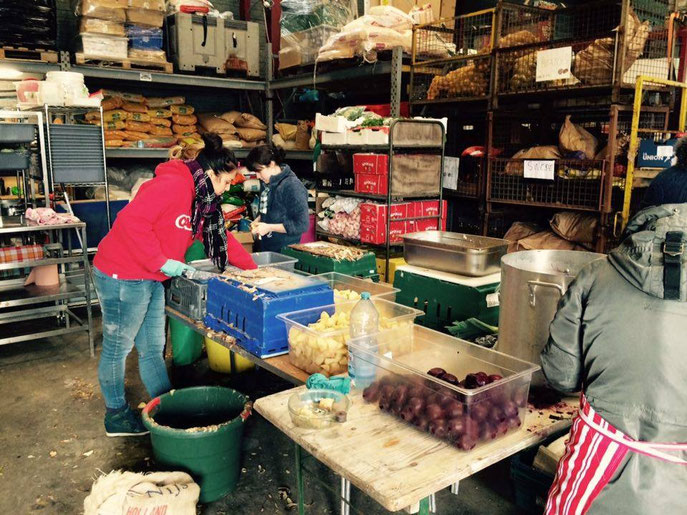 Lunch was home cooked and we spent an afternoon loading up a lorry for Syrian families who'd escaped to Lebanon. Seeing Toma, a Syrian man who had spent time in the jungle before making it to England and coming back to Calais as a volunteer, working with such enthusiasm and laughing with the lady who represented SB Overseas about their different accents, filled me with more hope than anything else I saw there. She was keen to talk to Dan about his visit to Syria before the war and he was sad to confirm that everywhere beautiful he'd visited was now destroyed.
 Photo credit- SB Overseas
Approaching 5pm on our first day, when the warehouse began to wind down, we were asked if we'd like to help the builders. They needed some extra heavers and screwers of wood and over the rest of the week we became increasingly involved in a race against the authorities, who seem determined to remind people of the destruction they've run from. 
I'm cautious about dramatising people's lives in the jungle as there is surely a vicious cycle around Western Europeans being unable to relate to refugees and our governments' lack of positive action. More than anything, in the part of the camp that wasn't being destroyed, I was struck by how well everyone was managing despite their precarious situation. I can't decide whether I'm ashamed to say I enjoyed being there... In return for our bumbling efforts, people shared some of their stories and offered us Afghani Eggs, tuna pasta and warm drinks. Left alone for a couple of weeks or months, interlocking villages had been forming, people's shelters were decorated and shoes were strictly for outside. We tried coffee with ginger and cloves and sat around a chef as he prepared our spicy eggs with tomatoes and large, floppy nans.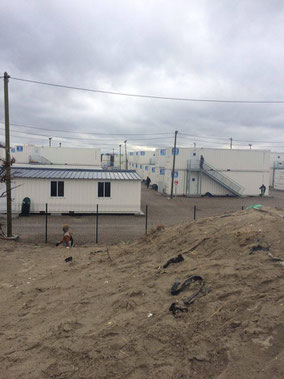 Despite the hospitality, it was obvious that some of the refugees and volunteers were reaching breaking point. Having got to the stage where nearly everyone had a half decent place to sleep, it was a painful stab at morale when the government's order to destroy the South side of the jungle was upheld. People are insistent that the shipping containers are unfit for purpose- there is little consideration for the special requirements of families and unaccompanied minors, fingerprints are taken (the refugees fear this will remove any chance they have of ever receiving asylum in England) and there are no communal areas for cooking, praying, learning or socialising. The restricted access coupled with this sterile, impersonal appearance, make life there little better than in prison and besides, they were nearly full up. A severe lack of consistent and reliable information reaching the refugees has lead to a distrust of the authorities. People are understandably afraid of being
tricked into an even worse situation and volunteers have little of substance to reassure them with.
The long-term building volunteers, after 15 hour days, without weekends and the underlying
responsibility of choosing who slept safely each night, were feeling the strain. The refugees were resigned, but exhausted with yet another move and the time for resistance had passed before we arrived.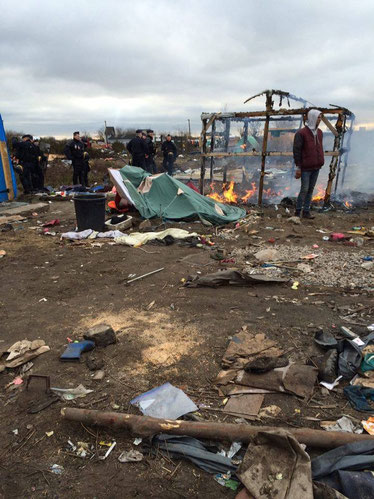 The area being cleared resembled the apocalypse; destruction, burning and a vast emptiness often fringed by riot police.
Communities will continue to survive in the jungle as long as they are allowed, but many have begun to flee, anticipating its destruction and forming hamlet satellite camps in the surrounding area. They hope to sacrifice the running water, provisions and basic facilities of the jungle for a small chance at temporary peace. We didn't visit nearby Dunkerque, but stories of the knee deep mud and playing children are a worrying 
indication of how bad conditions can get without enough support.  
Petition the government

A community leader in the jungle said that the most useful thing anyone in England can do is to let the government know that we care about refugees. You can write to your MP, get involved in peaceful protests, sign petitions and generally spread awareness of the problem.
Contribute
The vast majority of work done for refugees is carried out by volunteers, charities and NGOs. Money, appropriate donations and practical help are all vital for this aid to continue. Below are some of the links...

Items most needed at l'Auberge
                (all should be clean and in a good condition as you would like to receive)
Men's boots
Men's gloves and warm hats
Men's socks
Small and medium sized men's clothing.
Sleeping bags
Tools for the builders (but maybe contact them first to check what is needed)
Useful information for volunteering...
We worked for l'Auberge des Migrants- register with them and they will tell you about how/where you can help. I'm not pointing you towards their address in case it gets into the wrong hands. If you are working in the warehouse, you will get a healthy and nutritious (usually vegetarian) lunch. Be on time for the 9am meeting every day if you can, but it's not a problem if you turn up late.
We stayed in CES- they give a discount to €17 each a night if you're volunteering. It's pretty basic and relatively impersonal, but has free breakfast, showers and is a good way to meet like-minded people. Otherwise, there is a campsite somewhere, you could use airbnb or maybe couch-surfing with someone interested in the cause.
To save money and generally produce a little less toxic gas into the atmosphere, we used megabus, blablacar and eurolines to travel to and from England. Check out this lift share page if you need a ride/have a spare seat. Remember your passport.
Be aware that not everyone in Calais is sympathetic to refugees/volunteers...
You might need...
               (for a day in the jungle or even warehouse too)
A caring, low-maintenance, hard-working attitude.
Willingness to follow instructions from more experienced volunteers and think on your feet as situations require.
Warm layers of clothing
Wellies or walking boots
Waterproofs 
Conservative clothing for women especially- to give off the impression you have come to work and make people as relaxed as possible in your presence.
A water bottle
Snacks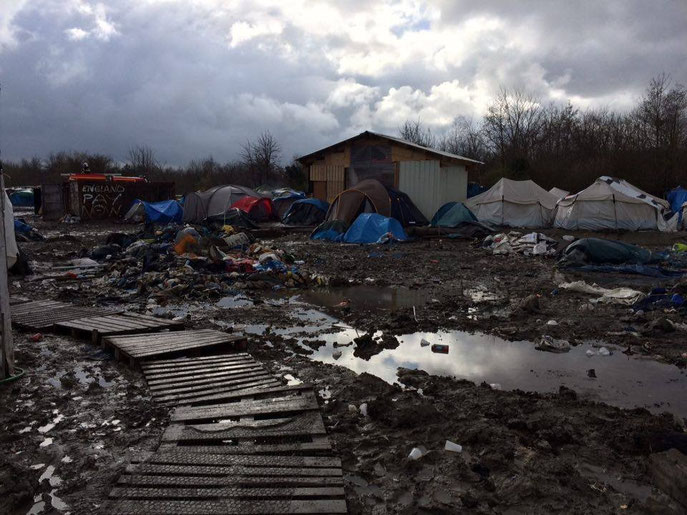 -Many thanks to all our friends who've been working in the camps and warehouse. To the builders particularly- we learnt a lot from you and admire all of your work. Keep being amazing...