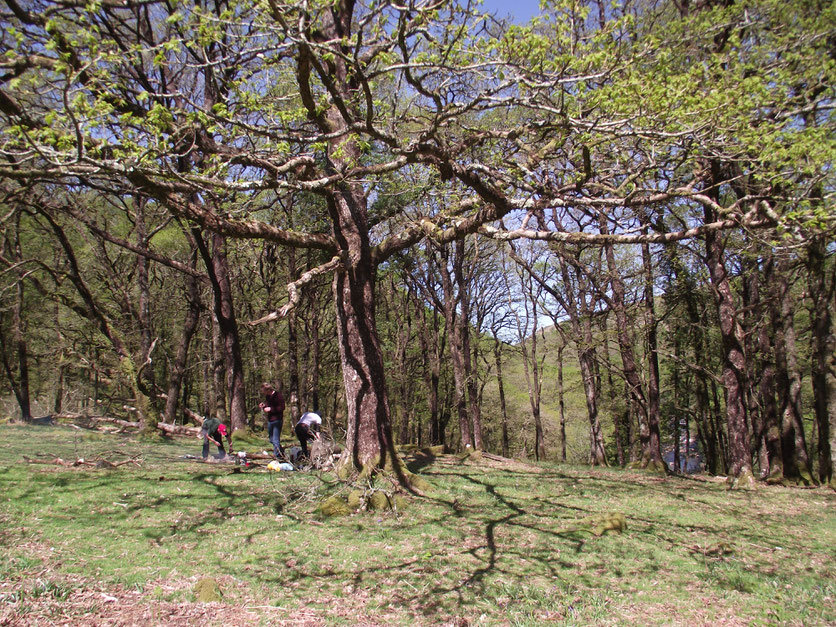 I've been rotting indoors for months as we "prepare" for an as-of-yet unspecific adventure elsewhere in Europe. I bounce resigned from one box to another, staring between screens and sitting so badly; my back is aching. Wild camping for Dan's birthday has become somewhat of a tradition and as the weather is starting the clear up again, we ventured out to Dartmoor to absorb some wilderness as an antidote. 
By the time we'd organised ourselves onto the moor on Saturday afternoon, clattering with badly packed groceries, the sky was beginning to look a bit moody. Twenty steps out of the car, the damp soaking through my once trusty everything-shoes, I was already beginning to wonder why I'd given away my toe-pinching walking boots.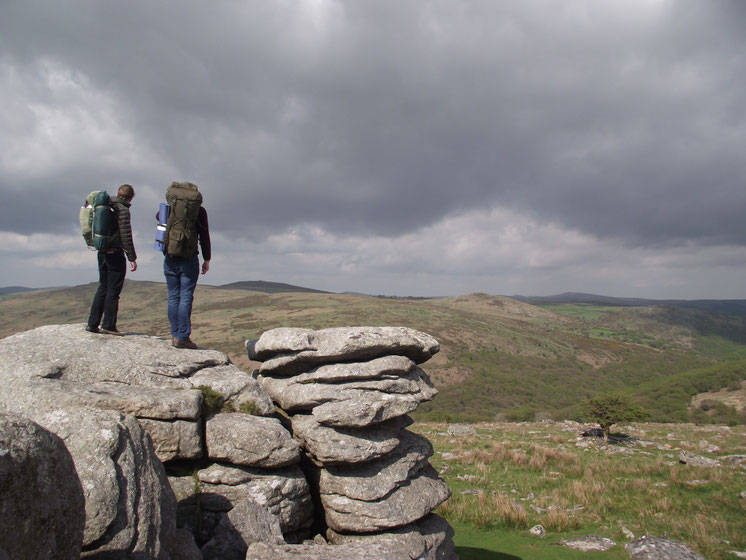 (a side note which is vital to your understanding of Dartmoor)
tor
A rock formation, usually eroded granite, which protrudes abruptly from an otherwise smooth rounded hill or ridge- down here in the South West the term also refers to the hills themselves. The word is notable for being one of the very few Celtic words to be borrowed into English before the modern era.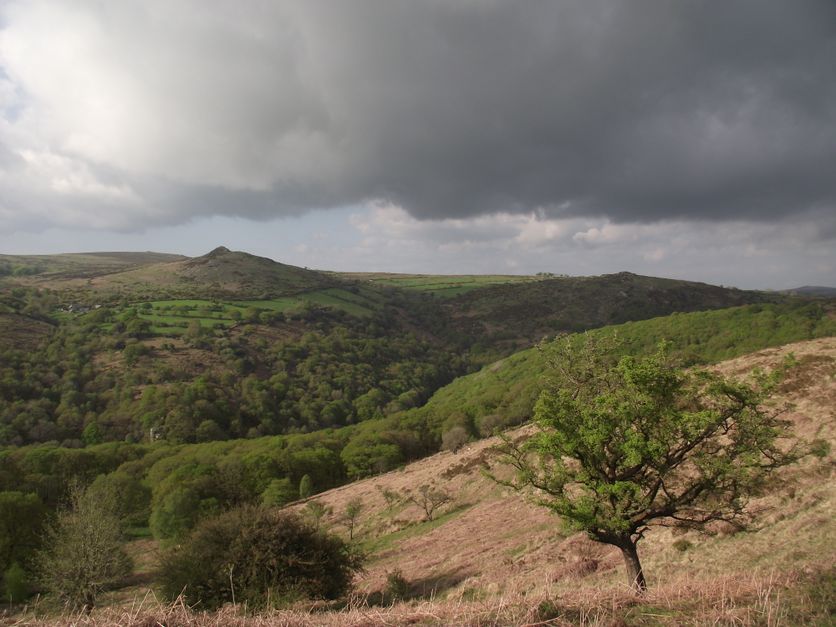 Clamouring over rocks and root balls, we delved into the forest and despite the gloom I felt my mood begin to lighten. It's difficult to be grumpy when you have to concentrate on your foot fall and there's little more exhilarating than emerging from a long spell battling undergrowth, to a view across miles of moorland with rocky tors on the horizon. 
We woke up to the sort of dazzling sunshine that makes a Sunday morning lie in very sticky in a tent. It's reaching the end of bluebell season, but the clearings are still smattered with purple- far from the glare of my computer screen, I felt my pupils struggle to absorb shades of colour which don't exist in a highlighter pack.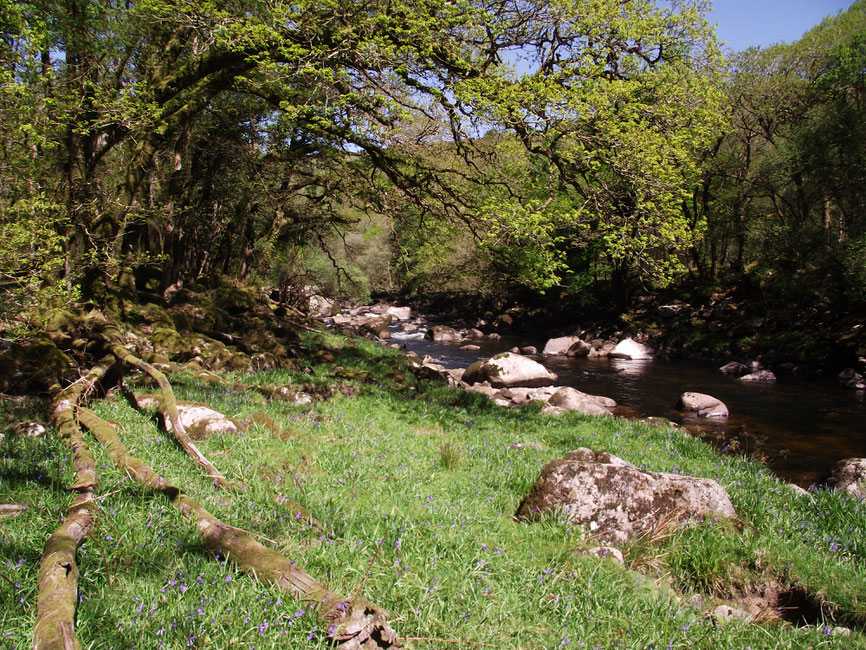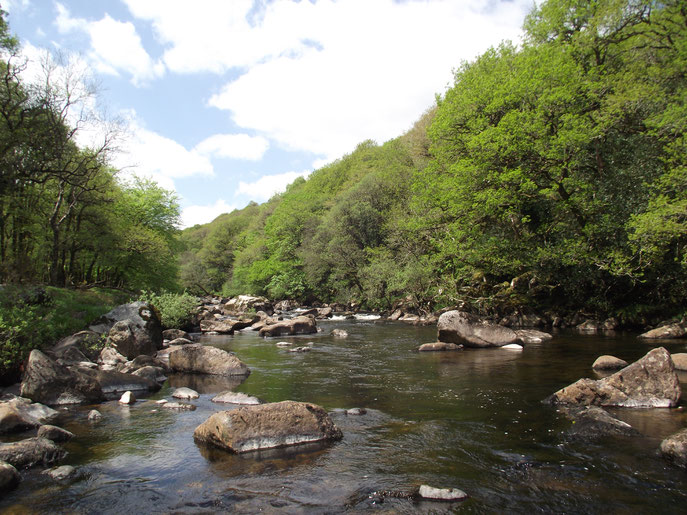 Tristan cooked a Sunday lunch of noodles on a river island and I dipped in my toes for long enough to decide that swimming wasn't appealing despite the inviting clarity of the water. Despite the baking sunshine, the water flowing downstream hadn't forgotten our recent winter yet.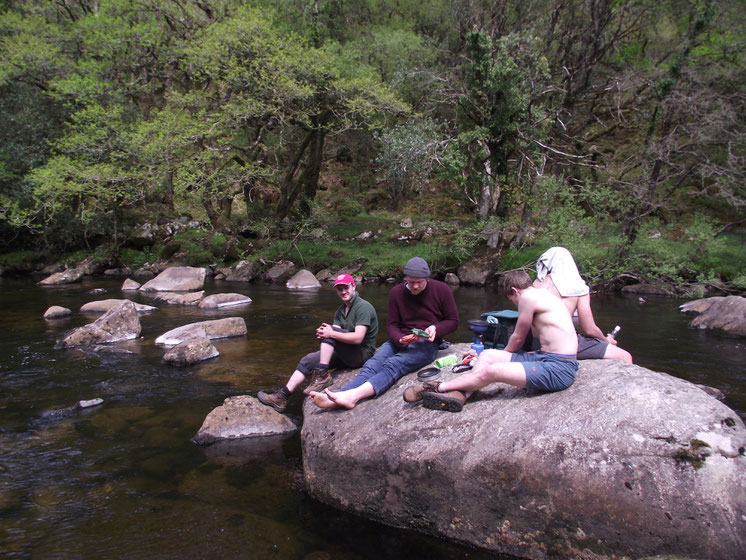 By late afternoon, we were reluctantly making our way back to civilisation. The sun was disappearing and dry socks were calling. The boxes seem even more square this week, but I am happy to have temporarily remembered what's outside them.
Happy Birthday Dan ...may we spend the rest of our twenties outdoors.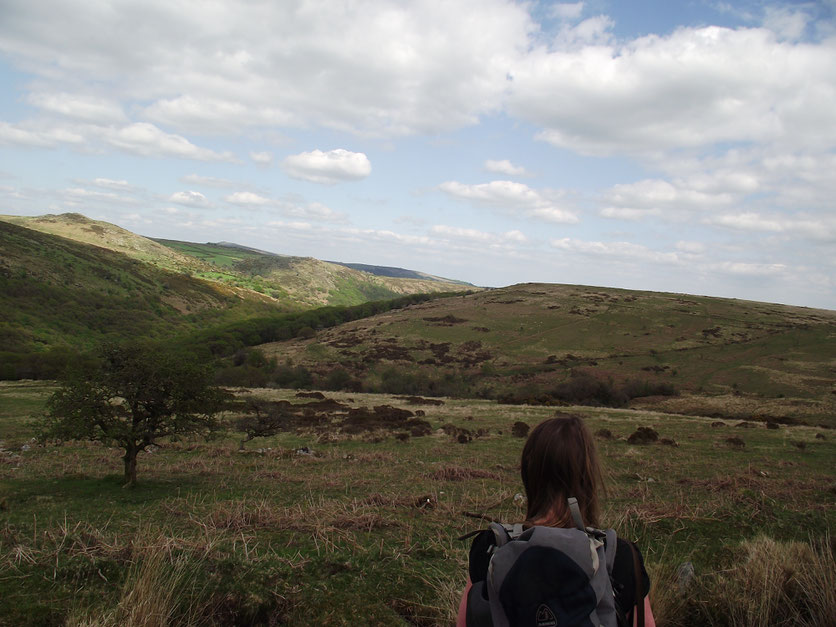 For more camping in the woods you might like to read: