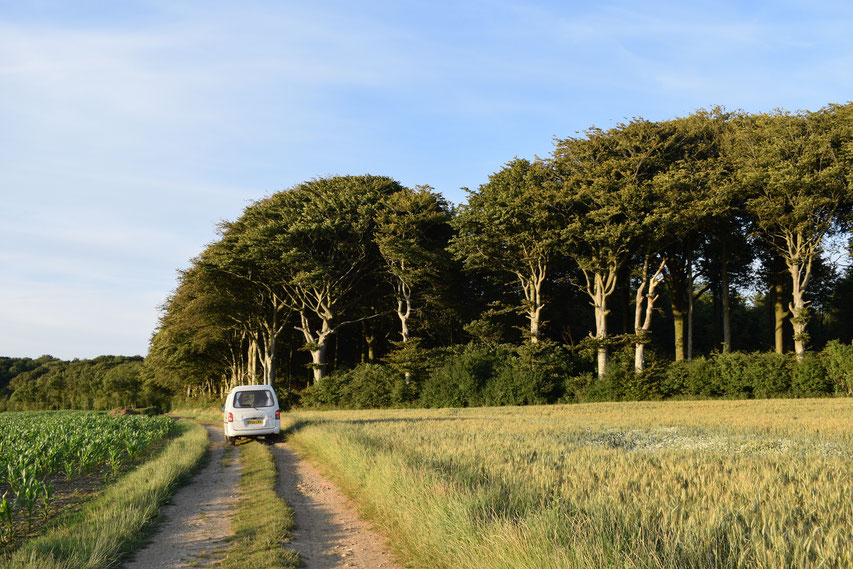 Searching for a van was a mundane daily hell...
It took us months. We were looking for something that didn't have a massive amount of miles (many under £2000 had around 200,000 on the clock), with no major mechanical problems and that wasn't too big. More importantly, it still had to be long enough for Dan (who's 6'4) to lie down in.
Having never owned a car before, we took vital and occasionally contradictory advise from the internet and other more experienced family and friends. Dan's dad (Rod) came along to view and test dive any potential options and we listened to the advice of a friend's trusted mechanic before we finally took the plunge*. Our budget was £1500 and eventually, after many false starts, we eventually spent £1150 on a Hyundii H100 from 1997, an old carpet fitter's van, and £350 on repairs and a new MOT. 
Deciding what to do with it next and getting materials... 
Dan read many blogs and other advice online to give us ideas on how to convert a van cheaply, treat rust and generally maintain cars as we were previously clueless.
We kept a look out for sources of free material and hit gold outside a laminate workshop where we found (with permission) lots of off-cuts of kitchen splash board, MDF and wooden pallets. Rod also gave us some plastic political placards (who's party will remain unnamed…) which were going to be thrown away.
We used Gumtree and searched other similar second-hand sites to find a jigsaw, foam mattress, camping chairs.
To treat the rust we bought Kurust (phosphoric acid), wire brushes, rust inhibiting paint, fiberglass sheets, resin and a premixed tub of fiberglass mush.
We also bought uniform lumber to create frames for our cupboards and bed, several tubes of grip adhesive, some extra screws and insulation fluff made from recycled plastic bottles**.
Luckily Dan and his parents had quite a good collection of tools and paint.
Before we could begin, we spent a day dismantling and removing the ugly carpeted wooden platform and shelving from the back of the van, removed the mouldy panels from the walls and cleaned the van inside and out.
Firstly we treated the rust, found any patches on the inside of the back, treated and painted them, before we could insulate inside. After removing anything we could reach, we also patched the rusty holes in the sills underneath with fiberglass.
We stuffed the sides of the van with insulation fluff by cutting the unspecified political panels to fit in place of the previous mouldy ones, before securing them with grip-fill.
I then fluffed the floor, using PVA as an adhesive, while Dan used our "new" jigsaw to cut floor panels from the waterproof splash board we'd collected. Again, we stuck the pieces into place with grip-fill.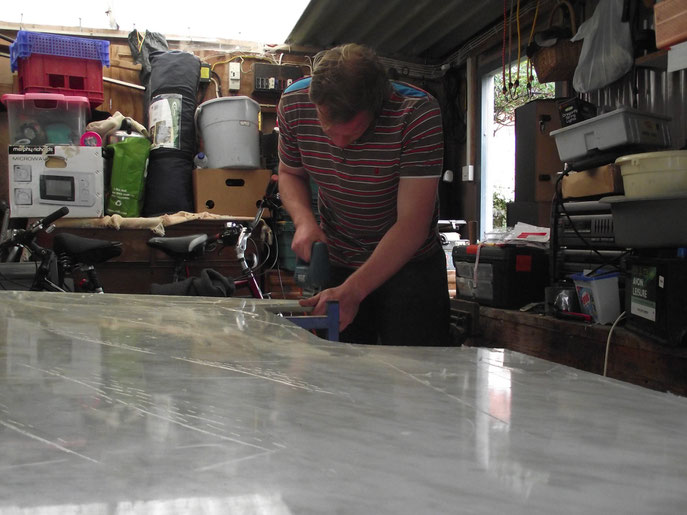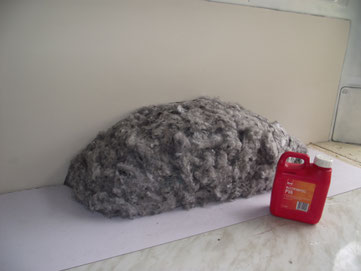 ·         
     Dan made a frame for a folding bed (more tricky because of an inconvenient wheel arch), while I cut panels of MDF for the top. We insulated underneath with our excess fluff and placards, fitted hinges and added a folding leg. Later I cut MDF doors to fit the storage gaps underneath, hung them on hinges with great difficulty and Dan attached catches to stop them from flapping around as we drove.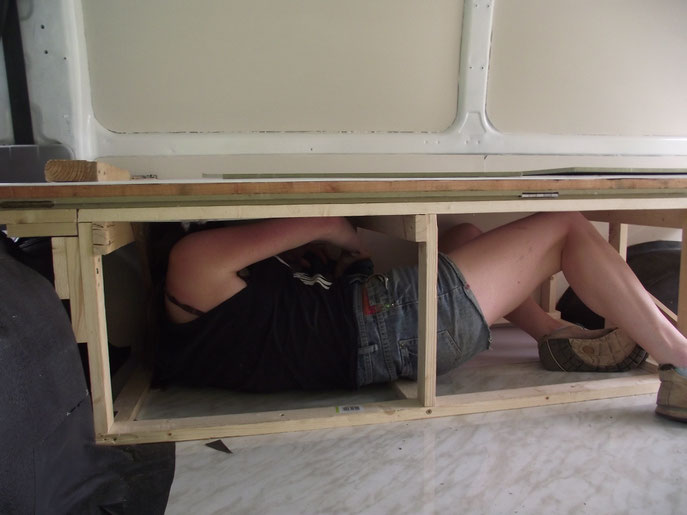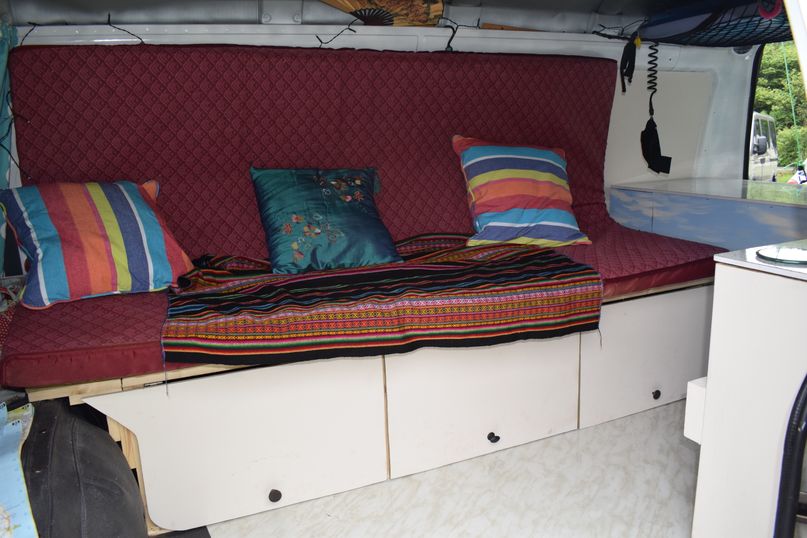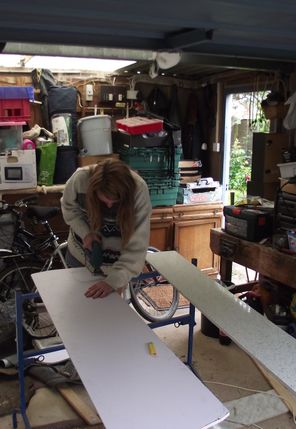 Dan then made the frame for our back and side cabinets. We had mostly run out of the new wood we'd bought, so at this point switched to some bits reclaimed from the old van interior and steaks which had been used to hold up Rod's placards. We cut worktop from more sparkly splash board and later fitted shelving, backboards and separators.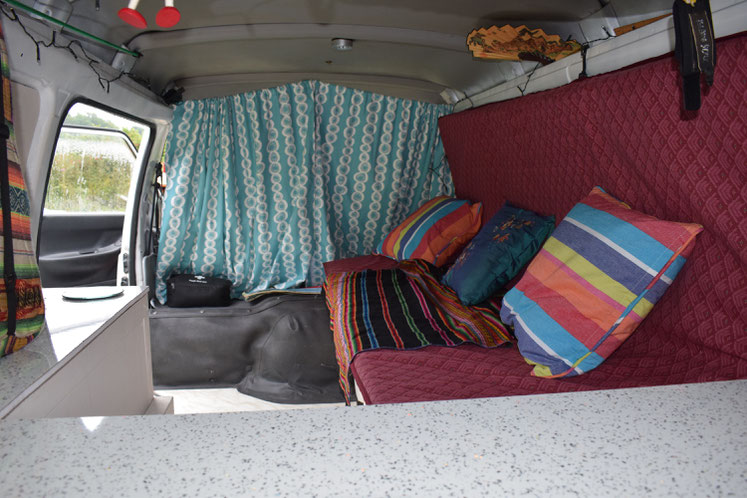 In order to allow our steam from cooking to go outside the van, avoiding extra unwanted condensation, we followed our friends Luke and Beth's advice of having an outward folding shelf attached to the back door...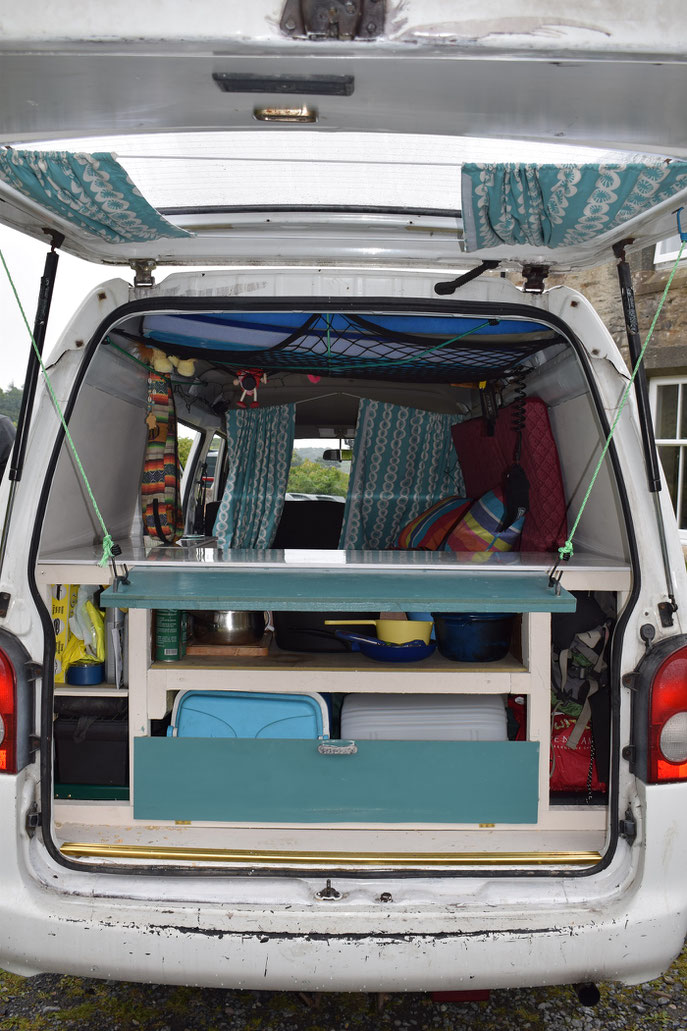 Finally, in Scotland, Dan tackled the scariest job of all. The rusty hole in our foot well (a small window to the road below) was grated with the angle-grinder, treated and then patched with part of an old washing machine, pop-rivets and a thick layer of paint. We'll see how long it lasts, but for now it looks beautiful.
*Thanks Heather for the recommendation. Mark from Drivers choice in Exeter is a gem.
**Thanks Allison for the recommendation.