I've written very little about Calais over the last three months I've been here. There is so much to say and yet none of it forms in my head into a coherent narrative, message or anything even close to a solution. The jungle is finished, but I still feel like I have so much to learn. I never took any photos, I never said my goodbyes, all lost threads from a tapestry of unsolved problems.
The bambino who'd spent two years in Libyan prison and was too upset to go to the Youth Centre and play football, the forgotten men from the containers who we couldn't deliver backpacks or shoes to, gold toothed Adam who turned from a rampant monster to our brother...  The single group of Afghan men at the back of an entirely Sudanese area of camp who, when I asked them diplomatically if they were OK, said that they loved the Sudanese and began to point out friends they had despite their almost non-existent language cross-over. Somehow, they liked living there. 
Misunderstandings can be hilarious or catastrophic depending- "Do you have or do you need?"- "yes, ok" ...? We did everything on visual assessment to avoid those with better English or charm receiving all the limited help we could provide. That meant going into people's houses- "welcome, welcome"- remove your shoes and step straight onto someone's bed- sit with your knees up by your chin and try to explain to people with perfect or non-existent English how to get to a clothing distribution in town, or do they need a sleeping bag? Andy drew a map- under the bridge, to the end of the road, turn right, over the blue bridge, past Lidl and turn off at the stop-lights BEFORE the police- there will be people there to point you in the right direction. I tried manically to round up the stragglers on the first two events- accidentally asking black citizens of Calais if they had a ticket, finding myself more racist than when I arrived. I ran around a lot the first time, nearly fainting at 2pm when I realised I had forgotten to eat.
After a couple of weeks, they ignored our map and walked along the train lines regardless; less police that way. Stewarding the route we passed a slightly overweight, profusely sweating refugee, CRS crawling behind him and ranting abuse as he cycled "while black" as casually as he could manage. The week before James and I had stopped them badgering a group of fifteen coming away with their bin bags of donations, simply by going over to the police and saying "bonjour". They let the refugees go and checked our papers instead. 

Run by retired French people, there was sandwiches and tea for everyone with a ticket at the distribution, but they automatically sat themselves down in a queue in the yard, institutionalised by months of volunteer crowd control. Shoes was less pleasant. With only fifty tickets, chancers had walked all the way from the jungle in their broken flip-flops. We had to close the gates and I chatted to them through the mesh, ragged trainers and torn apart sandals on the bottom rung and hands clinging to the bars above- "please sister, just one ticket?". It wasn't up to me, but even if it was I couldn't have done it. You have to stick to your arbitrary, self-devised rules and regulations to avoid corruption. I never wanted to be a cop though and we often got it wrong. 
When we first started "material vulnerabilities", we were trying to get something to the hundreds of people just sleeping on a blanket over sand, one more on top. We churned out car-fulls of reject duvets and sleeping bags to get them up off the ground, impractical deflated airbeds underneath as a waterproof membrane. Thousands of people were still freezing overnight whatever we did. There are few things worse than an enforced camping trip that never moves on or ends, for those who can't eat marshmallows or afford to sleep anywhere prettier than an old asbestos wasteland.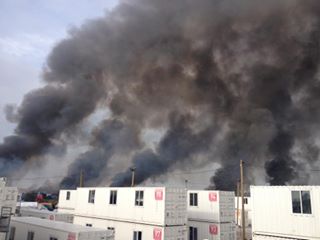 The fires have ripped through the jungle now and children "safe" in the containers have been calling us in distress. They couldn't breath through all the smoke. Others have been left stranded to sleep on concrete, unregistered and later arrested. A video of terrified young teenagers being man-handled by CRS into the back of their vans made me cry yesterday morning. There has been so little coherent information for adults or children. We have no idea what to tell them. The situation changes hourly, but they are saying it's finished. Done. Jungle halas.
Where is everybody now?