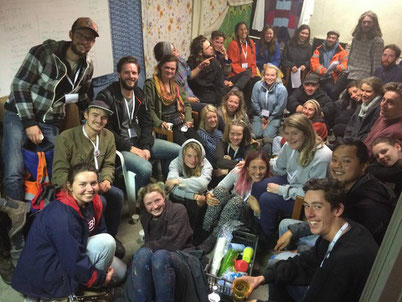 For months the "Jungle" was our entire existence; warehouse, jungle, warehouse, jungle, lidl, warehouse, junglejunglejungle...
We lived and breathed it until there was little left of our previous selves, but then they were taken away. We have no idea what has happened to the vast majority of the people we saw every day.
Exhausted and lacking direction, most of us left. It seemed like our work was done, but Dan and I faffed, tying up "loose ends" and fitting
new brake disks to our long immobile van. After the children were finally gone, I languished around the yard for the best part of a week, occasionally attempting a little clothes sorting or answering the questions of new volunteers with dead eyes and monotone half sentences.
With Calais in the news again we'd been swamped in donations the two weeks before the eviction. Bedding mountain, the blankets we'd desperately needed for months, now loomed over us as a reminder of our inadequacy to distribute enough in time before our friends were gone. What looked like a stock pile lead to awkward conversations- if those people were so desperate then why hadn't we given them everything we had? We were accused of withholding aid. We couldn't have worked harder, but it stabbed me regardless. 
Shortly the requests began to flood in. The situation in Paris seems to be worsening by the day, they desperately need things in Greece, Syria and Lebanon and despite the politics we are still doggedly providing for over 1000 people living in the nearby Dunkirk. Shortly immobilised by confusion, our friends in The Calais Woodyard were left with only five of their previous twenty-odd volunteers. Winter is still coming and they had no time to feel burnt out. With an average of less than five volunteers a day, our valiant Warehouse Manager Lauren and I were left with the task of organising and allocating donations across Europe and beyond.
This is why she takes care of the morning briefing rather than me...
With that day's hero Geoff and the kitchen staff's help, we loaded a container for Greece. Months of work at collection points, thousands of volunteer hours and a miracle of logistical guesswork gave birth to the most efficiently packed lorry I've ever been a part of.
Excluding this success, our work is rarely heart-warming. The distribution centre in Syria was bombed and Paris has such a high turnover of people that it feels a bit like throwing crumbs into the mouth of a volcano. At the start of December, we are left with nearly no small or medium waterproof jackets, around twenty men's gloves and only enough boxers for one weeks distribution to Dunkirk. We can't give people walking boots and everywhere is wet.

There is no such human sorting machine set up in Paris, Greece has no recycling facility for impractical donations and confused refugees continue to arrive in Northern France. Potential donators and volunteers have forgotten we exist, Dan and I must leave soon, but the struggle will continue without us. 
There are some instructions about how to donate on the Help Refugees website. We desperately need:
Small and medium sized men's waterproof jackets.

Men's gloves!

Walking boots and trainers (European men's sizes 40 to 45, UK 6 to 11).

Men's warm hats and scarves.

New men's boxer shorts in small, medium or large.

Long johns!

Men's jeans (preferably slim fit) in sizes 28" to 32".

Men's jogging bottoms in small and medium sizes.

Men's hoodies in small and medium sizes.

Only small men's fleeces and jumpers.

Small and medium long sleeved t-shirts and thermal tops.
In an ideal world these would all be labelled, clean and undamaged to save us time and wastage in sorting. If you are buying things especially, neutral dark colours go down very well.