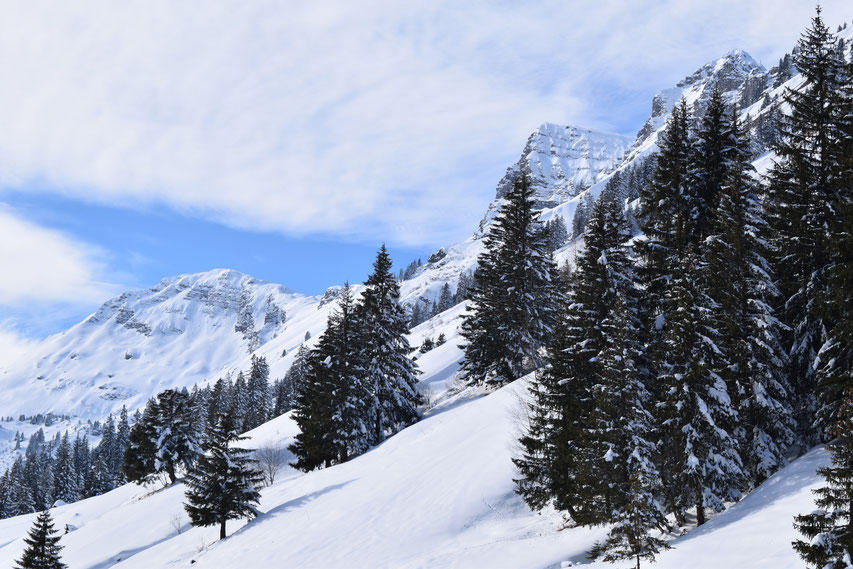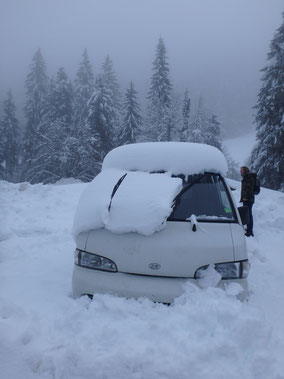 We spent a week and a half in Morgins. For several days, the furthest we strayed from the the Badenoche's chalet was to walk down the road, squinting into the snow; check that Burt still started and hadn't yet been totally engulfed.
Nearly a meter deep he looked a little forlorn, but as he always has so far, rumbled to life with minimal spluttering.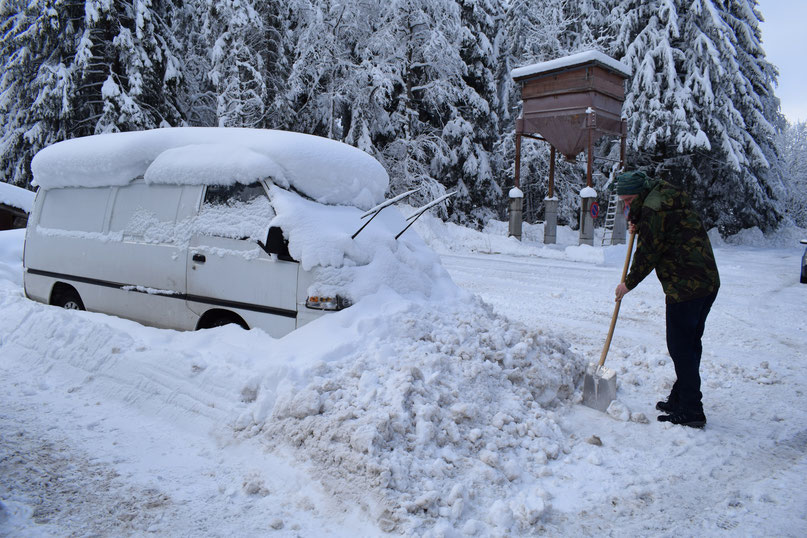 From Sunday to Wednesday, the snow was relentless. Inside the wooden house, Dan busied himself making music, carving bowls and eating bread and cookies almost as quickly as he could bake them- it was so good to have an oven! Long overdue and with dubious success, we cut off the majority of each other's hair, devoured their DVD collection and mulled cheap red wine with oranges and cinnamon. For almost half a week, simply opening the curtains to reveal the carpeted valley below was enough snow to be getting on with.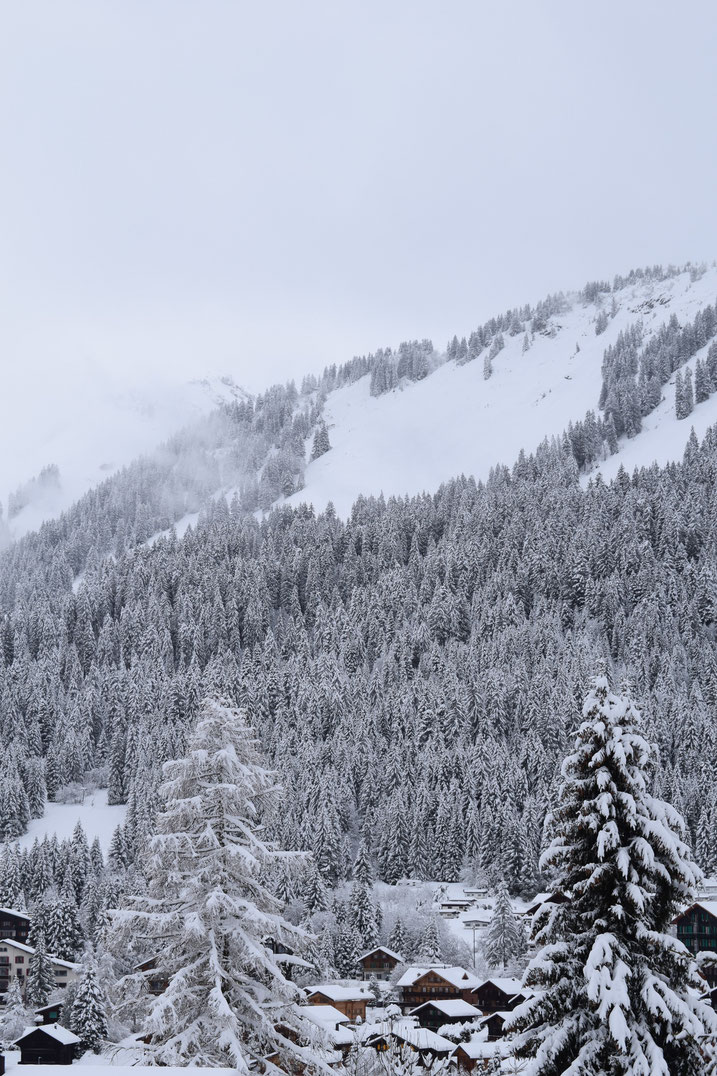 We waited for a sunnier day, when the plough had been through and the sheet ice had mostly broken, and drove to Chatel in France for more affordable groceries.* Collecting a small Frenchman who helped to push us out of the sheltered rut Burt was moulded into, without any checks, we were over the border only minutes after leaving Morgins and winding down the hill into the next town just as soon again.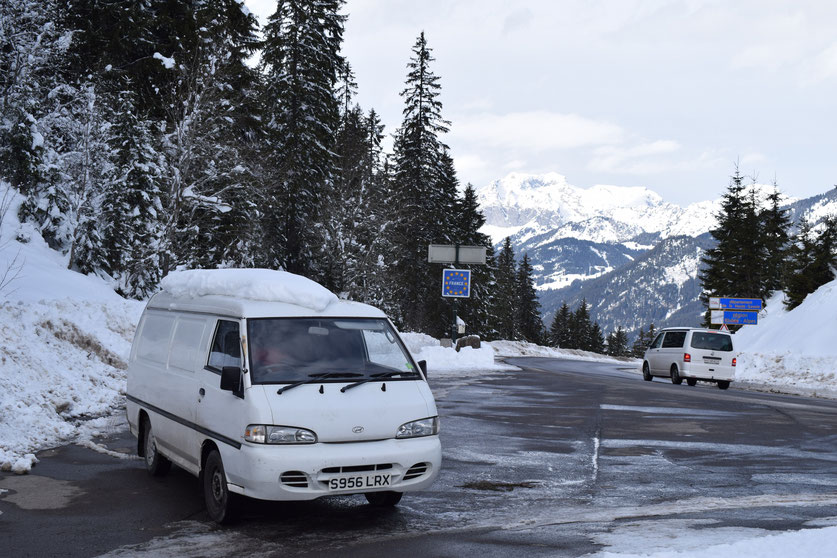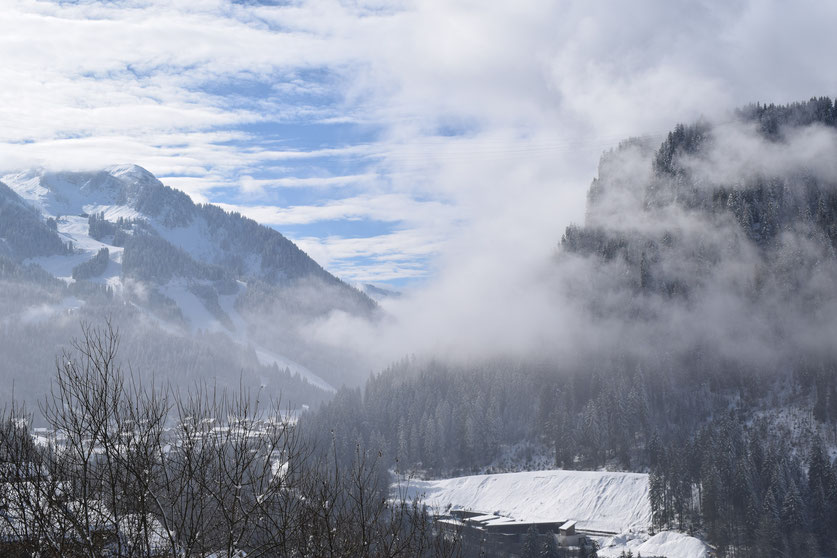 Before "cabin fever" began to set in, it was necessary to venture a little further on our feet. We walked along the river through the valley. I'd thought it might be frozen over, but instead the water flowed around upturned bowls of snow, like woolly hats for the rocks which rose above the surface. We were Hanzel & Gretel following breadcrumbs through the forest. Until I saw the sun, it seemed almost impossible that anything without wings could live here over the winter. The tiny birds and magpies, that could nestle where the evergreen branches reached their trunks had an obvious advantage, but according to the signs there are deer hiding here too. One day we saw a tiny black squirrel and I wondered how it could travel between trees without being swallowed.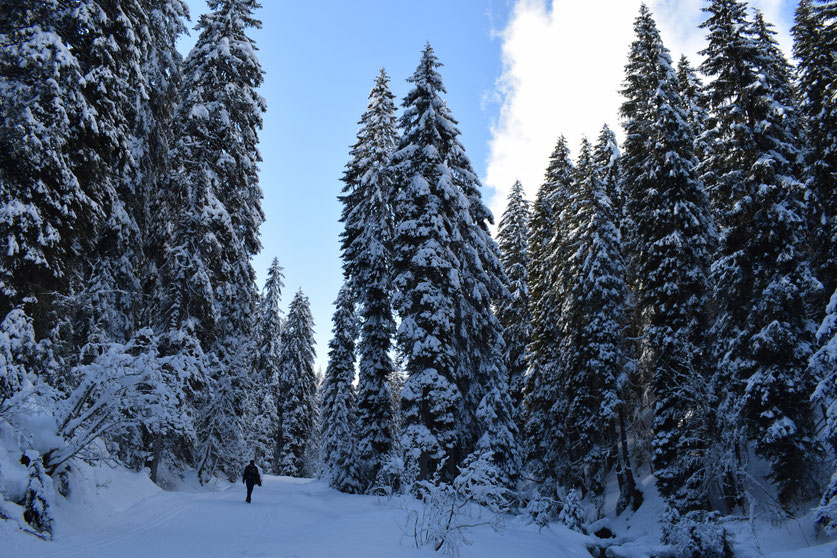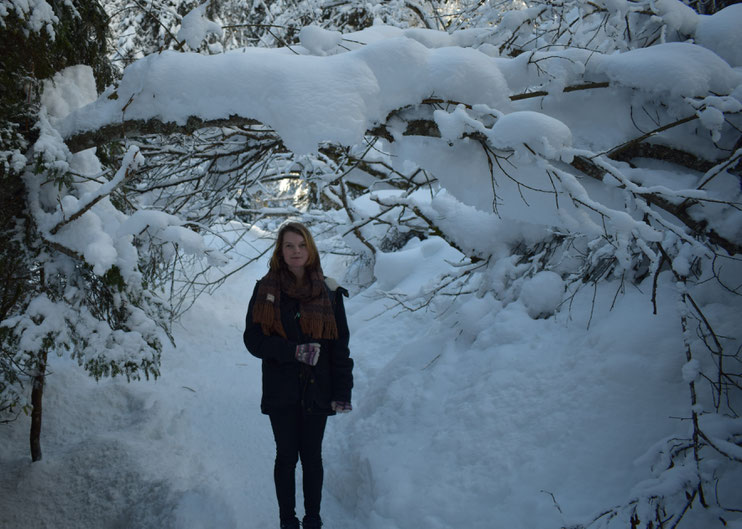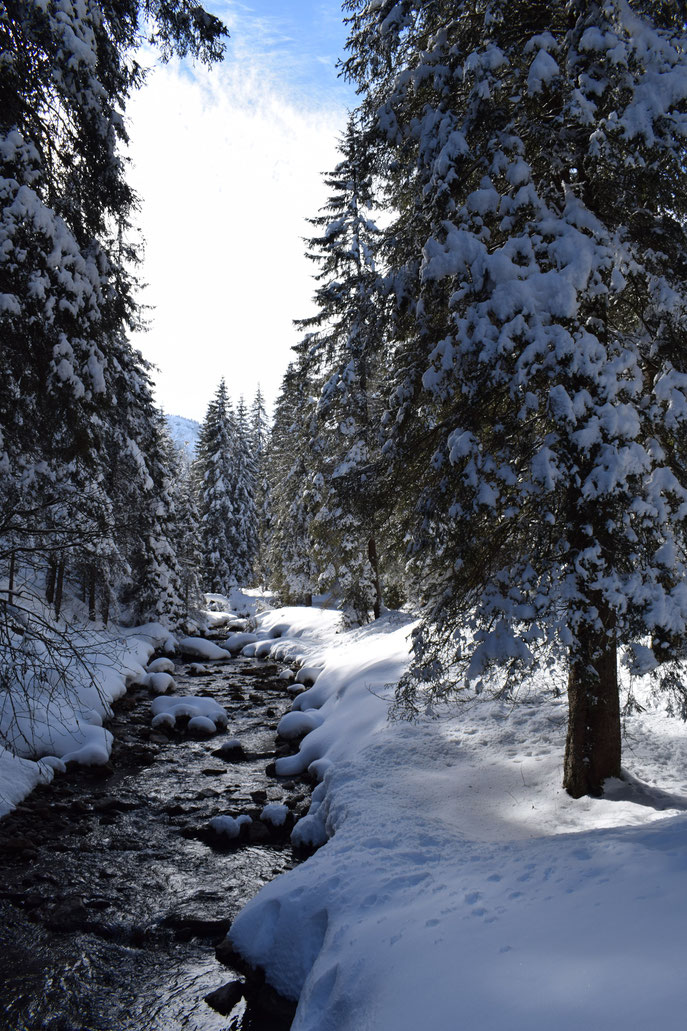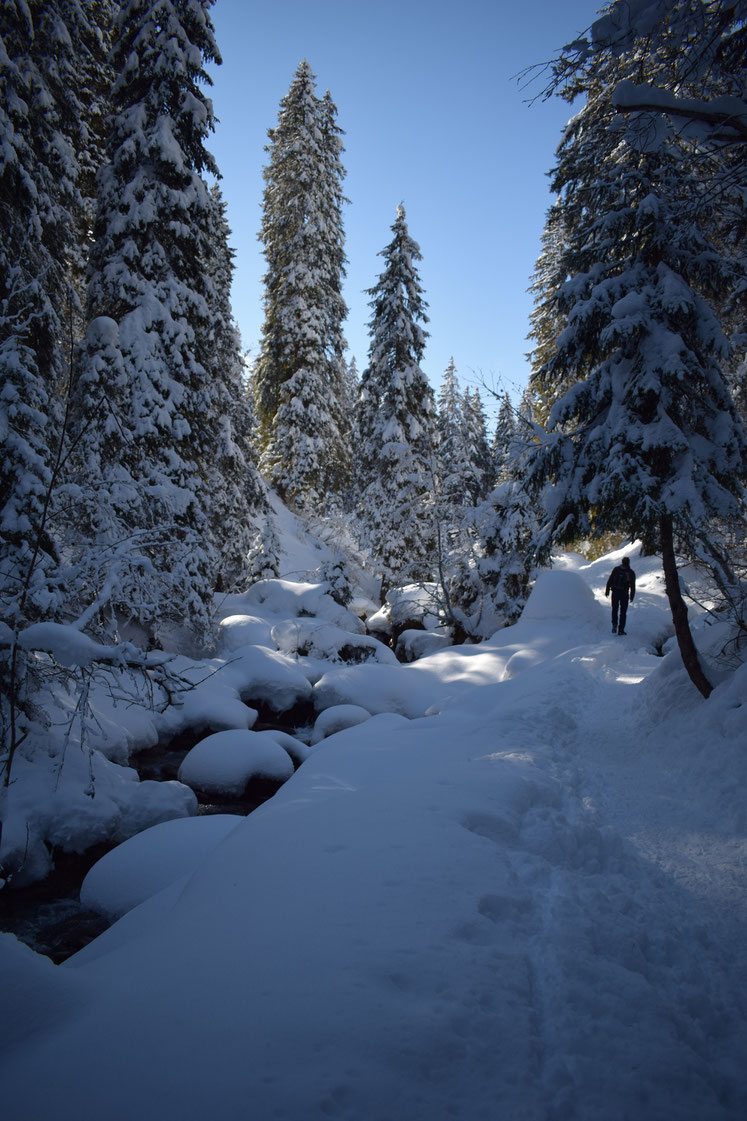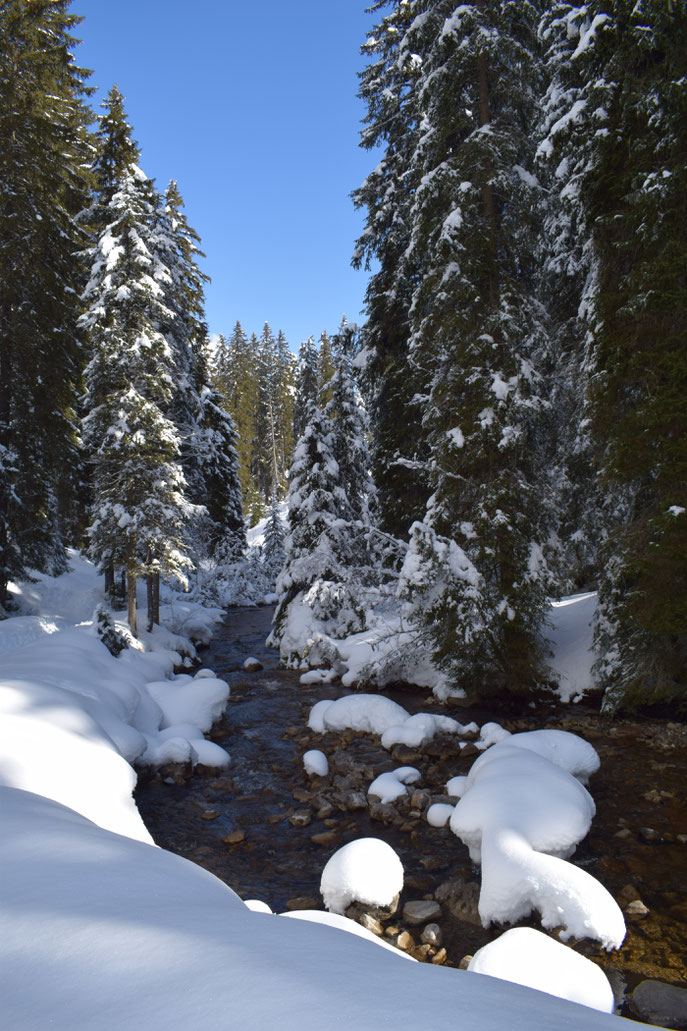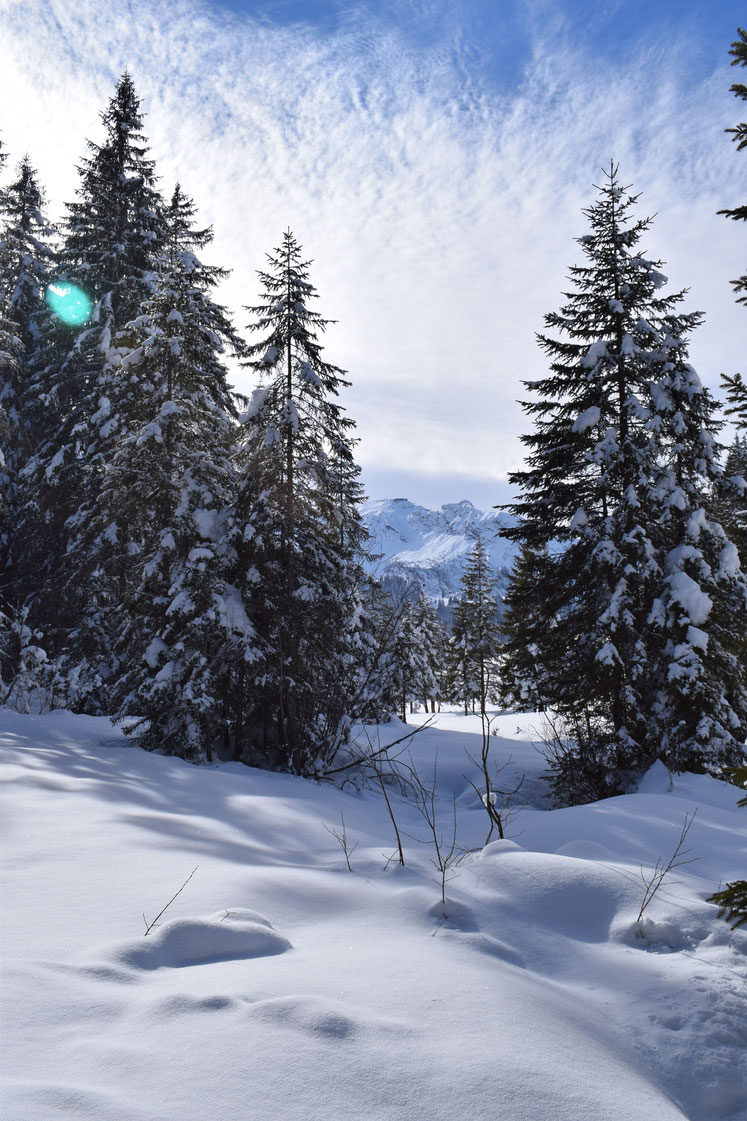 Eventually we began to emerge into one-hundred and eighty degrees of dazzling open air...
Once we (and the sun) had broken out, it began to feel marginally wrong to spend entire days in our socks. We walked out from Morgins in every conceivable direction. As it turned out many seemingly promising paths often ended up knee deep to anyone without the fetching tennis-racket snow shoes which we saw several small groups of middle aged ladies sporting. We found some relatively compact paths around the border, digging our heels in as we strode down hill and panting as we trudged our way up again.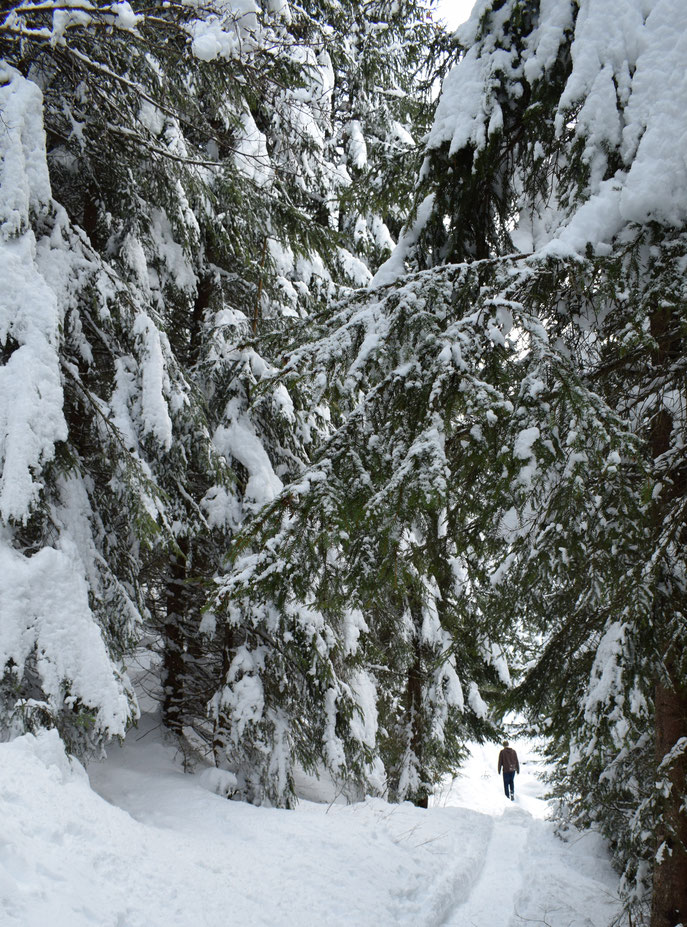 Opposite the lake (now just a suspiciously wide, flat area of snow), it's possible to walk up around the mountain for a view of the village below.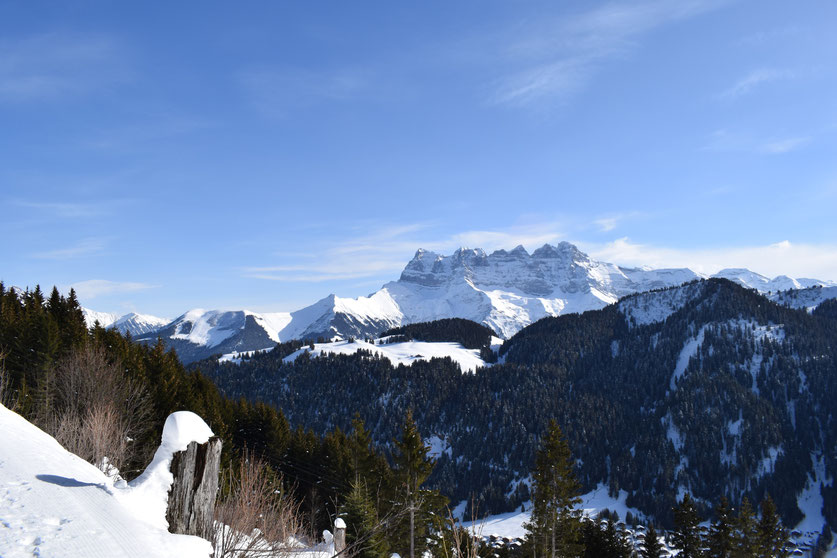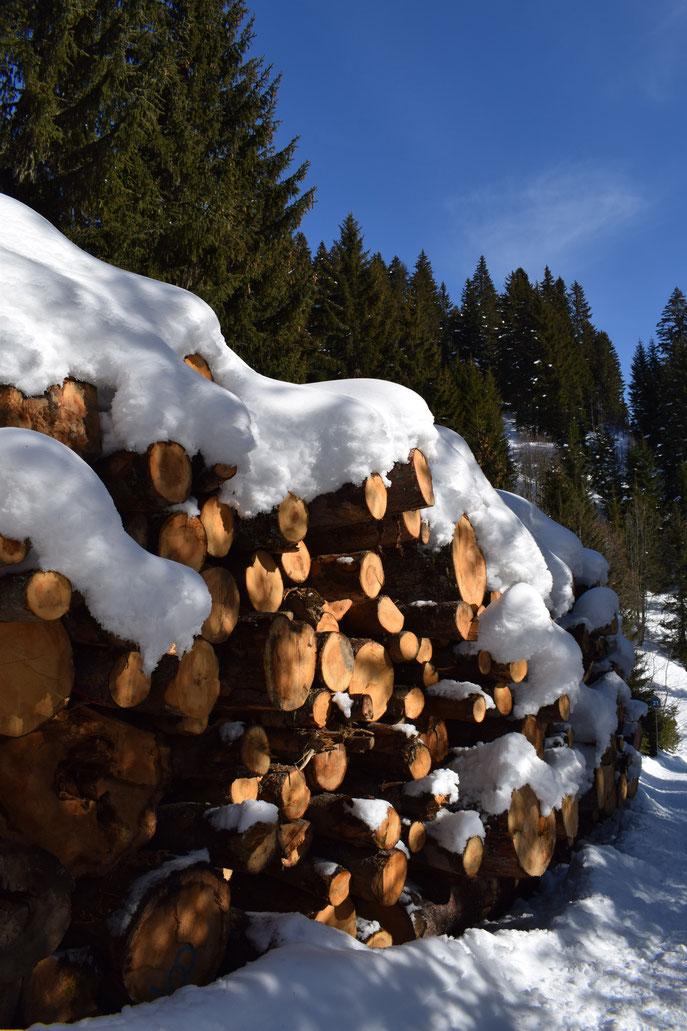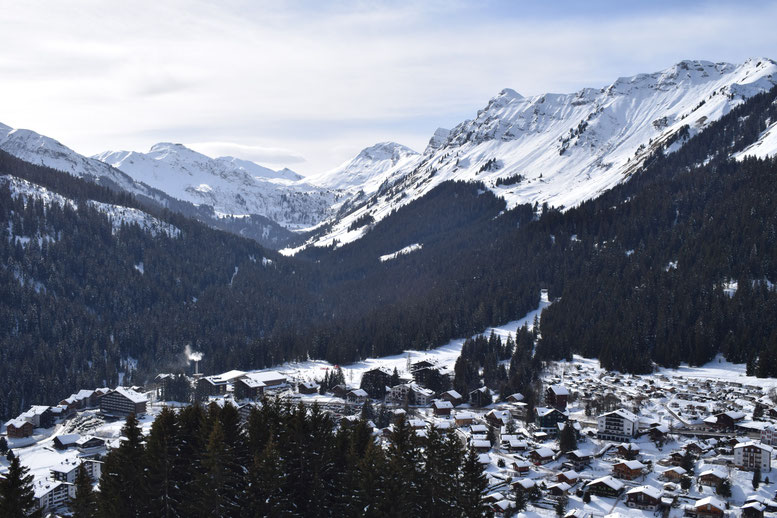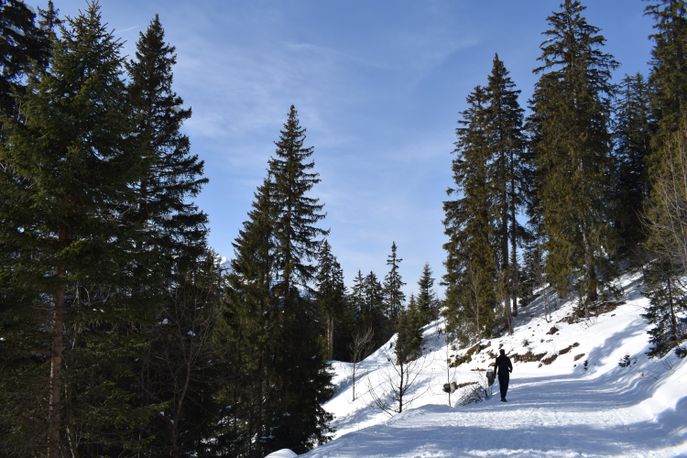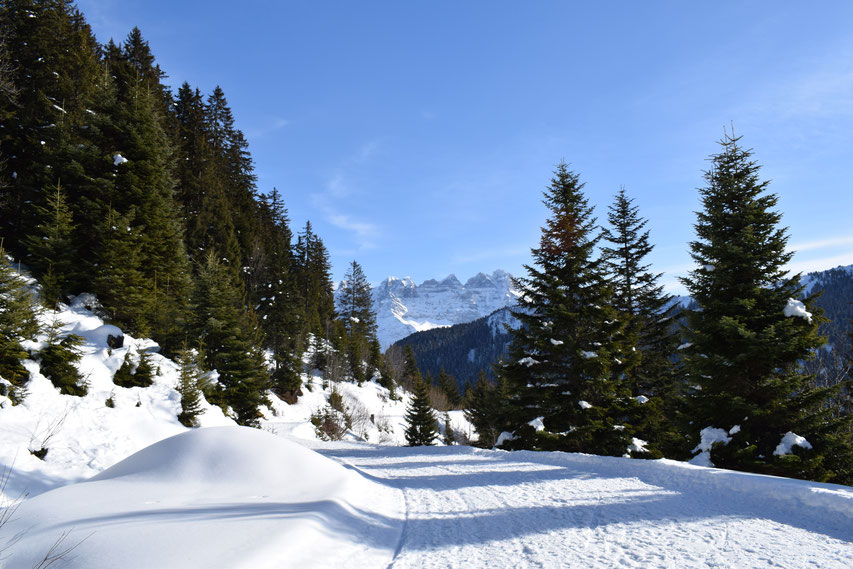 In the opposite direction, there is a long, silent path up to Le Jorat. After nearly a week of clear blue skies, what had previously seemed like an impenetrable coating, dense and un-negotiable for the remainder of the season, had steadily begun to ebb into trickles down the path.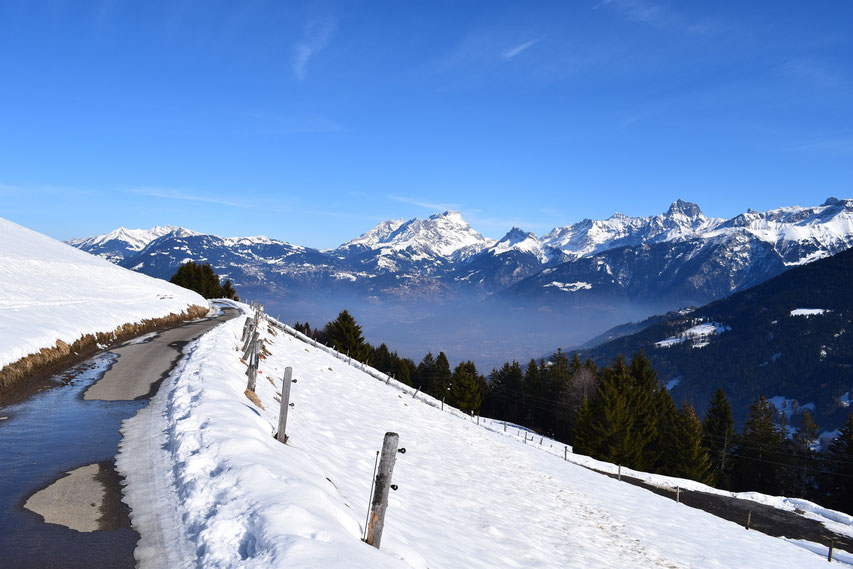 This way eventually took us to just across the valley from the dramatic, piranha-teeth mountains we had seen in the distance before.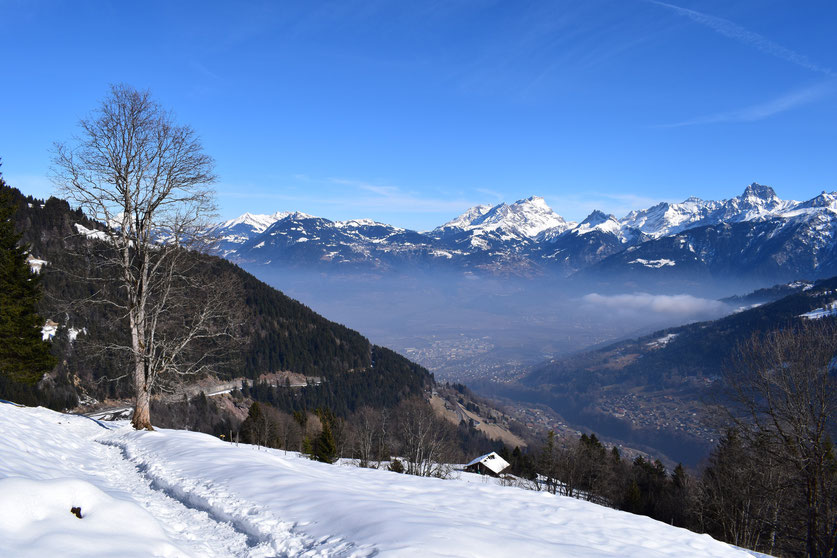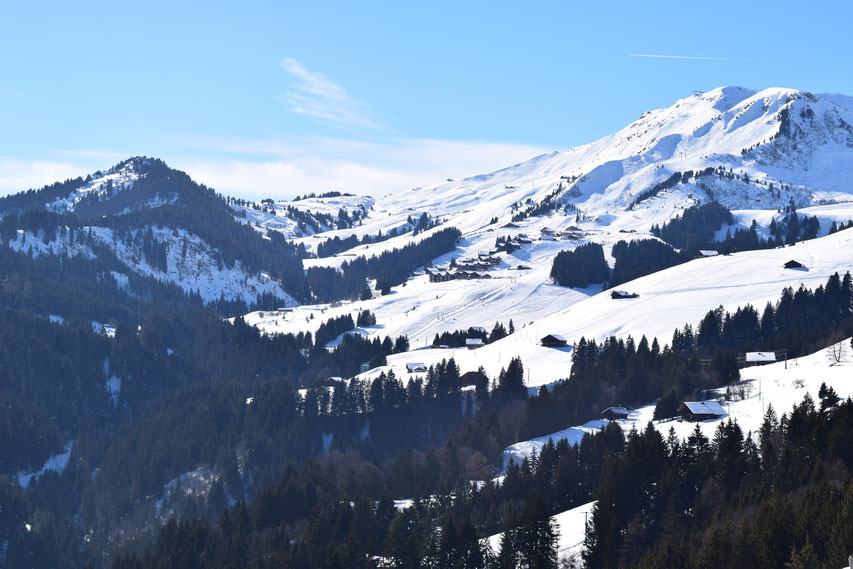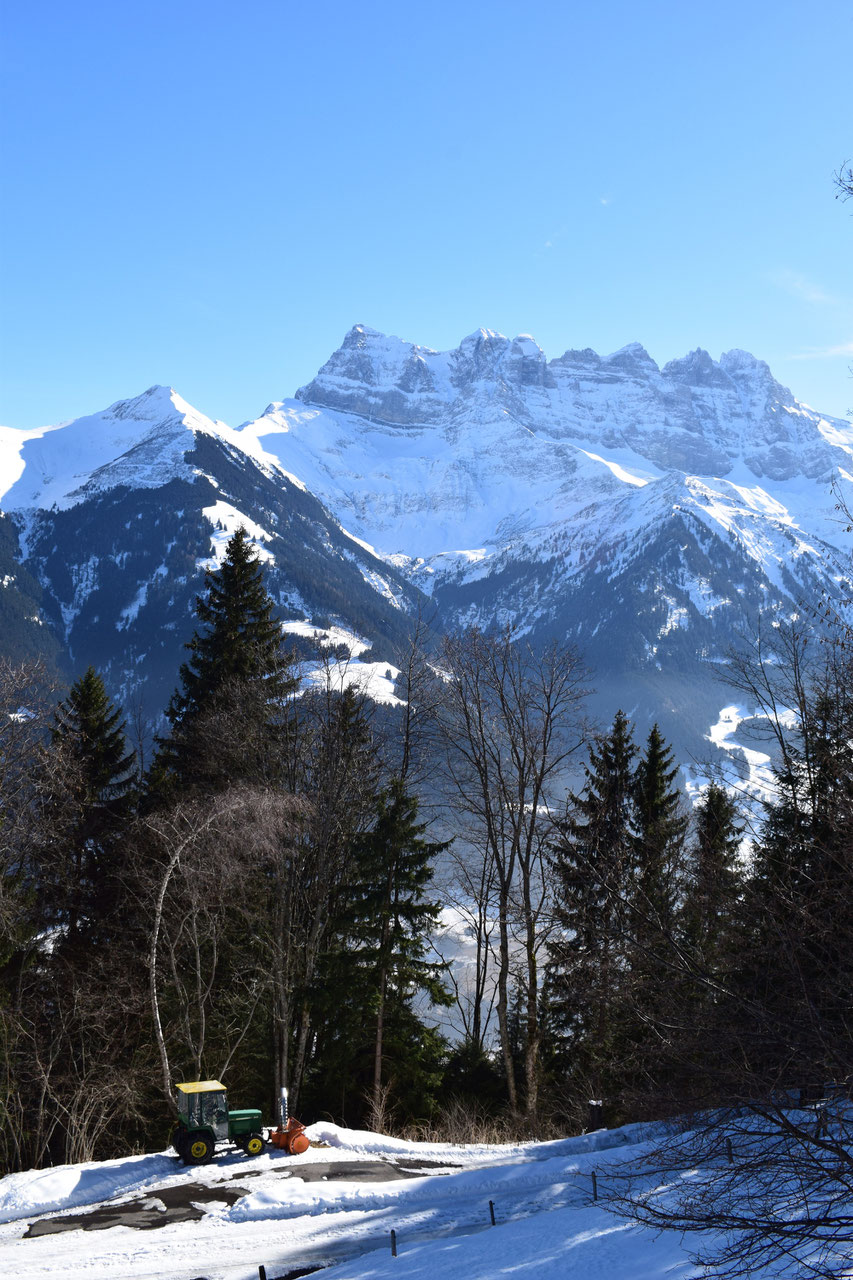 It would be very difficult to stay in Morgins at this time of year unless you can sleep somewhere warmer than our tin can, so this is mostly a thank-you to my friend Sam and his parents Charles and Penny who offered us their chalet for a week (which turned into more like two). We really couldn't have enjoyed our stay more and were so grateful for the opportunity to explore a little of this country which otherwise would have proved much too cold and expensive for us to spend any time in. 
*Thanks for all the helpful directions Penny!