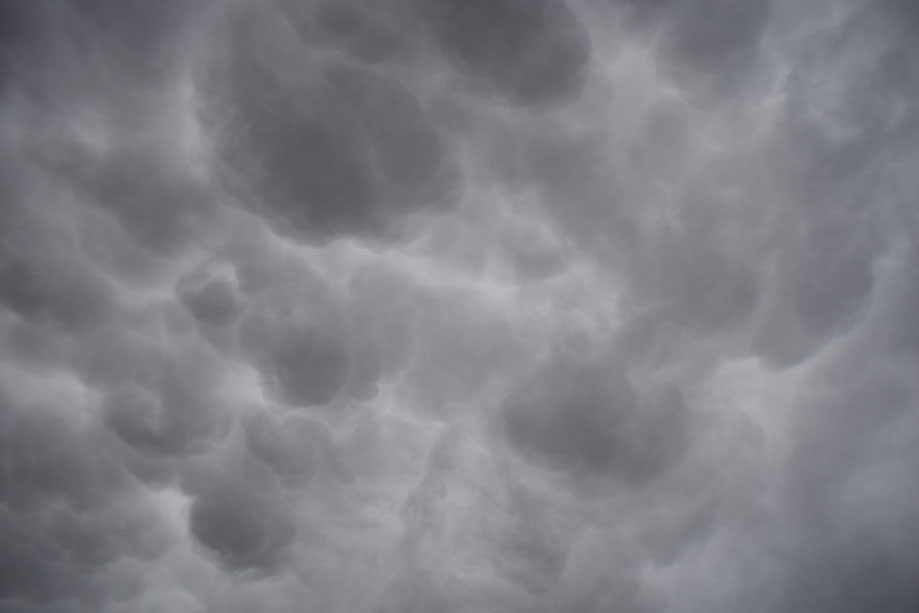 Being flexible with your timing and working around the weather forecast can make the difference between a great hike and a disaster. 
The two most reliable online weather predictions are www.vedur.is and http://belgingur.is (often more accurate for Hrafntinnusker). You should familiarise yourself with both of them. It is good to look some days in advance, but things can change quickly and you should not forget to make a final check just before you leave civilisation. Wind and rain are the most changeable factors which I have focused on here, but you should also be aware of general temperatures day/night, the effects of wind chill and decreasing hours of daylight. Fog comes and goes at will and your only real defence against it is a GPS device.
Please read my Laugavegur preparation and packing list posts well in advance of your trip. 
Always speak to the wardens at Landmannalaugar or Langidalur before you start and in each campsite you visit along the way, to ask their advice about weather and conditions. Up-to-date local knowledge is impossible to find online.
Reading "Veður".
On Veður, you can change the language to English at the top of the home page.
Select the "Weather" tab (top left).
Select "Wind, temperature, precipitation forecasts" from the left side bar. 
Choose "South".
Click through hourly predictions with the arrows at the bottom. 
To locate the Laugavegur hiking trail, see the red line I have drawn on the example map below.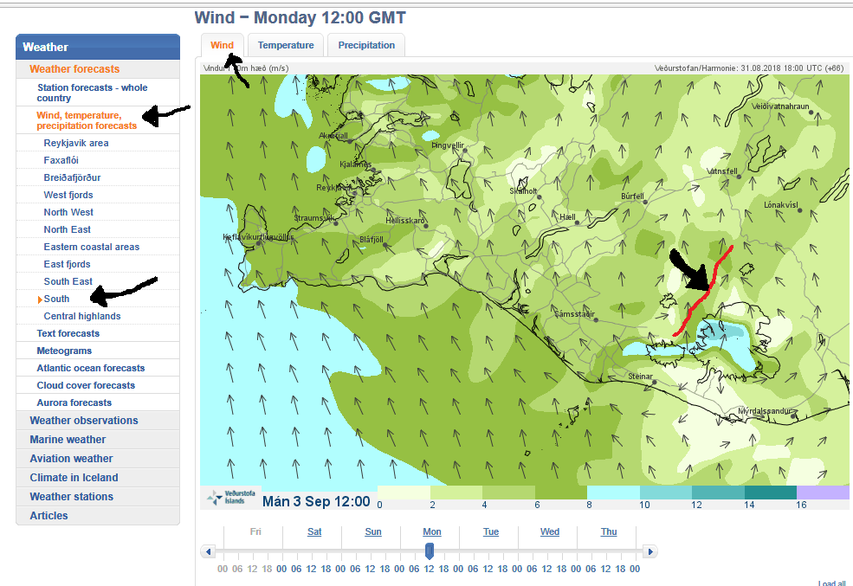 Wind
When studying the wind speed refer to the colour scale at the bottom of the map:
Anything 0-8 meters per second is totally fine.
8-10 mps is getting to be a little windy, but still manageable for most people and tents.
At 10-12 mps, poor quality or badly erected/secured tents will begin to have problems. In combination with rain, hiking conditions will be unpleasant for most people. 
If the wardens see 12-16 mps near the Laugavegur, they are likely to tell you not to camp at Hrafntinnusker or Álftavatn (Landmannalaugar will also be bad in a tent, but there is a little more infrastructure and bus departures each day). You might need to wait one night in Landmannalaugar and begin early morning to Hvanngil. In combination with rain, with snow on the ground or poor visibility, these conditions can be dangerous for hiking and you will need a GPS device. 
Anything above 16 mps above is likely to destroy the majority of tents and be very challenging to walk in, especially when combined with rain, snow or fog. 
When observing the wind direction, remember that wind coming from the south will be in your face.
This is a very still day: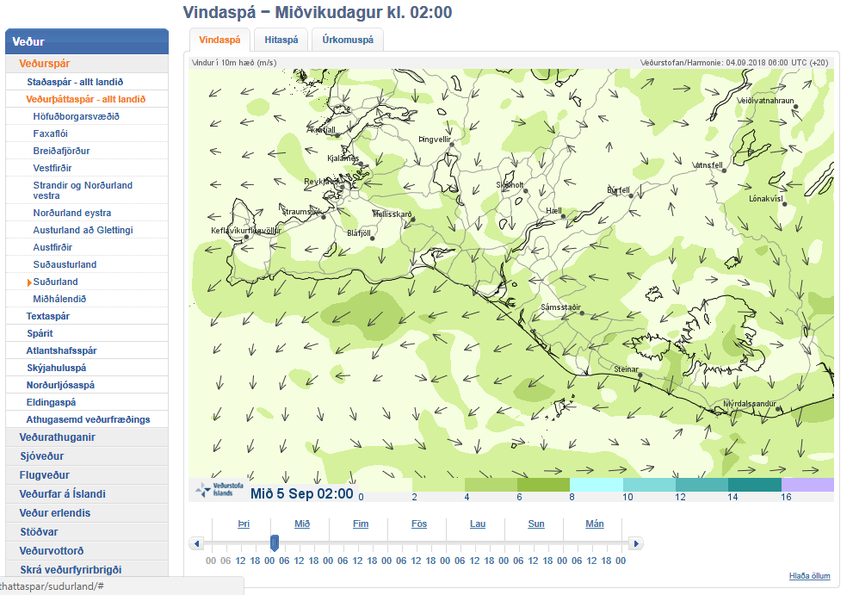 This is an example of a normal amount of wind on the Laugavegur:
At the wind speeds below, it would be better not to camp at Hrafntinnusker or Álftavatn: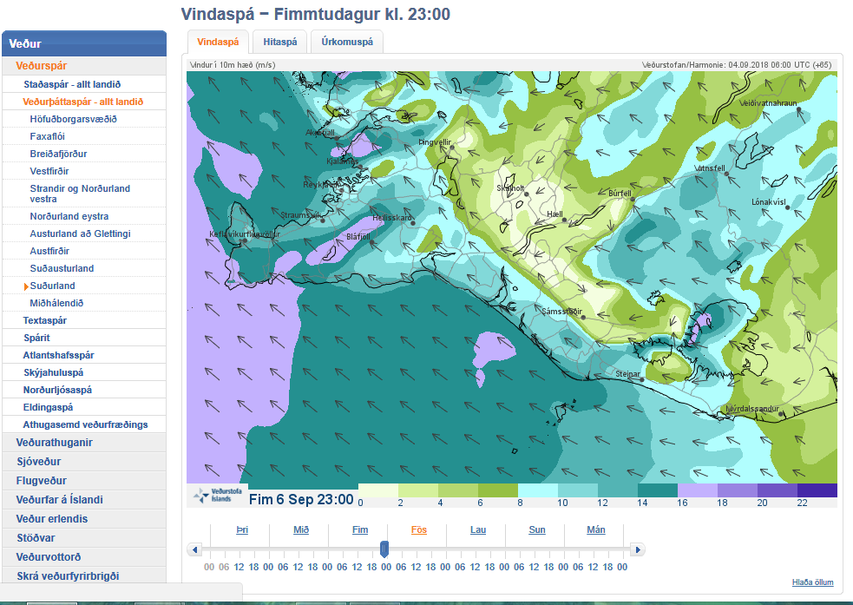 These are examples of wind predictions I would cancel my hiking/camping plans in:
Please note "yellow alert" at the top of the page below. Hikers, people on bicycles, horses or those staying in tents were advised seek shelter in these conditions.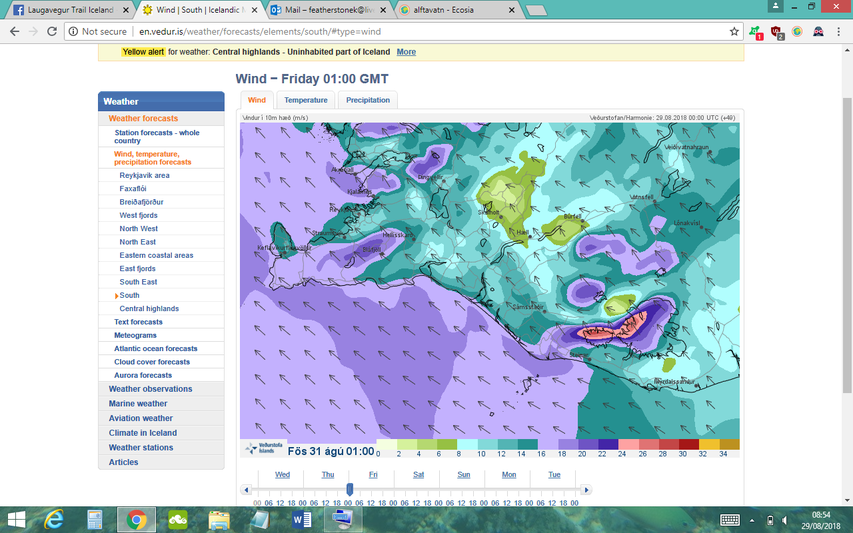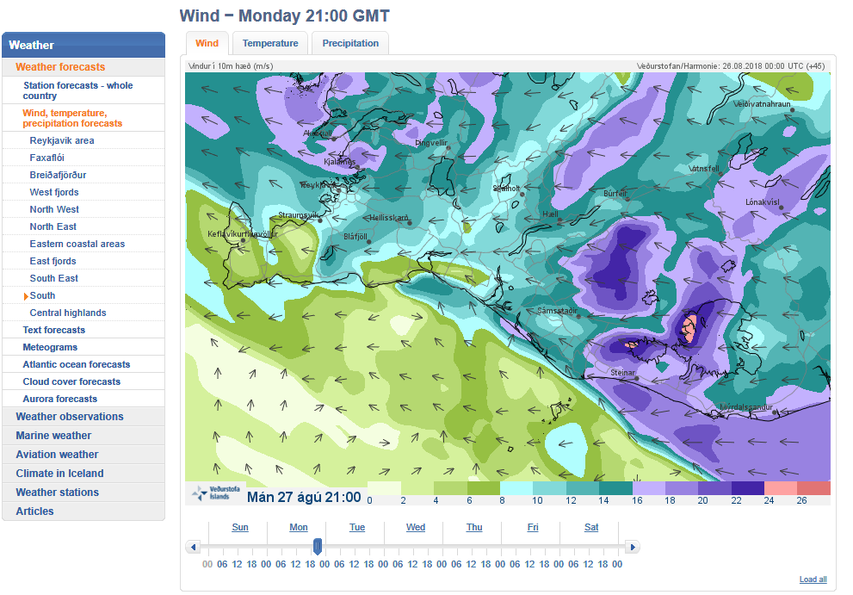 The photo below was taken at Landmannalaugar around the time of the weather prediction just above (27/08/18). Most tents could not be put up, were deconstructed by their owners or just destroyed. Everyone was advised not to hike in anticipation of this weather and campers who reached Hrafntinnusker (having not asked advice before leaving) were turned back to Landmannalaugar before the storm hit for safety reasons.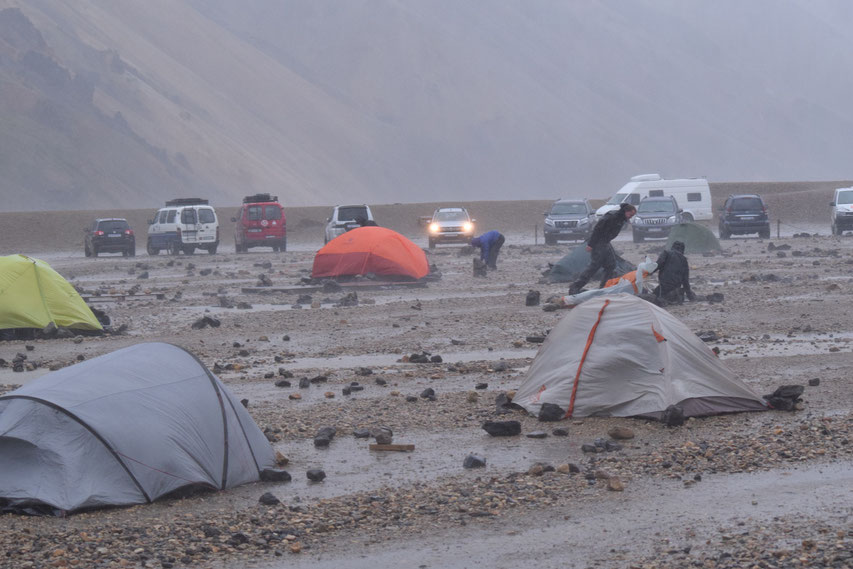 Rain
How you cope with rain depends on the quality or your equipment, your attitude and whether you stay in a tent or a hut (and have the opportunity to dry things). Waterproof jackets, trousers and boots are obviously essential, but you also need to be sure that the contents of your backpack is also fully waterproof (bag cover and also dry bags/bin bags to protect things inside). In low visibility, you might need a GPS device. 
To study the rain forecast, click through each day, hour by hour. It is very unusual for a whole day to pass without any rain.
The colour scale denotes precipitation rates:
Light precipitation of 0.1 mm/hour and anything up to 1 mm/hour is totally normal. You should be prepared to walk in this a lot of the time. 
1-3 mm/hour is heavy rain. This can be manageable for a short period of time, but difficult for hikers if it continues for many hours/days.
Anything above 3 mm/hour will soak through all but the very best equipment. 
5 mm/hour is extremely heavy rain.
This is an example of a good day with only small amounts of rain: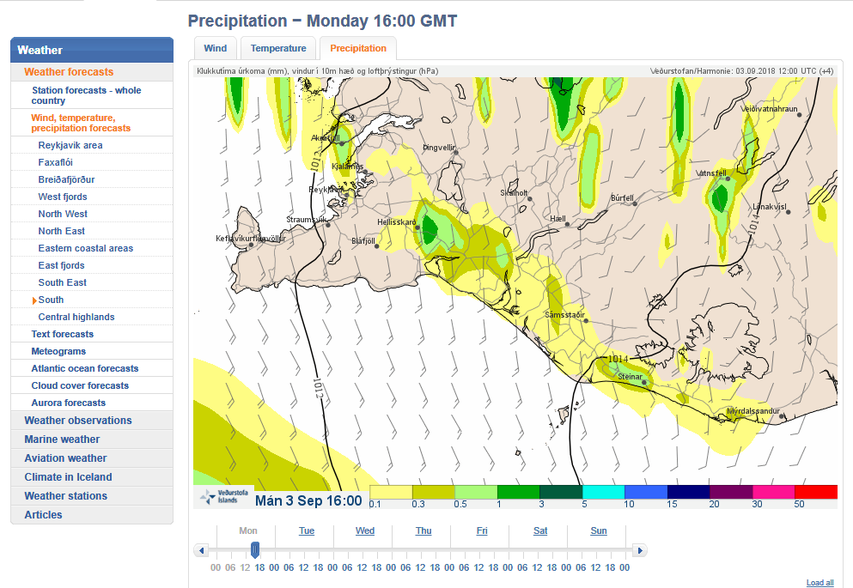 This is an example of a rather normal looking day: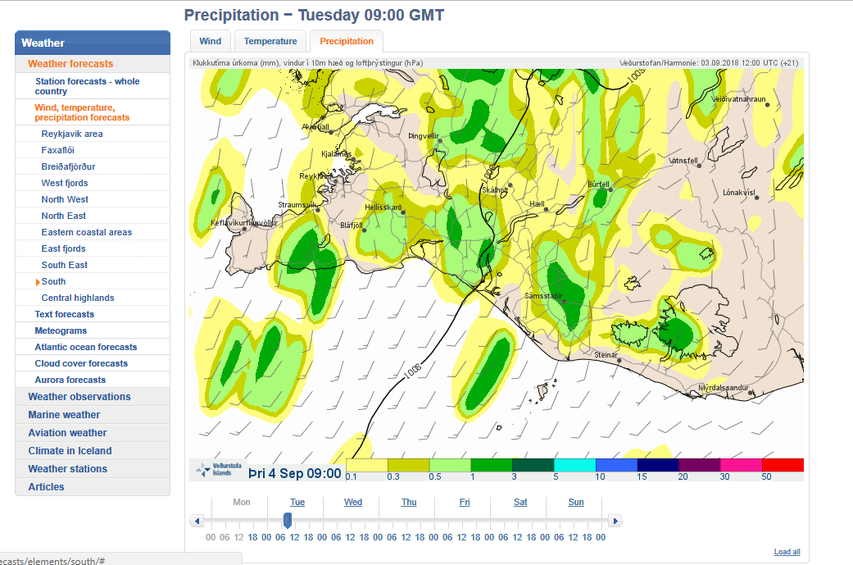 If I saw this forecast I would check carefully hour by hour to see how long this rain will stick around and if it is likely to be heavy on the Laugavegur. I would also refer to Belgingur (see below).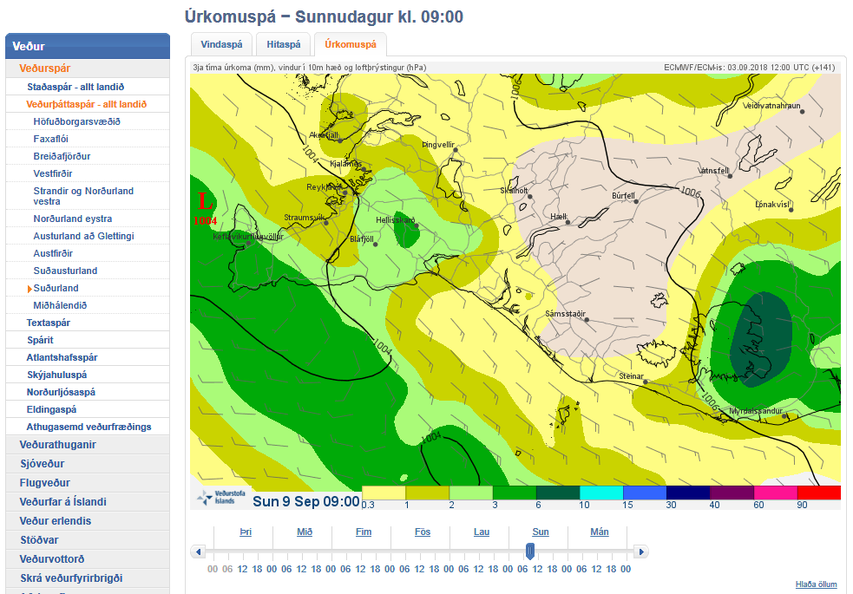 These are examples of downpours that I would not want to walk in: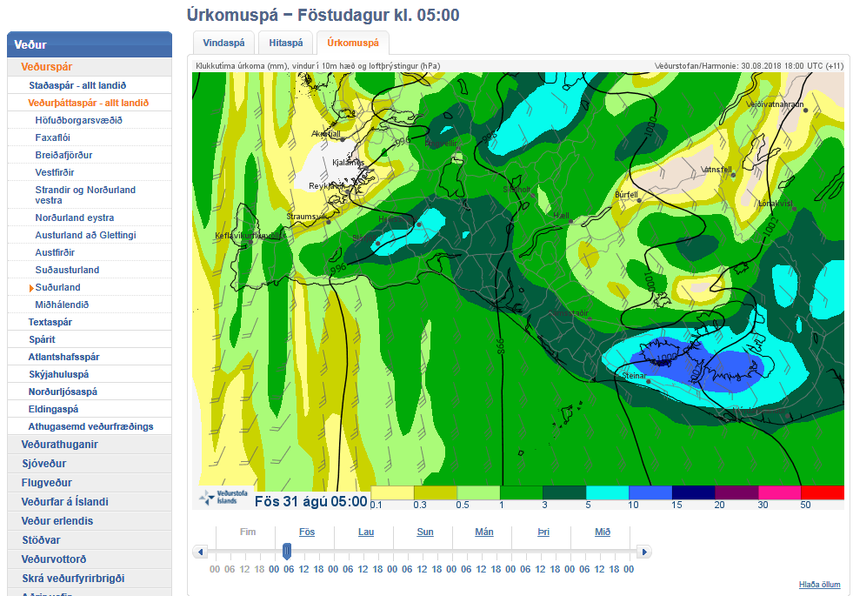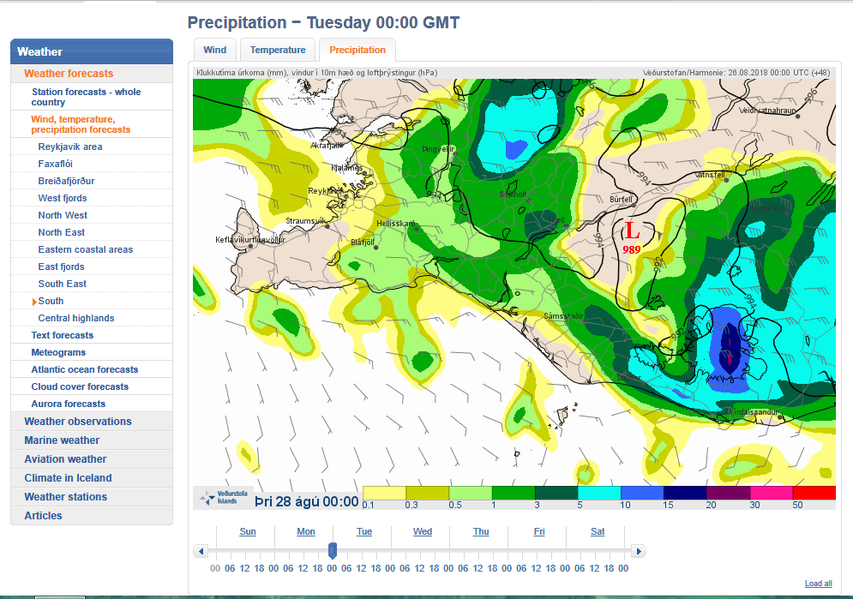 Note the "yellow weather warning" in the example below: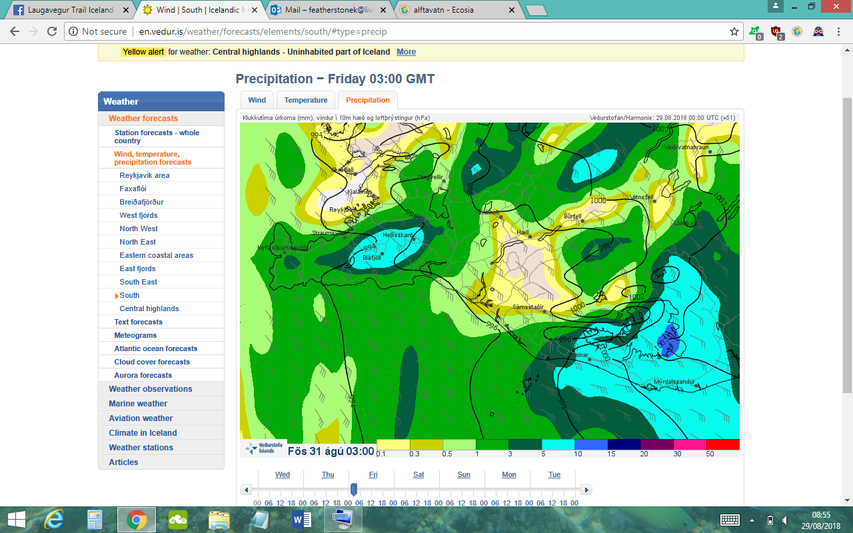 Reading "Belgingur".
Belgingur usually have more accurate wind-speed estimates for Hrafntinnusker. 
Under Veðurkort (weather map), you will see some drop-down menus:
Change the left dropdown menu to 'Suðurland'
Change the second dropdown menu to 'úrkoma og vindur' (precipitation and wind)
Use the arrow on the bottom right to play and pause the three day weather forecast. 
Factors to take note of:
Wind speed (small numbers on the map).
Wind direction (small arrows).
Amount of rain (colours according to the scale shown under the 'I' information button).
The red line on the example below shows the approximate position of the Laugavegur.