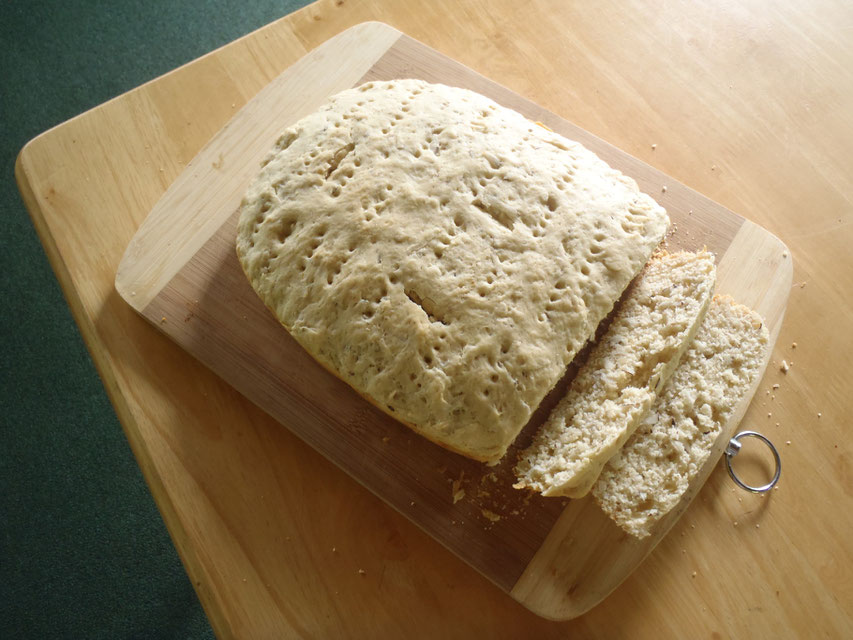 People on Tobago really love their food! Dan is a much better cook than me, so I've asked him to explain how to make this tasty local recipe at home...
Coconut Bake is a type of savoury flat bread which is eaten for breakfast in Tobago. It's delicious when eaten with saltfish or herrings or just on its own with a bit of butter and jam. Debbie Taylor*, the chef at CasCreole restaurant in Castara, taught me this recipe. Traditionally bake is supposed to be unleavened but Debbie recommends a little yeast in order to make the bake a bit lighter.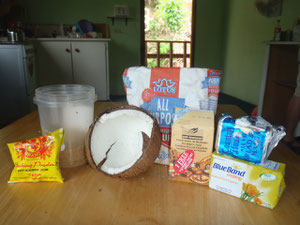 What you will need:
Around half a coconut or 3/4 cup desiccated coconut if you cant get a whole coconut.
1 cup of coconut milk (if you cant find it you can substitute with milk)
1 small teaspoon of brown sugar
2 teaspoons of baking powder
1 1/2 teaspoons yeast
pinch of salt
2 cups of flour
25g margarine or butter
25g lard
How to make it:
Grate up your coconut.
Mix the flour, baking powder yeast and salt together.
Add the lard and butter and make sure its properly mixed in, hands are always best - they're going to be messy by the end so don't be afraid to get stuck in.
Add your coconut and sugar and mix in well.
Make a well in the centre of the mix and add the coconut milk slowly while mixing in.
Add coconut milk until it begins to take on a doughy consistency.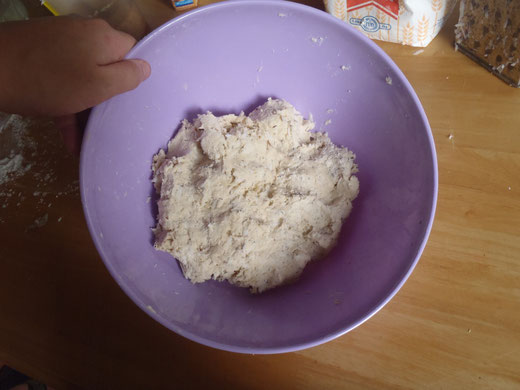 Knead lightly for 10 mins.
Then leave in a covered bowl to rise for 15-20 mins.
Preheat your oven to 240 while you're waiting.
Grease your baking tray with lard or butter.
Squish into a greased rectangular baking dish and aerate with a fork.
Then pop into the oven for 30 mins or until golden brown on the top.
When its done check it with a knife to make sure its cooked all the way through - the knife should come out clean.
Removed from the tray and leave it to cool for a short while.
Cut into squares and serve.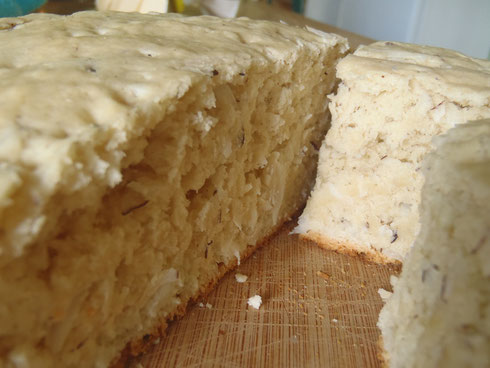 One of our friends had brought us some fish that he'd caught that day, so we ate most of ours with garlic battered red snapper, roasted vegetables and a coconut and hot pepper sauce...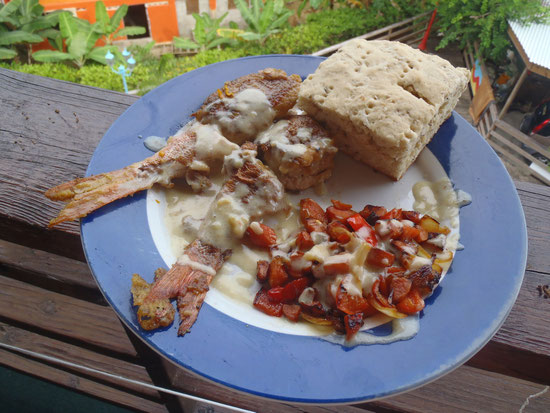 *Debbie is Sparkle's Mum and the lady who cooked us a delicious Sunday dinner last week.