River by Allenvale Mile campsite.
There are a variety of options if you want to see the Great Ocean Road. Obviously the ideal convenience choice would be to drive, but for those of us on the really frayed shoe-string budget, byeing or renting a car is pretty much out of the question. Hitchhiking on the other hand, is affordable (obviously) and unbelievably easy in this area- we barely had to wait more than ten minutes for a ride.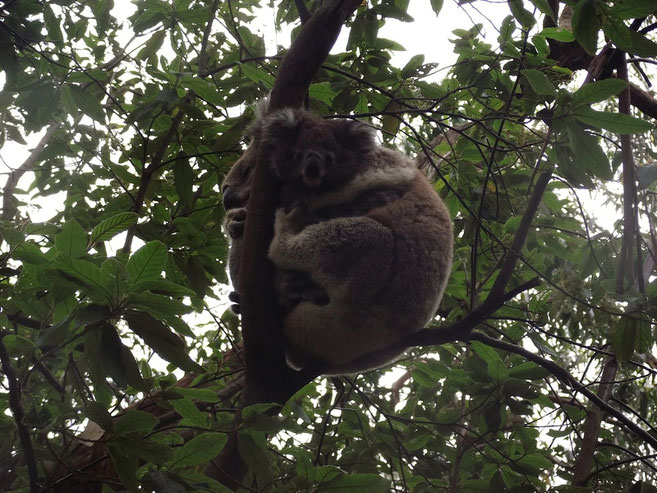 Accommodation in Australia is always pretty expensive and being so popular, the Great Ocean Road is especially bad. Even a non-powered tent pitch in a crappy caravan park can be $40. Thankfully we actually found some legitimate free campsites in the national parks along here, so that wasn't a problem either. To find these, you might want to download an app called wikicamp, as we've been told  this is really helpful.
With accommodation and travel available for free, there is really no need to bust your budget ticking off this famous road-trip from your bucket list. It was so easy that we were almost a bit bored in comparison to our adventure between Sydney and Melbourne… but we did get to meet some lovely people, spot a lot of exciting wildlife and see this coastline for nothing more than the price of our food. 
By Allenvale.
We began our excursion with a seven dollar train ride to Geelong (good luck to you if you fancy hitching out of Melbourne's city centre) and, as we were running pretty late already decided to catch a bus from there to Torquay and the beginning of the Great Ocean Road. To our delight, the bus's swipe-in system was broken and we got a free ride, but the driver wasn't too optimistic about our chances of hitching to our first free campsite that night and recommended we get another bus. I guess he was just doing his job as we only had to wait ten minutes before our first lift. The lady who picked us up was exactly the last sort of person I would expect to stop; well-dressed, alone and driving a pretty nice car, but to our surprise she knew of a free campsite in Lorne. Allenvale Mile, buried deep in the forest, was where we spotted our first koala. Now we've seen so many that our excitement at that one is a bit embarrassing, but it was a nice way to start the journey. 
Allenvale Mile Campsite- I was a bit in love with these ducks...
We stopped for lunch in Apollo Bay.
From here, we never had a problem finding lifts out of the campsites every morning. That night, we met some people who were driving West, so our morning was sorted (this is what I mean about it being easy) and after we left them, our second ride took us all the way to Cape Otway. These international students from Melbourne university drove past us, turned around to come back and pick us up and then had to turn round again ten minutes up the road when we realised that we'd left Dan's camera bag (containing the obvious camera, but also all his money and a microphone with all of his sound files saved on it). It was a tense journey back, but the inhabitants of Wye River are obviously a trustworthy bunch and it was still sitting there on the bench. 
If you want to see a koala, the road down to Cape Otway is the place to do it. Unfortunately, this information is freely given out from tourist information centres and half of Victoria's visitors that day had beaten us there. People were driving five kilometers an hour in zig-zags, straining their necks to look up in the trees, parking up willy-nilly and running across the road regardless of irritated local drivers. The koalas seemed exhausted, but I'm pretty sure that's normal anyway.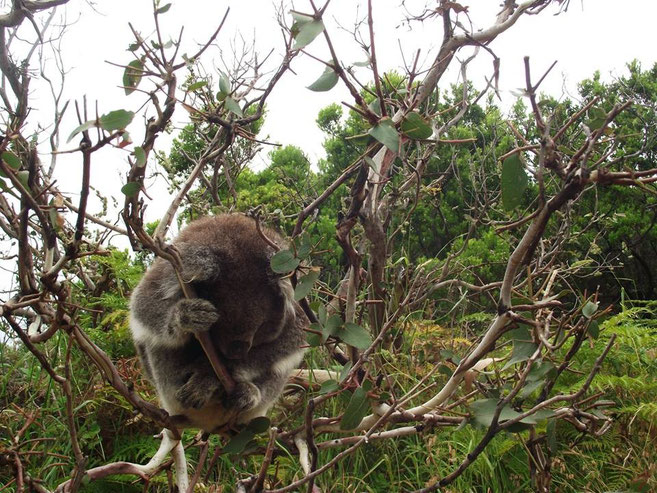 From Cape Otway, Australia's most southerly point and home of 'Australia's most significant lighthouse' which we didn't pay to have the privilege of seeing, Dan and I began the somewhat exhausting trek to Blanket Bay. If you're hitching, it would be best to get dropped off at the entrance of Blanket Bay Road and either wait (what could be a rather long time) for a lift down there or brave the five kilometre trek on foot. This campsite is free apart from in holiday season, has allocated fire pits and is situated pretty much right on the beach, so there's no need to pay to stay down at the Cape Otway.
Blanket Bay
At Blanket Bay, we were befriended by a German man named Ralph* who was again driving West the next morning. With Ralph, we stopped by Johanna Beach (to check out our campsite for that evening), the misleadingly named Prince'town' (and all four buildings it consisted of), the Twelve Apostles and finally Port Campbell. I was a bit disappointed by this stretch of the road. If half of Vicoria's tourists are checking out the koalas, the other half were certainly crammed along the viewing platform at the Twelve Apostles. Pretty much anywhere with a viewing platform is bad news. The cliffs are incredible, but there are better places to look at the than here. Try and find a less publicised track down to one of the beaches and you might get to experience them in a little bit of peace. Failing that, I'd go early in the morning if you can find a lift with somebody going to work or something.
A few apostles, carefully cutting out everyone else's extended camera arms.
With Port Campbell being little to write home about either (just a typical touristy beach town), we were happy to head back to the wilder Johanna for the evening. This beach was my favourite since we stayed at Longswamp a week ago and we were actually allowed to camp here for free.
Johanna Beach is beautiful.
After a lazy morning and a short attempt at swimming (the waves are crazy down there), we decided to try out a little bit of the Great Ocean Walk** to Castle Cove. Unfortunately, this section wasn't quite as short as we thought and we actually struggled to get back before dark. Over-excitable as ever, I would have done the whole thing twice for a chance to see the echidna and wallabies that surprised us along the way… 
'This is me in a forest' ...There were some very strange plants along the path.
Castle Cove
Noisy kookaburras at Allenvale Mile. 
Our lucky streak with the lifts continued for the next couple of days as we wove our way back to Lorne and finally Melbourne thanks to the kindness of people we met along the way. Sophie and Freeman, our final drivers and friends for an evening around the fire and morning in the sea, were kind enough to drive us strait back to Melbourne's central station, so it really couldn't have been easier.***
*Hi there Ralph if you're reading this.
**The Great Ocean Walk goes from Apollo Bay to the Twelve Apostles, but you have to pay for a camping permit which seems pretty stupid as some of the campsites are just right next to the free ones anyway. 
***Thanks guys! Sophie has a pretty awesome tumblr- homesickpipe.tumblr.com