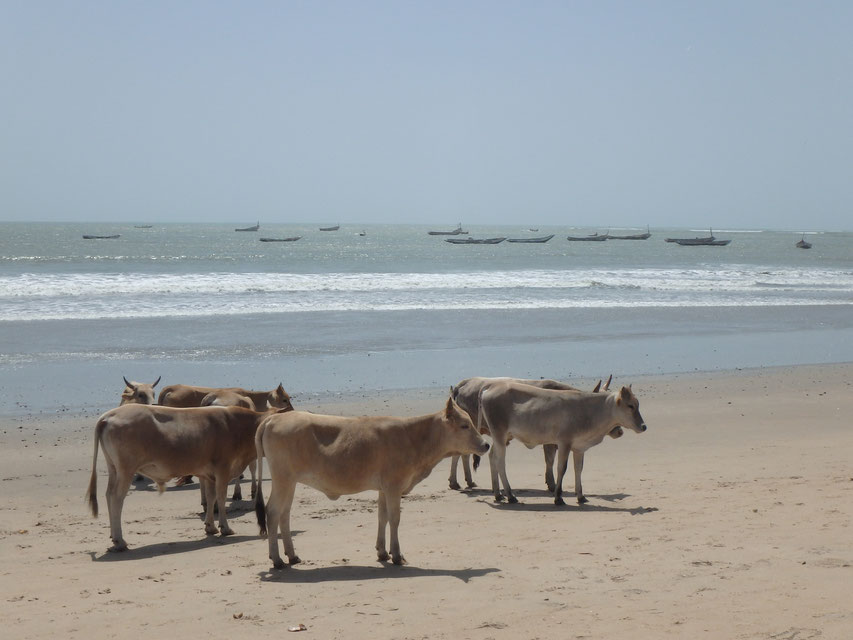 Far from fresh-faced having slept in the airport, but new to The Gambia, we were not looking for a challenge in our first few nights in the country. Avoiding Senegambia, the most popular and notoriously tourist infested strip of beach further north, we found Rainbow Beach Bar and Lodgings by the reliable method of arranging accommodation on booking.com* in order of lowest price first... 
*Not an advert!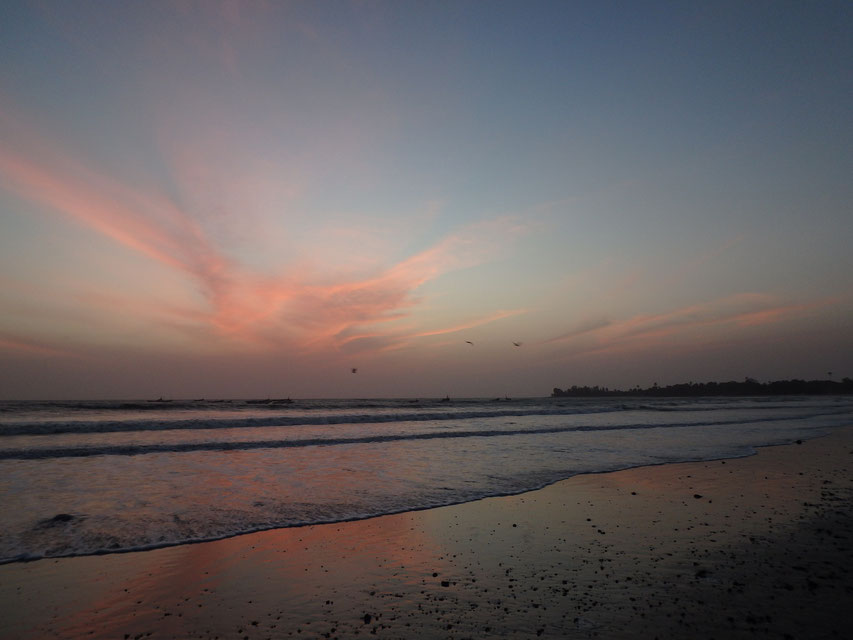 To allow ourselves time to unwind and get a bit more familiar with the country before doing anything more adventurous, we booked three nights. It had the desired effect; we were so relaxed that we didn't end up leaving for the best part of a week. More important even than the "Paradise Beach" location, was the warm welcome and friendliness we received from the staff. As we arrived, I asked the young woman on reception when we should pay, but she laughed and said that it didn't matter; Lamin (who cycled for forty minutes every morning from Brikama) chatted, joked and gave us a hug goodbye when we finally left; and the women who came to clean each day complimented my outfit (keen not to cause offence in a majority Islamic country, I was very happy with that).
It was a perfect introduction.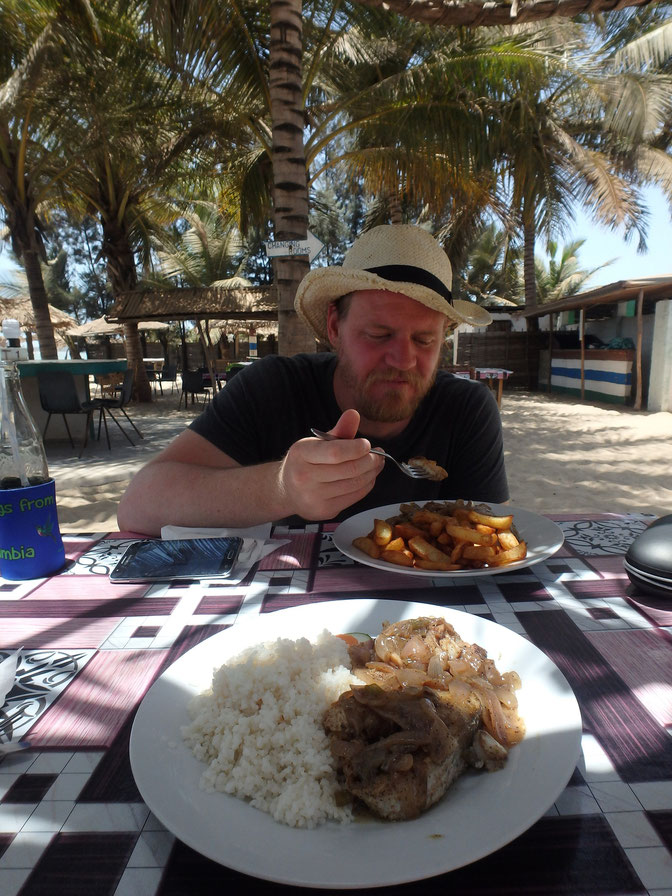 The food was consistently tasty, well-cooked and filling (it might be worth asking for a small portion if you aren't all that hungry/don't have a Dan to finish your plate off). Despite being vegetarian for two years now, I'd decided, before I even left the UK, that I would eat fish on this trip; I hate being the awkward foreigner. It would actually have been possible to avoid it at Rainbow Beach as there were a few European style alternatives on the menu, but I also wanted to support the local economy. Apparently fish are not yet an over-exploited resource in the Gambia and without the industry, coastal communities have nothing but tourism to fall back on. The previous half decade, political instability and the fear of Ebola in West Africa, have shown how precarious it can be to rely solely on foreign visitors.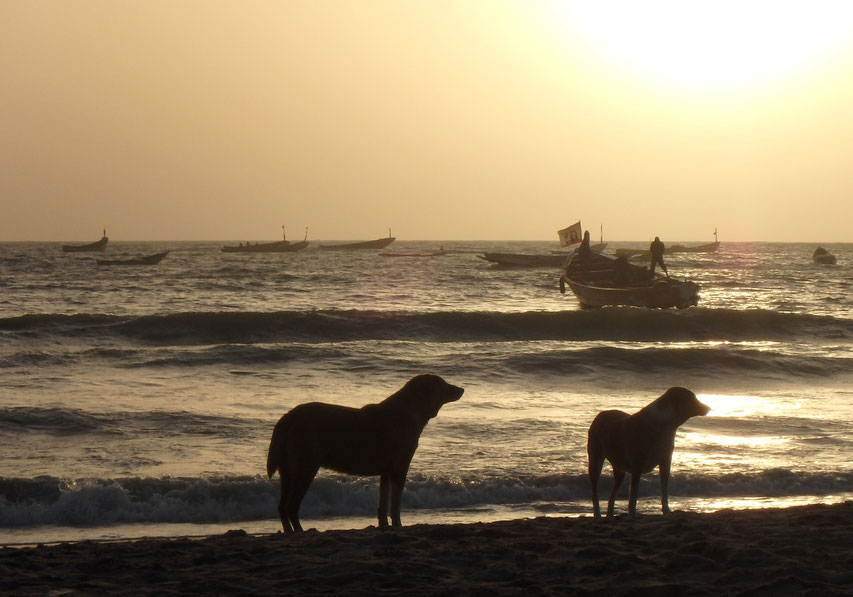 The leafy grounds around the accommodation and palm trees on the beach were home to a great many birds, most of which I had never seen before.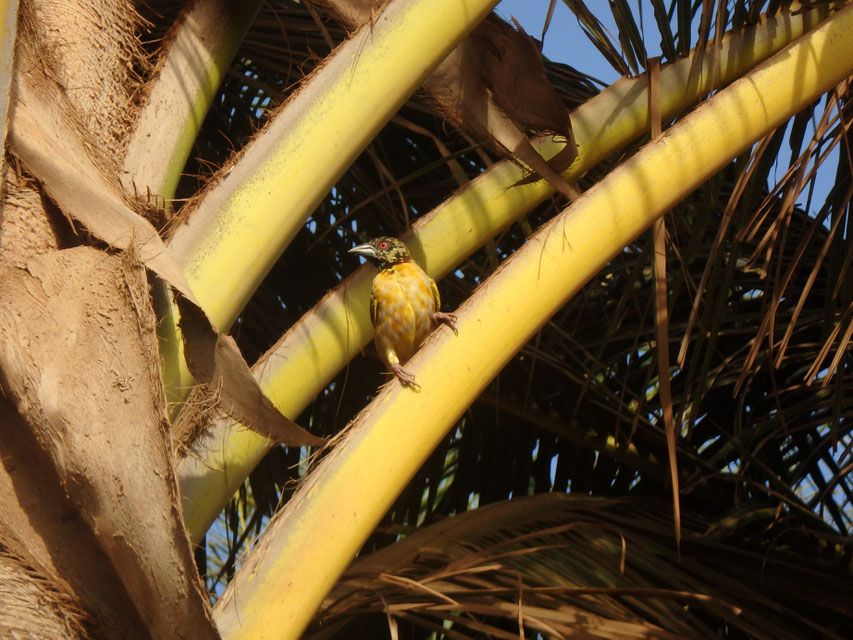 Prices, details and practicalities
(at the time of writing, there are around 64 dalasi to one pound)
I've written a whole post about what to pack and how to prepare before your trip to The Gambia.
For simplicity, we arranged airport pick-up before we arrived. It cost around £12. The man who collected us was friendly and drove safely. If you are new to West Africa, I would probably recommend this to avoid the inevitable taxi-driver mobbing/inflated prices/general stress of trying to sort it out once you arrive.
For £12 a night, our double, en-suite room was clean, with a fan and mosquito net.
Breakfast was 200D/300D depending on whether you wanted bacon and sausage or just egg.
Lunch/Dinner was around 300D or 275D for the chef's special which was usually Lady Fish or Butter Fish; I would recommend both, but the Butter Fish was my favourite. On Fridays there is an Indian buffet (also 300D) where you can refill your plate as many times as you like. We didn't have any stomach problems during our stay despite only just arriving in the country.
Water was 50D for a 1.5 litre bottle. You could also buy soft drinks and a limited selection of alcohol. 
Wifi was available around the bar and eating areas. 
To catch a gelly-gelly (mini-bus public transport) to Brikama or elsewhere, wake up early to avoid the sun, walk the 2.5km into Sanyang town (or find a taxi) and then just ask somebody where to wait. We found transport immediately. To Brikama it cost us 11D each.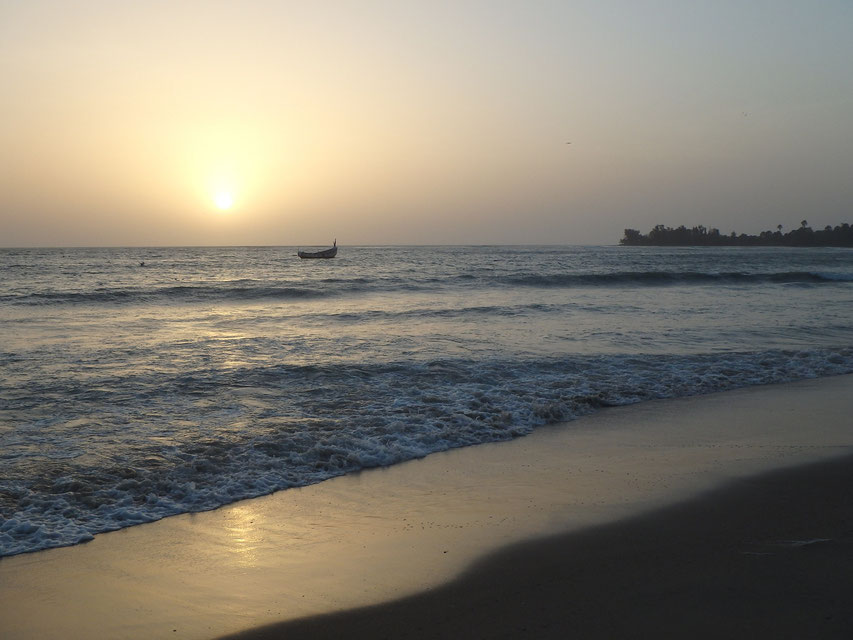 Dibba's Fresh Natural Fruit Juice Bar
The small juice stand, immediately left on the beach-front, sell pure fruit smoothies for 100D a glass (often with a partial top-up or accompanying slice of fruit). This is not very cheap refreshment in Gambia, but they take some time to prepare (you can stay and watch if you are interested) and the fruit is a good dose of vitamins (which are quite lacking in the restaurant food). Mostly, I liked the friendly service and conversation with Dibba and his friend Pa moli Jatta, so we went back every day. Mango was my reliable favourite, but baobab fruit (good with banana) is probably more of a novelty if you haven't travelled in this region before. They have a menu with various options including a fruit salad.
Along with a great number of other people around Rainbow Beach Bar and Lodgings, Dibba also offers day trips to various places around the country. We did not try this, so I cannot recommend it personally, but they were not too pushy with the sales pitch (which I much appreciated). The care which went into the set-up and appearance of the juice stand every day made me think that their tour service would be reasonably professional. If you are not on a very tight budget or would like the ease and company of a local guide it might be worth a try. Be sure to agree a price and specifics beforehand in any such arrangement.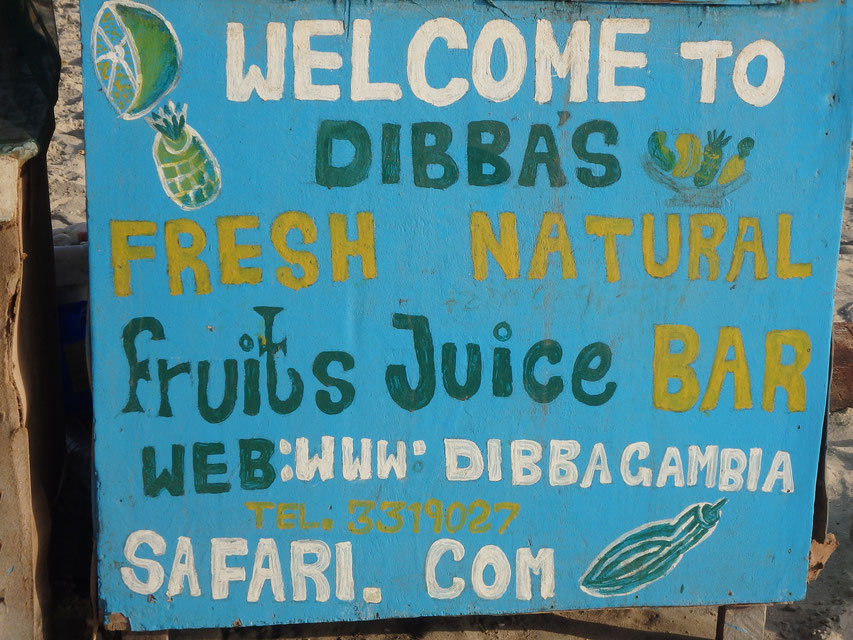 They also let me feed a friendly cow with the mango skins...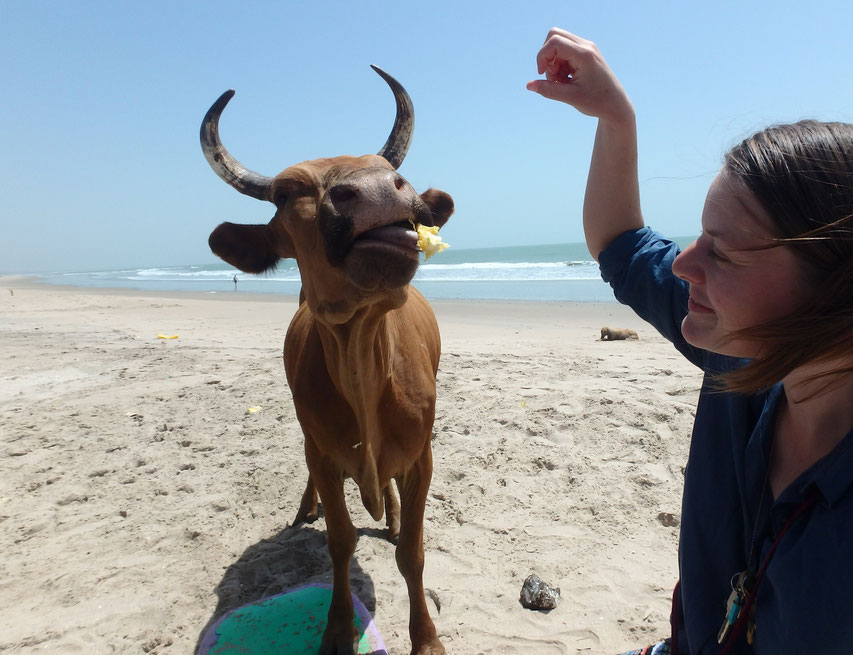 The Beach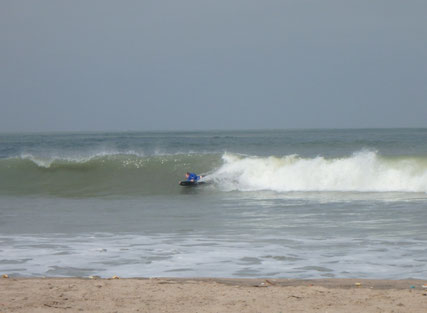 Leaving Rainbow Beach Bar and walking left along the sea-front was quiet and hassle free in my experience. Various interesting sea birds and vultures scavenge for dead fish which wash up on the shore.
There is sometimes better surf just around the first headland and we often went that way to bodyboard. The waves were quite crumbly while we were there, but not needing a wet-suit in the warm water made up for it.
If you walk to the right, you will see many colourful fishing boats, ladies cleaning fish, people working with nets etc. Unfortunately, it might also be difficult to extract yourself from an over-enthusiastic would-be guide/friend from the small tourist shops in that direction. There was nothing threatening about this, but it can be tiring and upsetting to have to be suspicious of people (the vast majority of Gambians are genuinely friendly). Unlike some places in the world, I did not feel any threat of being robbed. You can be polite, firm and continue walking, but don't be rude or swear. Simply say you are going back to your hotel if it becomes too much as they seem to stay away from the grounds.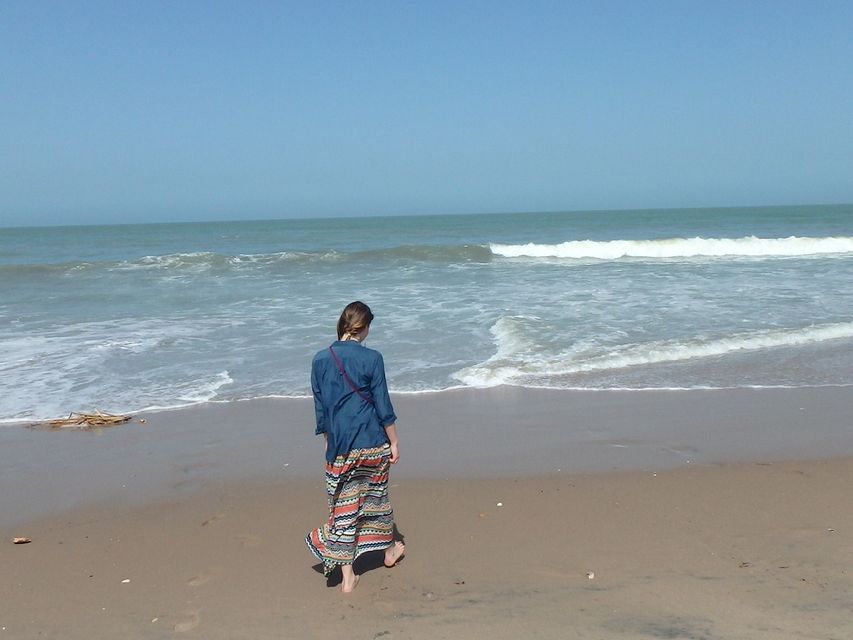 At low tide there are thousands of shells: