As you might have seen in my previous post about the history of Casa Aida, the hostel was beginning to look a little run down...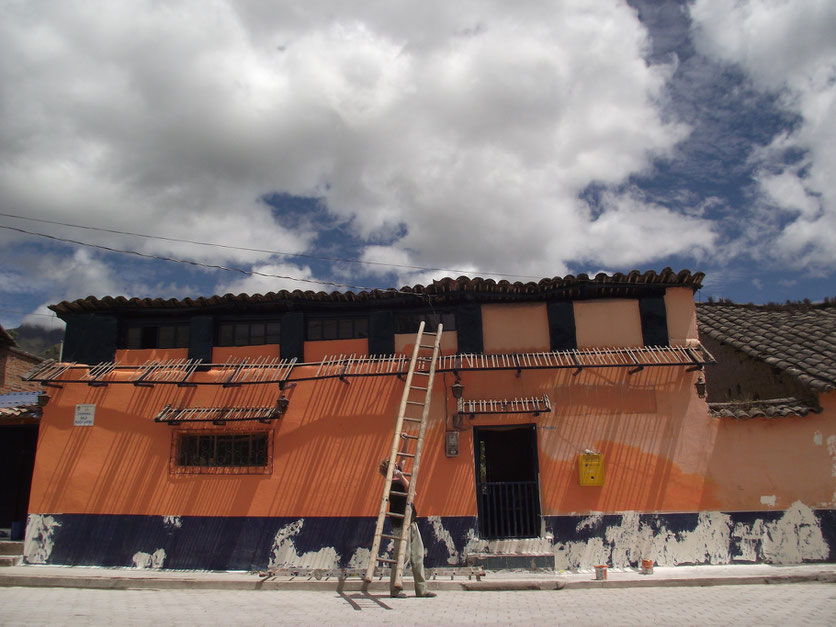 Aida has been incredibly kind to us, we wanted to do something to help her and that gave us the perfect excuse to stay in La Esperanza a little longer. She welcomed us into the family, let us stay for free and eat three of her delicious home-cooked meals in exchange for helping her with some maintenance. By far the biggest job and our proudest achievement here has been the restoration of the front of Aida's house.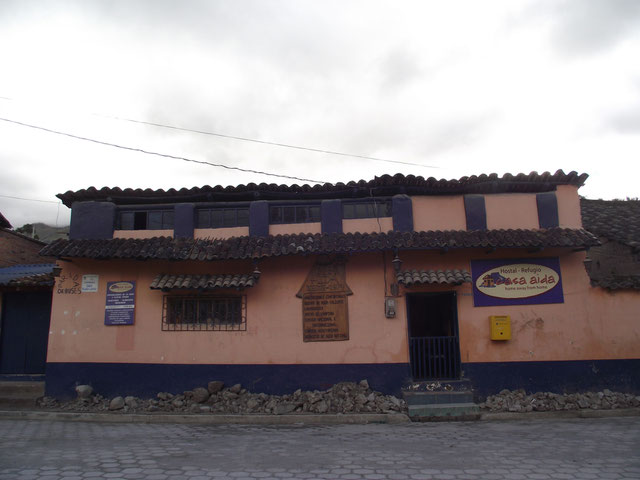 Although we've been working long hours, I've always felt happy at the end of each day that we've had a chance to pay back some of the kindness Aida showed us while we stayed with her before. Initially I think she felt sorry for us, camping and eating bread for lunch, so often gave us soup and snacks. Later, while suffering with a kidney infection, Aida let us stay inside for the same price as the tent and fed me up with home-brewed chamomile tea and healthy food. With all the family treating us like good friends (despite our lack of Spanish), four overly friendly dogs and plenty of time in the spacious but sociable garden, I've never felt more at home on my travels. We wanted to help in any way we could.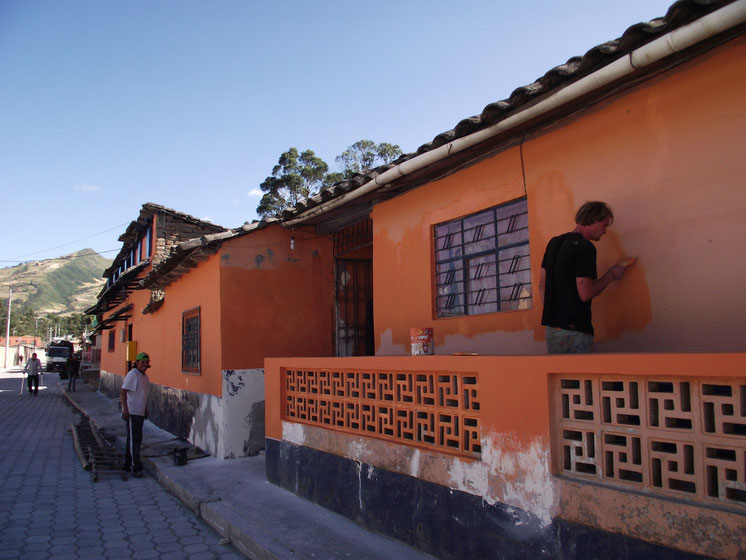 With the help of our friends Jose (Aida's grandson) and Jorge from down the road, along with some friendly Quechua labourers who plastered up the holes with significantly more skill and efficiency than either Dan nor I could have managed, we transformed the exterior from dilapidated to shining like new.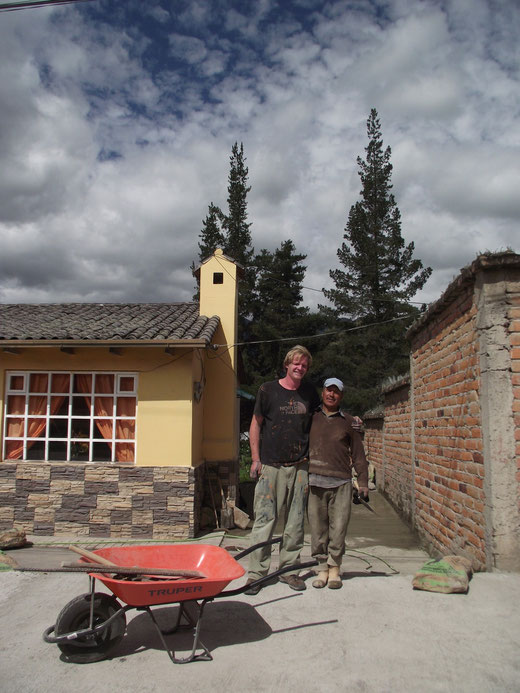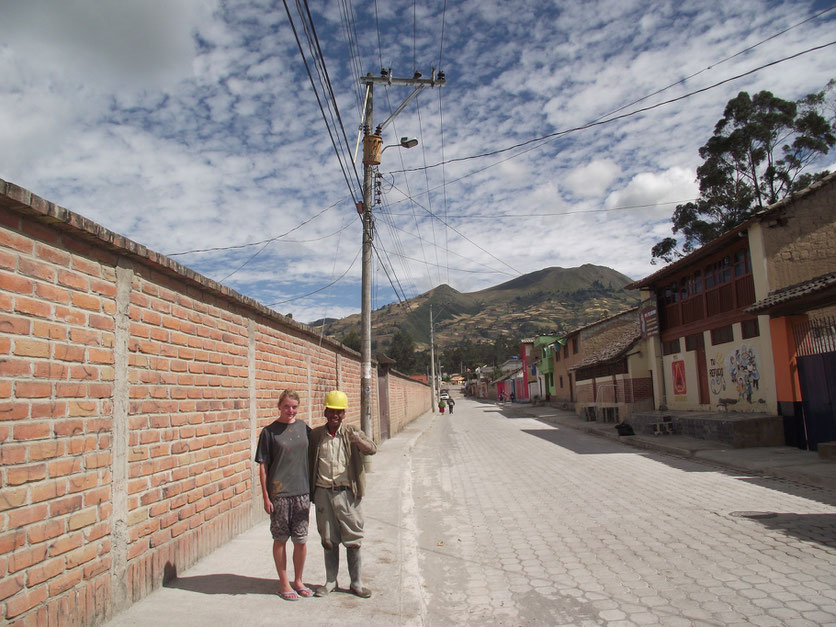 Jorge added his artistic touch on the final day...
Luckily there aren't any photos of me in the 'sombrero' that Aida made me wear, but here I am pondering how this window had taken me four hours to paint (sticky gloss paint, wind, dust and the complicated design of the window bars didn't help).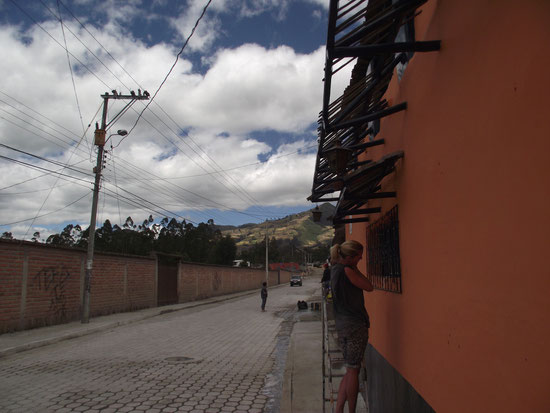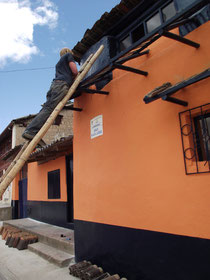 ...and finally, after cleaning each one individually, we replaces the clay tiles.
Working for Aida and her family was a pleasure and we're relieved that they are happy with the end result. :)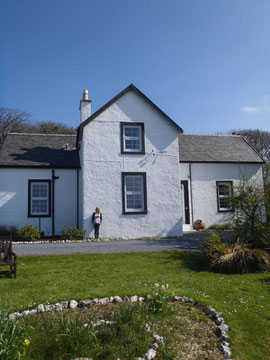 If you're interested you can see the first house we painted (in Scotland) here on the right and before, during and after photos of the apartments we painted in Tobago here.
You can also read more about why we still haven't left La Esperanza and Aida's amazing story in my previous posts. 
Soon to come: hopefully a review of Casa Aida with photographs of the beautiful hostel inside. I might even write some more about the surrounding mountainous scenery and festive events of July if I feel like anyone can be bothered to hear more about this tiny town.
As always thank-you for reading!