After discovering his impossibly detailed pen and ink drawings, doodles I could get lost in for hours, I'm incredibly excited to introduce Olivier. His intricate layers of disproportionately sized wildlife weave together into the masterpieces you can see below. Though this website is never going to do his pictures justice, the playful twist on an environmental theme seemed perfect. I'll hope you'll enjoy getting to know the artist a little better as much as I have.
Were you creative as a child?
I've been drawing ever since I can remember due to the enthusiasm of my mum and the encouragement she showed me as an infant to pick up a pencil and paintbrush to draw or paint. Like everybody you go through phases of doing other things but drawing has always been around with me.
At what point did you decide you wanted to become an artist?
I'm not sure I decided I wanted to 'be an artist'. I think I just chose to do it because it was what I felt I was best at, at the time. It was either that or I wanted to leave school and work on the slopes in France teaching snowboarding. I made the choice of doing Art, though I sometimes wonder how the other would have turned out. I think my spoken French might have been better if I chose the latter.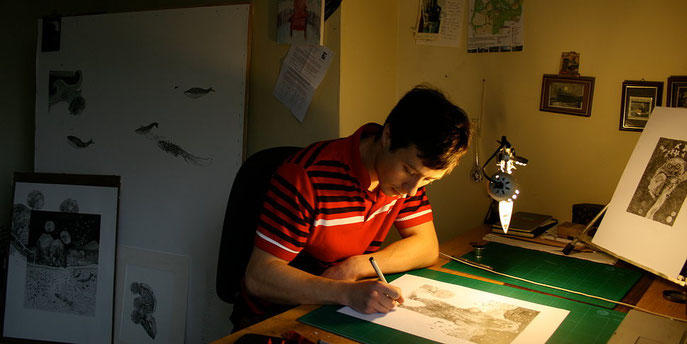 I first fell in love with your psychedelic underwater illustrations. Why have you decided to base your work around animals and the natural world?
Thinking back retrospectively, it was a result of inadvertently doodling the things that were on my mind at the time. Notably the growing effects of humans on the natural world. As I drew more animals, I decided research their physiology and their habitats. The more I learnt the more fascinating I found animals and the natural world to be, and so I carried on drawing them. I quite like giving animals their own ecosystems and geology, as if the animal were a living planet.
Can you draw a distinction between art and illustration? Where would you place yourself on that scale?
I think Art is an umbrella term that covers a multiplicity of disciplines. Illustration is one of those disciplines for which I like the dictionary definition:
[mass noun] the action or fact of illustrating something: by way of illustration, I refer to the following case.
• an illustrative example: this accident is a graphic illustration of the disaster that's waiting to happen.
The drawings I produce probably aren't illustrations because I have no brief to work to, but I'm sure someone could argue otherwise. I just think of them of detailed pen and ink drawings. The more detail the better!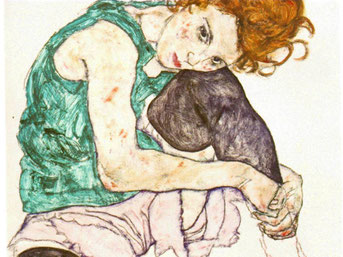 Are there any artists or illustrators you particularly admire or who have influenced your work?
I've always liked Egon Shiele. Alfred Kubin, Hieronymus Bosch. I was shown Henry Moore's bunker drawings last week and I really liked them as well. Durer, Dali and Klimt would be in there as well.
You have a pretty interesting heritage, is there anywhere in the world you feel a special affinity with?
I'd like to go and live in Canada for a while. Vancouver is close enough to both the ocean and mountains, so it would be great for nature, walking, climbing and snow.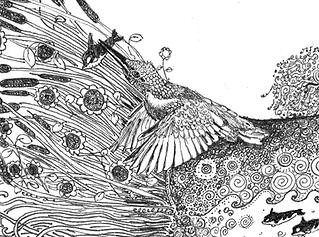 Now you live in Loughborough, what does your work space look like?
Like a mess most of the time and a studio some of the time. lol
Do you listen to music while you draw? What might we find on your playlist?
Depends on my mood. Literally anything goes! I quite often listen to documentaries in a vein attempt to boost my knowledge haha.
Where should we look out for your work in the future?
Lots of shows this year so far! Although some dates may vary slightly:
May 1-2 Belper Art Trail in Belper, Derbyshire                             
April 6-10 The Other Art Fair in Victoria House, London                  
July 9-10 The Urban Art Fair in Brixton, London                           
July 22-24 The Other Art Fair in Arnolfini, Bristol                           
Sept 1-30 Solo Show, Art Pistol Gallery, Glasgow                       
July 16– Oct 1 Solo Show at New Walk Museum, Leicester                
Oct 6-9 The Other Art Fair, Truman Brewery, London               
Oct 13– Nov 19 Solo Show at Sock Gallery, Loughborough            
Great, I expect I'll see you in Bristol then! Thanks for taking the time to answer my questions and even more for the narwhal print. :)
You can find Olivier on his website, facebook or twitter (though I don't think you'll find him on the latter very frequently).