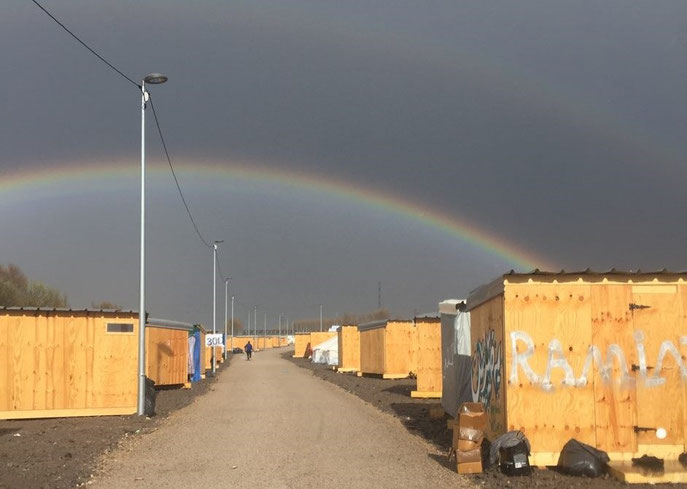 After two weeks of stumbling through our daily reality, Dan and I were struggling to find any purpose. Stretching the Easter bank holiday weekend, we found lifts over to Calais and were quickly back in the build team. With its regimented streets of chicken coops, Dunkirk couldn't be any more different to "the jungle". Having never seen the old camp, I can only repeat other volunteers' stories of children trying to play in a wood turned swamp. No building materials or tents had been allowed in for months and Winter conditions must have been nearly impossible before the move.  
Overshadowed by the jungle, Dunkirk was just one of many forgotten refugee camps in Europe. I'm struggling not to get too political, but the new camp, set up by MSF and volunteers, at least gives a small amount of dignity back to the thousand and a half people it has space to shelter. There are toilet facilities, showers, somewhere to wash clothes and food distributions from the other charities involved. It hasn't solved their long term problems, but hopefully eased a bit of suffering in the mean time.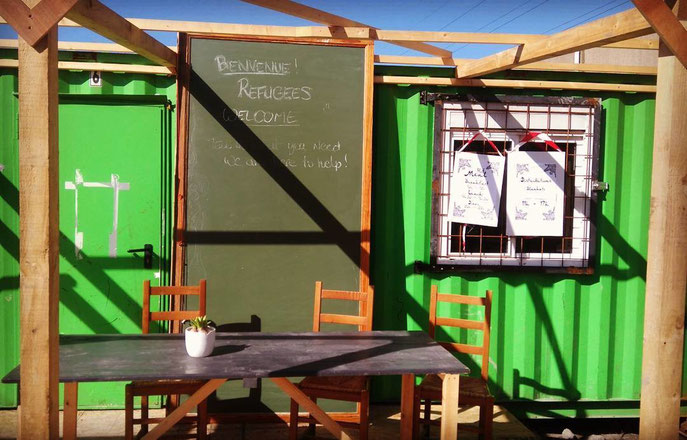 As "builders" with limited materials and varied experience, our job this time was to improve the living conditions of people in the new Dunkirk camp and (to my mind) simply show a friendly face and add a little entertainment to people's days. More often than not, the people we were supposed to be helping were more competent at our work than we were and most were keen to be involved. We tried to fix leaks and built "extensions" out of anything we could cobble together. Often it was little more than giving people somewhere to keep their dirty shoes outside without them getting sodden overnight, but from camping quite a bit myself, I'd say that even that was a somewhat helpful. 
I spent one day alternately squirting silicone into leaky gaps and sitting in people's homes having tea. While most of the people in Dunkirk are from broken Kurdistan, there are also a few Iranians. Able to communicate in English, we learned of Iran's history over black tea and biscuits, shared cross-cultural jokes and began to understand some of the difficulties and repression that people can face there now. Whatever their backgrounds, everyone I spoke to in the camp just wants peace now.
More photos from builder Liz.
Some of the Kurdistani guys had been catching fish, cutting and seasoning them on bin bags, and offered us some for dinner. I have the image of one, still gulping, ingrained on my memory and feel guilty that it pops up more often than those of the children growing up in the camps. Children who in England would be considered the size of toddlers, who could climb into our trucks and clamber up our precarious piles of wood, make toys out of wasted building materials and ride their donated bikes though knee-high puddles. My heart went out to a tiny girl trying to join in with the football, stumbling over her two-size-too-big pink fluffy boots. I berated a teenager for pouring too much petrol onto his cooking fire, then laughed at myself for trying to mother him despite his far more extensive life experience than my own. These children have had to grow up faster than our instagram generation and at 24 I felt barely older than those who should still be in school.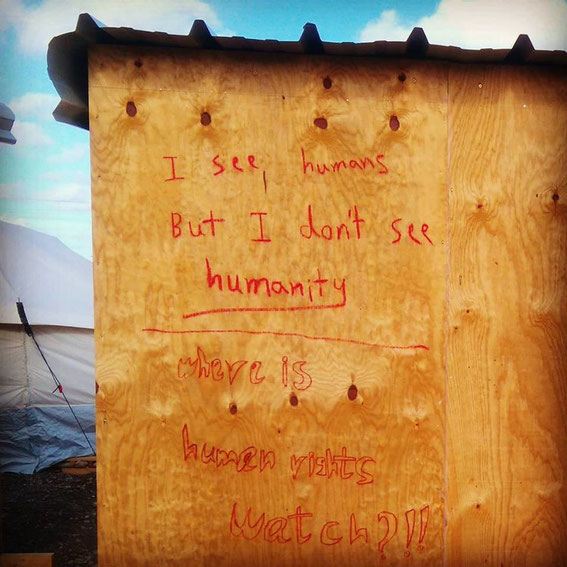 Since returning to England (again), I've been increasingly troubled by news from the camps and the refugee crisis as a whole. Though the jungle is now enjoying a respite from destruction, 129 unaccompanied minors are missing from the recently demolished South. I've heard several individual reports of teenagers losing their lives under lorries travelling to England, a seven year old from Afghanistan who had to be rescued after texting a volunteer from his donated phone that he was suffocating inside a refrigerated lorry. Greece is returning refugees to Turkey and Turkey have been turning others back towards Syria. While we fight to pass responsibility from government to government, it's impossible to calculate how many lives are lost.