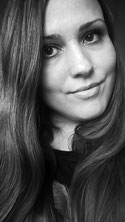 Sporadically panicking about the fate of our planet, I've been following the progress and achievements of the Trash Hero beach cleaning group for over a year.
When I saw Polish artist Ewelina Wajgert's beautiful drawings, as part of their new educational project, I was desperate to interview her. Luckily she agreed...
Could you tell us a little about your background and how you became interested in art?
I think I was just born like that. I remember when I was three years old and someone asked me 'Who do you want to be when you grow up'. I took this question very seriously. 'A painter' I answered. This word in Polish sounds different in masculine form ('malarz') and feminine ('malarka'). I already knew the difference, but anyway I used the masculine form, because I thought it sounded even more serious like that. I have no idea why I was so sure, I hadn't known any artists yet, but the answer for this question was very clear in my head. It never changed, I was always very firm about it. I was only thinking how to combine it with my love to animals. I wanted to help them somehow, but I was aware I couldn't be a vet – I hoped to find a solution one day.
One of the most beautiful memories of my childhood is from when my mother gave me a part of the wall and let me do with it whatever I want (paint, hang pictures, make small exhibitions!). When I was a bit older I drew animals while watching Animal Planet; I was very touched while doing it. I cried when I was watching animals which couldn't be rescued and made portraits to honour them. When I was twelve, I started to copy Leonardo da Vinci and I was angry at myself for not being able to do perfect copy, but kept trying...
When I was sixteen I moved to another city for art school. Being 700km away from home, it wasn't easy to convince my mom, but as I'd always known what I wanted to do, I had been able to spend the previous two years showing her how important it was to me.
Up until this point, I had made all my decisions with my heart, but when I was older I started to think that drawing animals was for kids. I tried some other subjects, but didn't find so much satisfaction. I felt lost and a bit my enthusiasm disappeared. I started to study graphic design at the Academy of Fine Arts. It seemed wise to do something that was creative but more promising and profitable for the future. I enjoyed it, but still felt it was not enough.
Later, I started to travel more and watching animals in their natural environment woke my passion up again. I realised I don't have to meet anyone's expectations, but I deserve and I can do whatever makes me happy and fulfilled. I stopped looking so desperately for more 'mature' or profitable subjects; I didn't want to be so super serious anymore, but more spontaneous, more me, more mature in my own way, just freely express myself. That took me such a too long time to understand, now I feel like I'm still just starting out. I have a lot to do now to make my inner kid truly happy. :D
Lino-cut prints - click to enlarge 
What sorts of materials/mediums do you enjoy using? 
I like to experiment and change media; it's more fun. One day I enjoy pencil, another day watercolour, the next day acrylic paints, lino-cut, photography or digital painting. Sometimes I'm just an observer.
I first fell in love with your beautiful underwater illustrations for the Trash Hero book. Why have you decided to base so much of your work around animals and the natural world? 
Thank you! I'm happy you like it.
Animals were always very important to me. As a little girl I dreamed that David Attenborough was my grandpa and that I went for a walk with him in the jungle (dear Sir David, if you read it, please know – it's still valid)! Animals also appear very often in my night-dreams as a part of symbolic visions. They are my guides sometimes, so how could I not to love them?
I'm in love with the whole natural world. Contact with virgin nature has something of contact with the Absolute. I like to feel united with it. Oceans or forests are sacred for me. Animals are just a beautiful part of it - always when I meet wild animals it's like a sign for me that the world is still a good place, we didn't destroy everything yet, I feel that there has to be a harmony if that meeting was still possible.
What is the Trash Hero project all about? How did you get involved?
So, this is a story about dreams coming true. Once when I was swimming over coral reefs, I saw an amazing, impressive, giant, blue starfish. I swam just a bit further and something blue took my attention again. I expected to see another beautiful animal, but what I found was just a blue plastic bag. Oh my, it was such a sad view. At moments like this you just want to cry. You are aware that you are in such amazing world, but this world will disappear if we do not care enough.
After this experience I had a very specific dream – I dreamed about picking up trash in Bali! In the beginning I felt little ashamed to tell it to anyone, my mom could have said "Hey kid, you should do bigger things than collecting trash!". So, I kept it secret for a while. One year later I decided to move to Bali. It was the best time to realise that dream, but I would have felt awkward to do it alone. I was ready to write an advertisement to find other crazy people to join me in this adventure, when I found out about Trash Hero; the new group in Bali had just started when I arrived! First we were only three people, but after few months the group grew bigger, even kids from local schools were involved.
When I returned to Poland, my dear Balinese friend told me that Trash Hero World had an idea to explain to kids why it's important to take care of our world and they looked for an illustrator. I applied for the contest. I wanted to take part in a project that is so close to my heart.
Together with Trash Hero we have prepared a wonderful, inspiring book that stimulates the sensitivity of children to the surrounding world. It's a story about a little boy who rescues animals from eating plastic floating in the ocean and similar things, written very nicely by Seema Prabhu. There is also an additional part of the book which gives some facts, statistics, explains what the plastic soup is, its effect on animals and most importantly, what kids can do to make it better. The book will be distributed for free in schools in Southeast Asia. Trash Hero World will spread the books starting from Thailand to Indonesia, and later to Malaysia, Myanmar and other countries. I believe this book teaches important lessons about loving our planet and should reach all children all over the globe, starting in Asia.
Is there anything that people at home can do to help?
Yes, we all can. Let's start by educating ourselves and kids about plastic pollution and then we will all want to care more and do the next steps – avoid using plastic as much as we can, for example using our own bags while shopping, refilling bottles etc. On the internet you can find many interesting ideas about what we can do to use less plastic and there are fantastic ideas for upcycling too! We just need more awareness about our impact to the world, more respect, compassion, simply love.
If you like to support Trash Hero World:
I you want to support the project with a donation (even 50 cents is really a help!) then you can do so by following this link.
You can also follow them in social media, so you will be informed about other actions/crowdfunding.
When you next go on your holidays you can also check places where groups of Trash Hero works and join these beautiful people in weekly clean up. Here you have a map.
Or maybe you want to start your own group at your hometown?
Where else should we look out for your work? 
You can find me in few places on the web, for example:
I will be super happy if you leave there some sign on them after your visit!
Thank-you very much for taking the time to talk to me Ewelina. I think you are a very special person and wish you all the best in your future adventures.