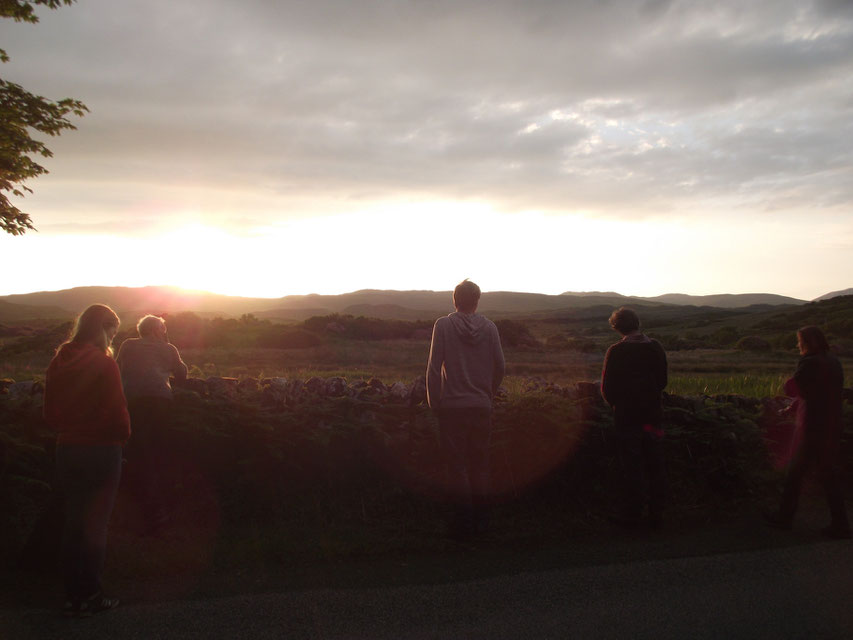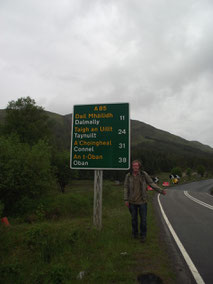 Since they moved there two years ago it has been pretty difficult to extract my family from Islay. Although it's hardly a world away, I was pleased to be invited up to a slightly more Northerly island, Mull, for my Dad's birthday. 
To save a little money and satisfy a little of my need for an adventure, we tried to hitchhike the last part of our journey from Devon.
Almost two hours after we'd been dropped at Loch Lomond, murdered by midges and getting damper by the minute, we were beginning to regret that decision.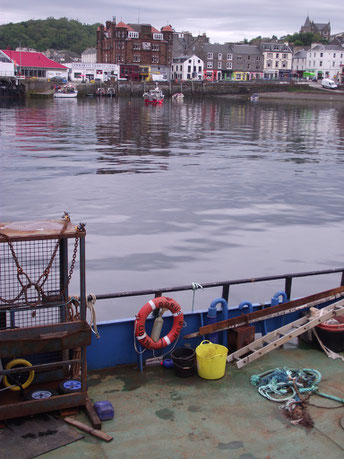 In all our time hitchhiking, we'd only noticed someone swearing at us once in Australia. Within the first hour on mainland Scotland it had already happened twice.
Dan had started juggling as much to entertain himself as the passing cars and my jaw was aching from a constant fake smile. 
Eventually we made a break with a friendly bee-keeper. Allthough he only drove us about ten miles, from then on, back on smaller roads, there was no problem all the way to Oban. There was a Glaswegian man on his way to Skye, further North than he'd ever been before, and an English couple exploring Scotland in their rather shiny car (we never thought it would stop!). 
Thank-you kind people for restoring our faith in Scotland. :)

After meeting my family and friends, stuffing our faces and downing a good few glasses of wine, we passed out for the night. With rain splatting against the windows, the morning didn't look so bright over breakfast. As soon as it began to "clear up", we headed down to our old haunt Scoor beach.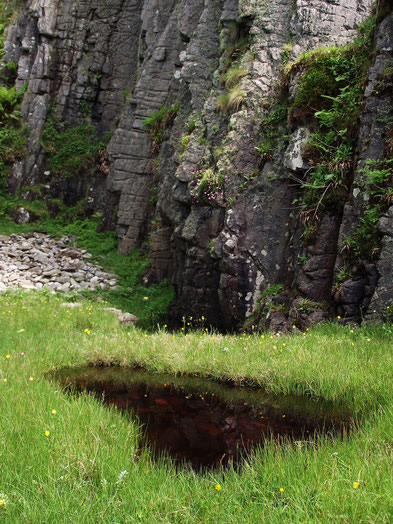 As our friend Angus pointed out, the Hebrides feel timeless. Aside from a couple of sparkling green
Co-ops* and a moderately higher influx of holiday makers, the islands have been the same for decades. The road's many pot holes are occasionally filled while bad weather smashes out new ones and derelict houses are left to disintegrate. 
Surrounded by coastline, the majority totally undeveloped and often lacking in even a clear path for access, there are usually enough beaches to find one to yourself.
Scoor was deserted and within half an hour we were surprised to find the clouds folding away and rays of sunshine beaming through. Before long we were warm enough to consider a swim, but the bone chilling water didn't leave much opportunity for leisurely wallowing and we were out within minutes.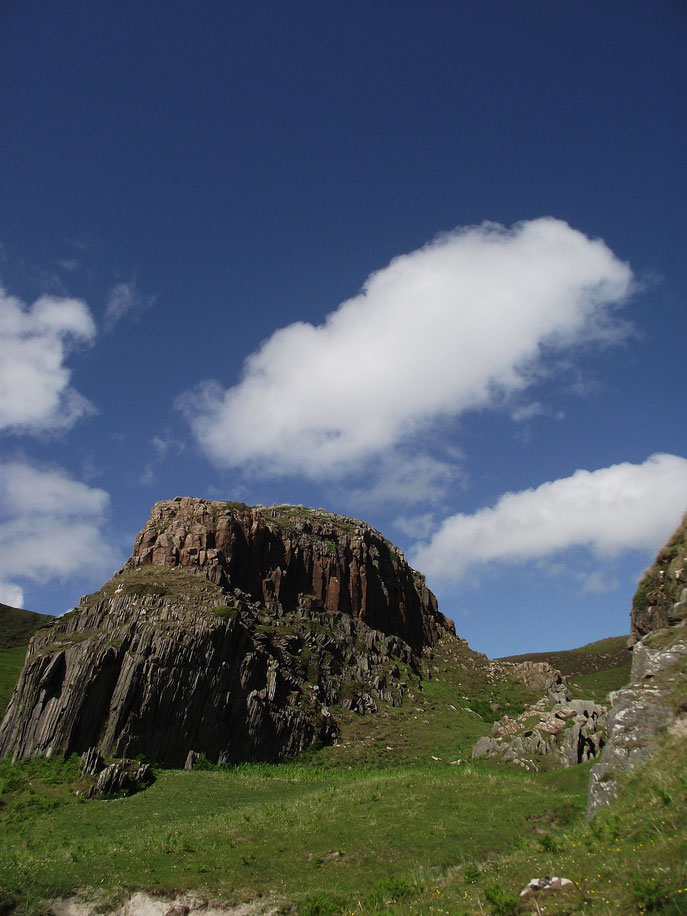 A walk over the Eastern headland brings you to this rocky cove. It's home to a herd of elusive mountain goats, golden eagles nest around the cliffs and very occasionally there's a basking shark.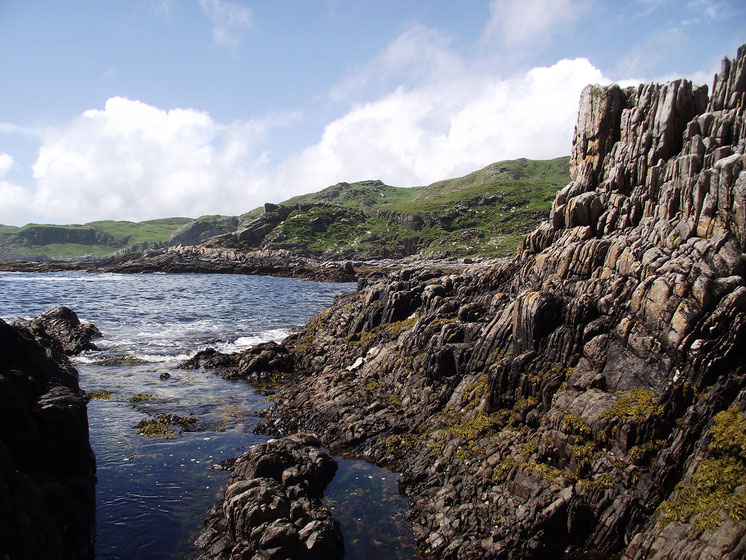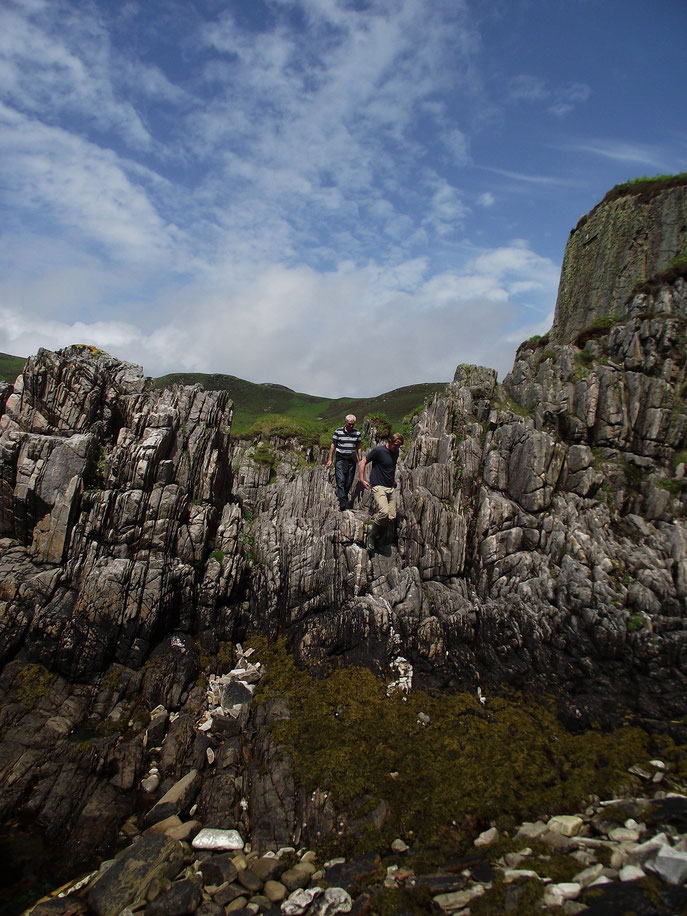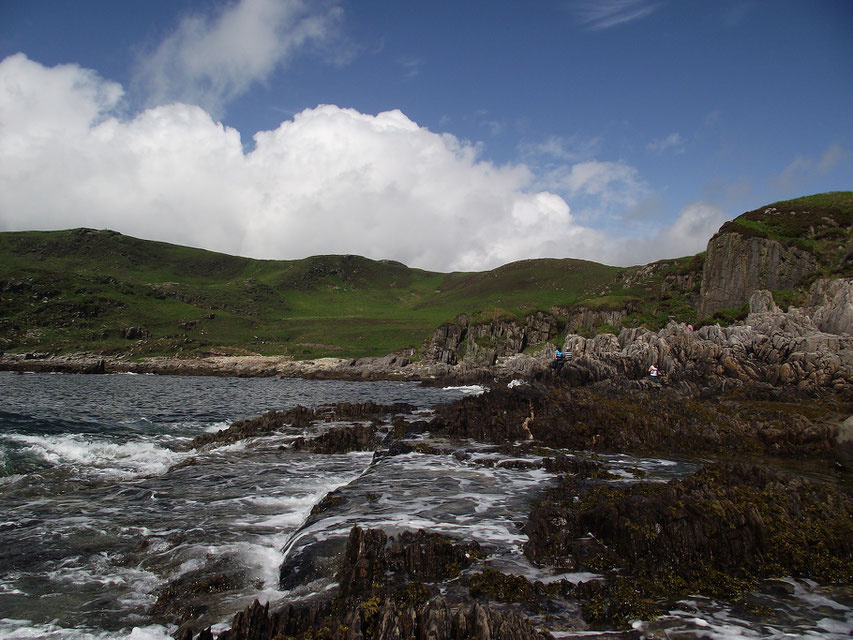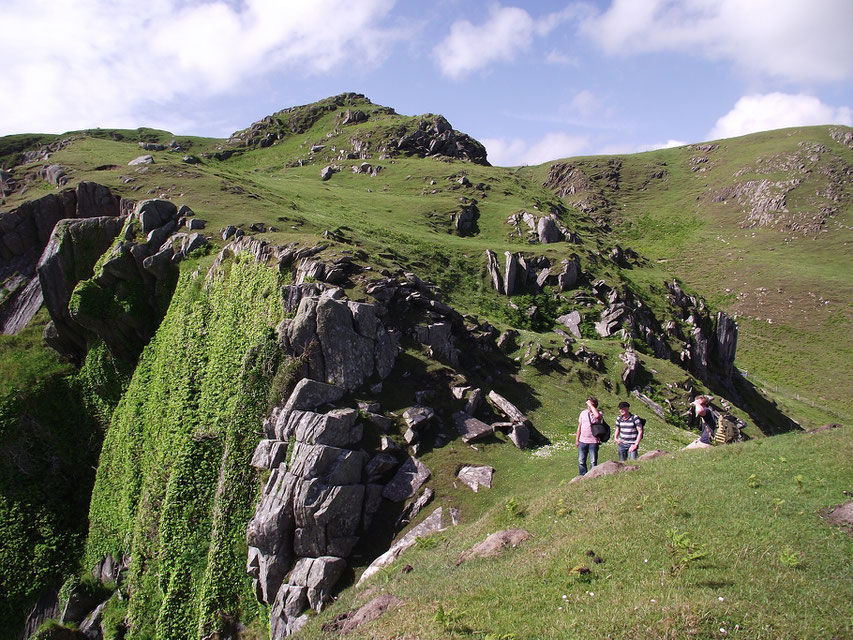 The view over the beach is unbeatable...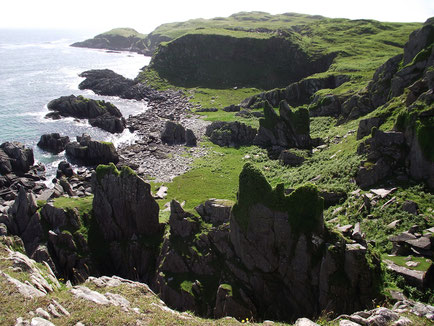 You can camp pretty much where-ever you like in Scotland (don't annoy farmers though please), but if you are a little older, moderately richer or have a family contact our friends Scott and Dianne who run the holiday cottages nearby.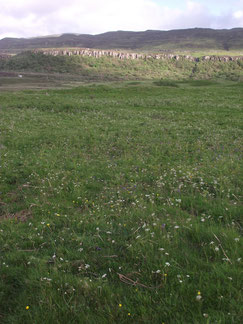 The Hebrides have tonnes of wild flowers, but we were particularly excited to find fields full of edible pig-nuts. They're rare in Devon, you probably shouldn't pick them and they certainly couldn't sustain a human for very long, but here there were so many we collected a few to stir-fry.
My Mum loves to find orchids and June seemed to be the time for vibrant yellow irises and a splattering of contrasting purple fox gloves.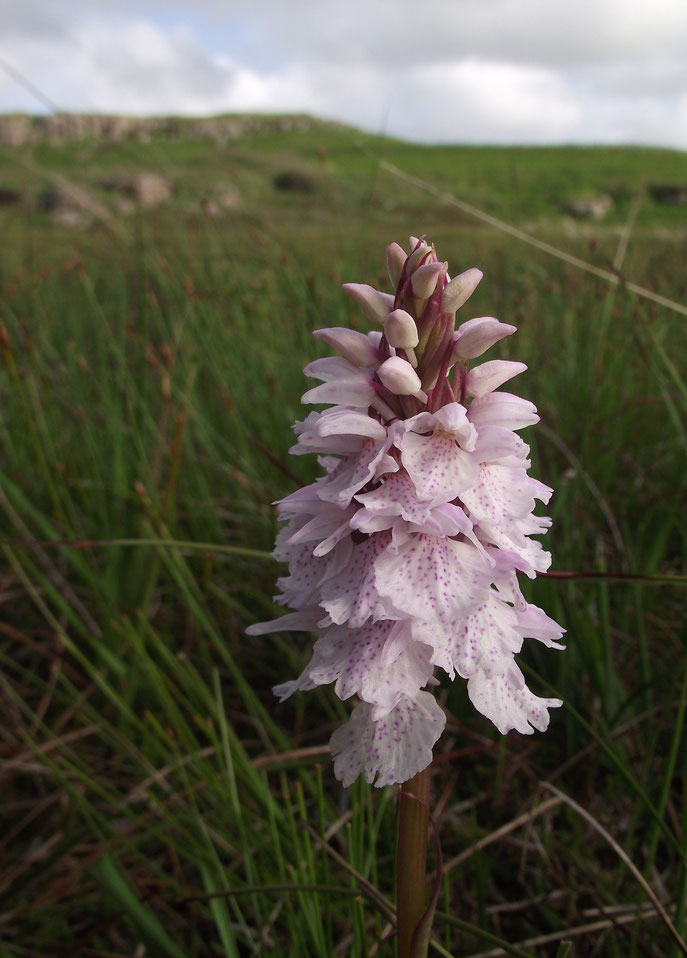 We didn't have much time on this island, but I was happy to remember how impressive the landscape is. Dan compared it to Iceland which I haven't had the chance to visit, but if it looks like a larger-scale Mull (with added glaciers) then I can definitely see the attraction. 
Soon we were back on the ferry again, narrowly avoiding being stranded by strikes- to Oban, to Colonsay and finally on to Islay.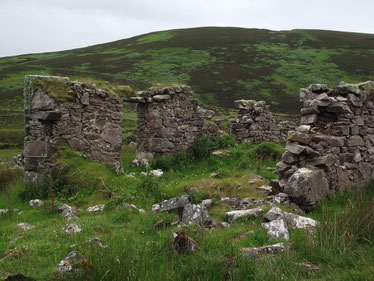 The Clearances
The population of Islay was over 15,000 in 1841. Unfortunately, large scale sheep farming soon became more profitable for landowners than the small communities who had lived there for centuries.
The clearances drove families from their homes and they began to leave the island in their hundreds. Many escaped, some making the journey across the Atlantic, and by 1891 there were only 7,375 left. The population continued to decline over the 20th century and today is around half what it was one hundred years ago.
Once home to whole villages, the Oa** has been almost entirely abandoned and crumbing houses dot the cliffs.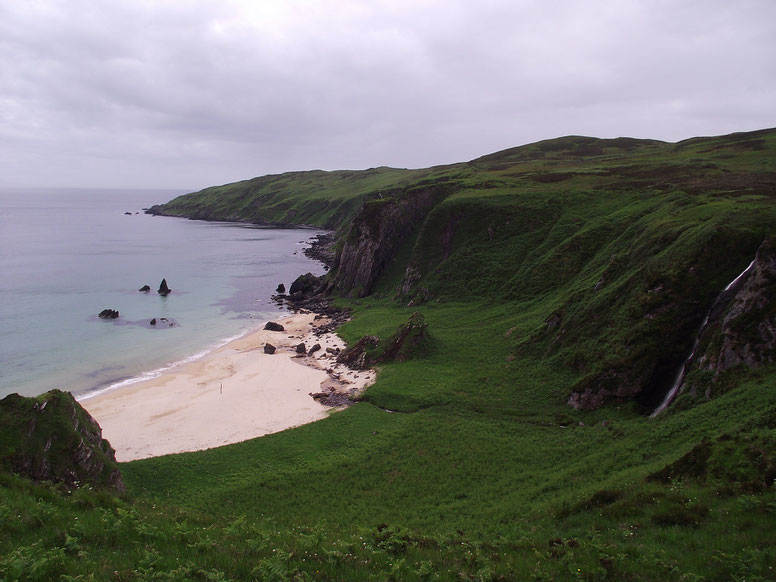 Regardless of the History, this is my favourite part of Islay. It's cliffs are more dramatic, there are caves, stunning beaches and waterfalls. This particular cove, marked on the map above, but with a name I'm not sure of, feels like something from a fantasy novel.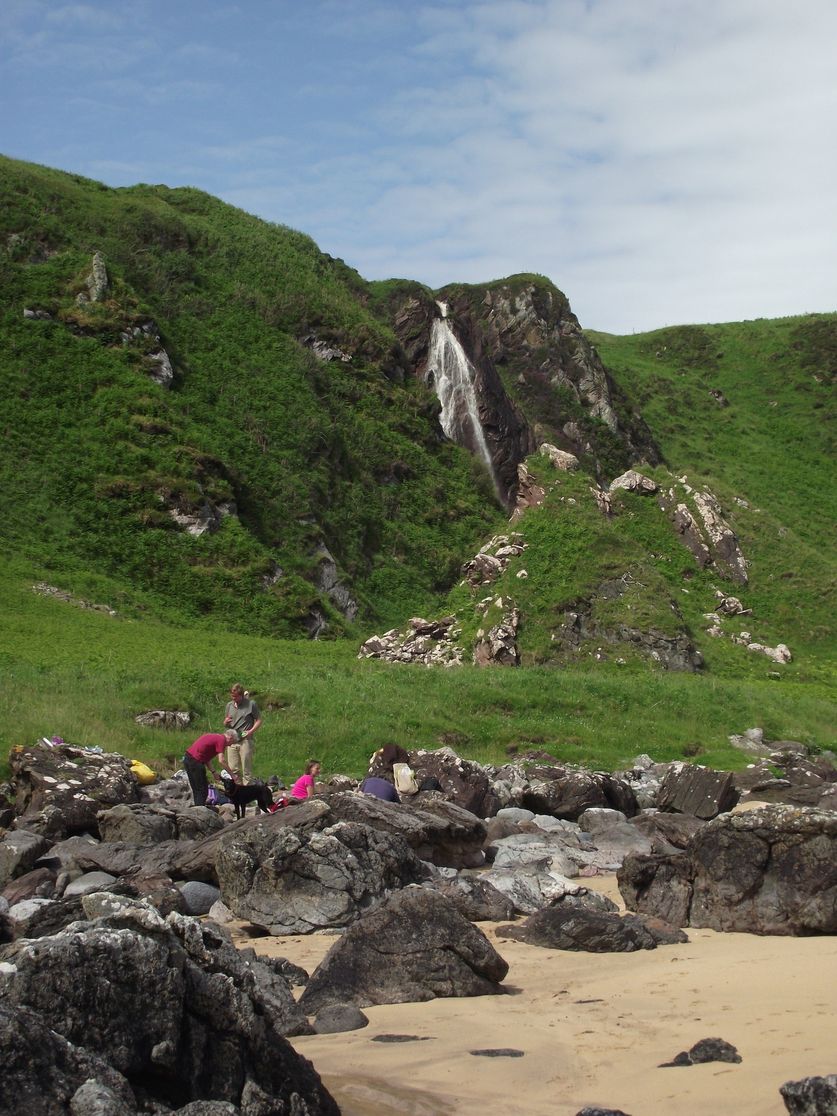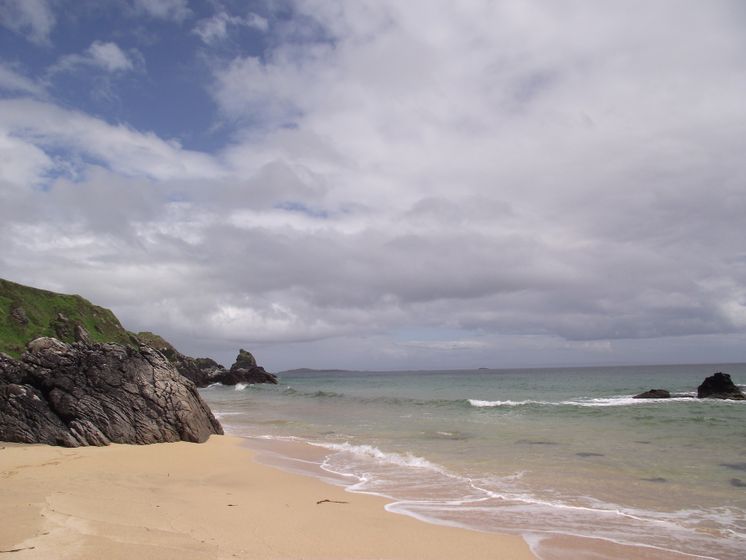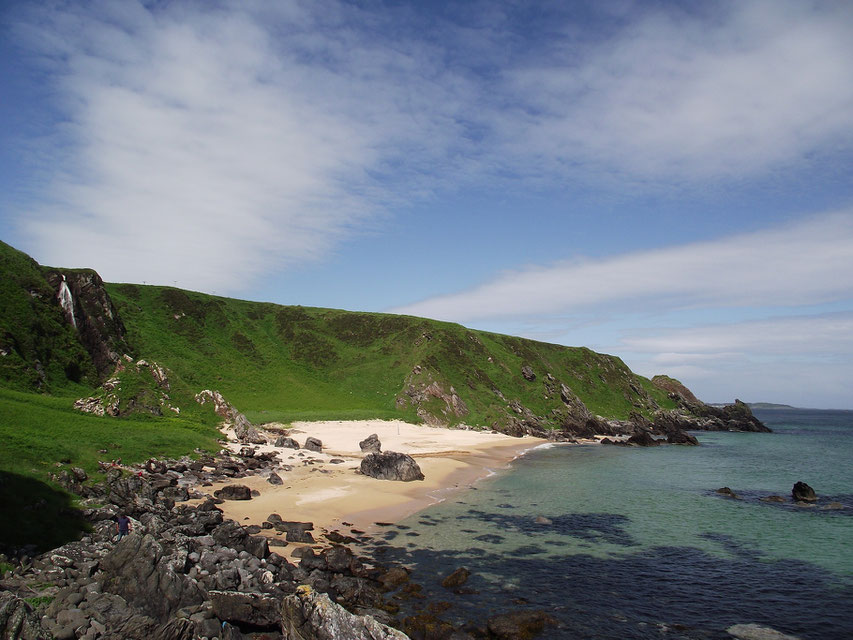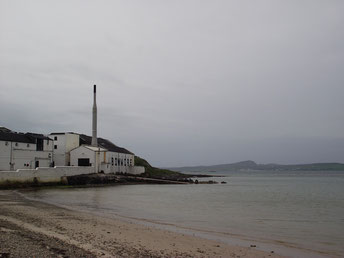 For my Dad's birthday, we picked up supplies and had a picnic in the "capital" Bowmore before building a fire and cooking sausages on the beach by their house.

Below is the rather impressive lighthouse cake my sister made him...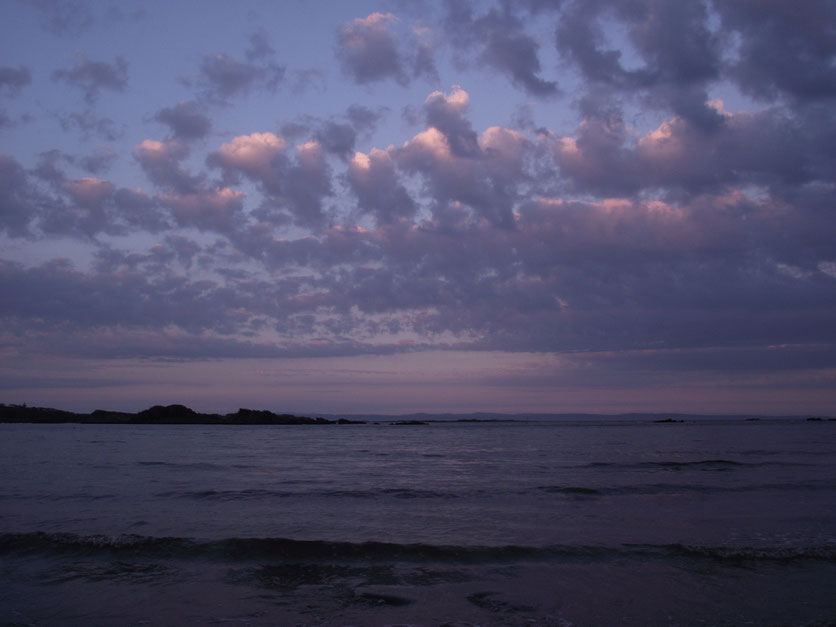 Before I could catch my breath it was time to leave.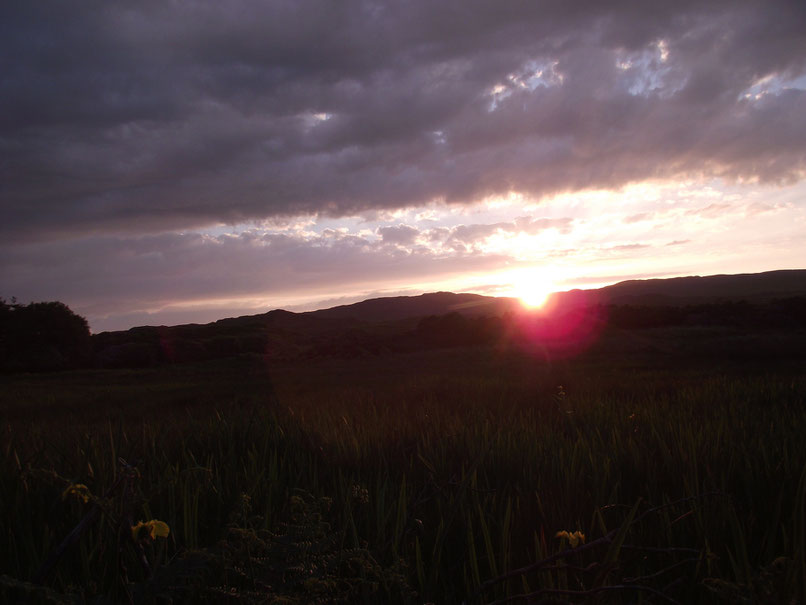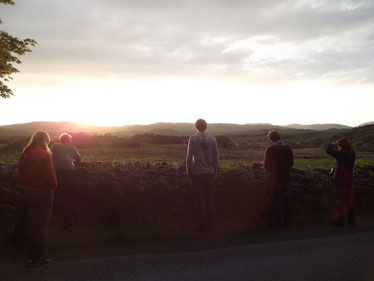 Useful travel information...
The cheapest and most convenient to get to and between islands in the Hebrides is by ferry. You don't need to pre-book unless you have a car, but you can check routes and times here... www.calmac.co.uk
If you are travelling between multiple islands it may be cheaper to get a multi-leg ticket. You don't usually need to choose the dates, so your time remains flexible. 
Hitchhiking is easy and safe on the islands, but there are also local buses. Find the Islay bus timetable here.
You can try hitchhiking on the mainland too. Otherwise Citylink is often the cheapest option from Glasgow.
For long distance journeys from England or elsewhere in Scotland try Megabus or National Express and book well in advance.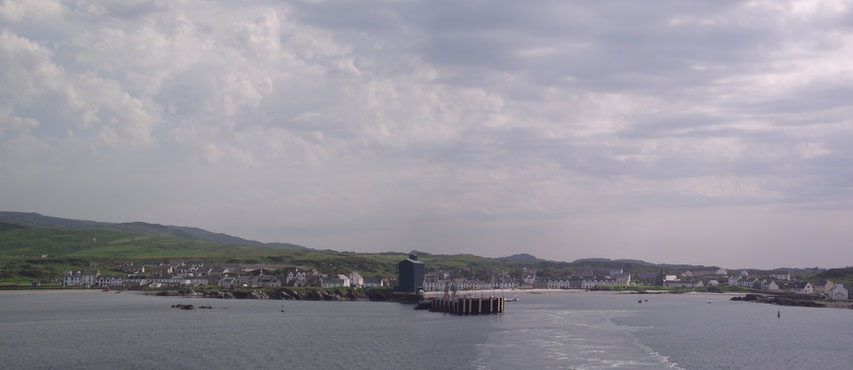 *Small supermarkets.
** That strange round blob that sticks out underneath the South end of Islay.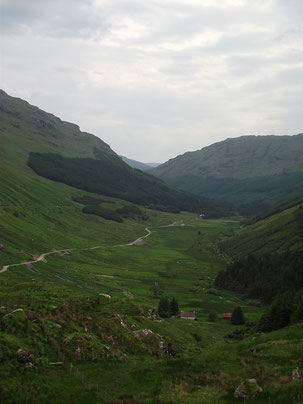 For more on the Hebrides you might like to try...
Other beautiful places in the UK...