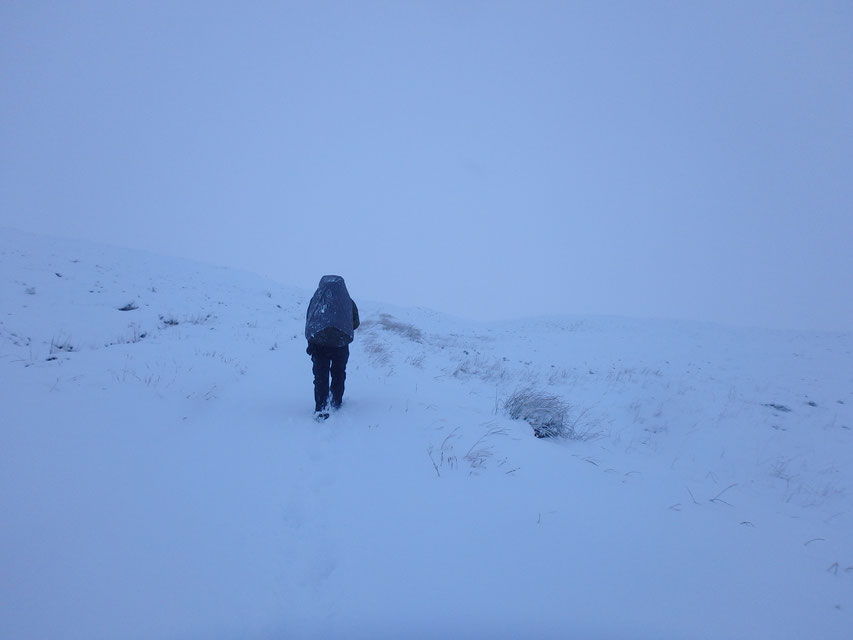 We'd become stagnant; I was gasping for mountain air. The glorious ninety-six mile walk we'd planned for October couldn't happen, but I wasn't willing to give up on it completely.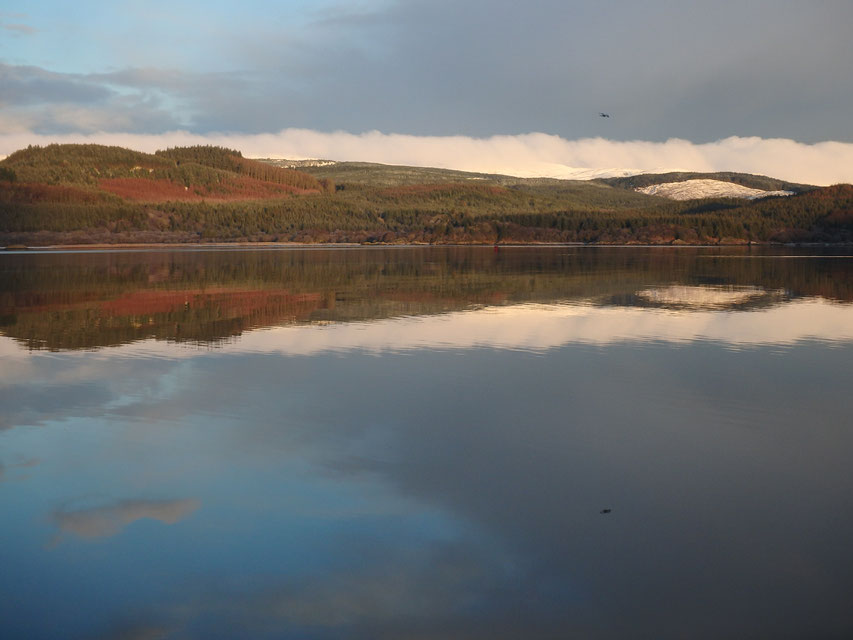 December was upon us before we could even try and, after waiting a week for a serious storm to pass, we compromised by starting almost halfway along the trail. To reach the north of Loch Lomond from the Isle of Islay (where we'd been staying with my parents), we left our van behind, took a ferry back to the mainland, passed the frozen expanse of Loch Fyne and hitch-hiked into the Highlands.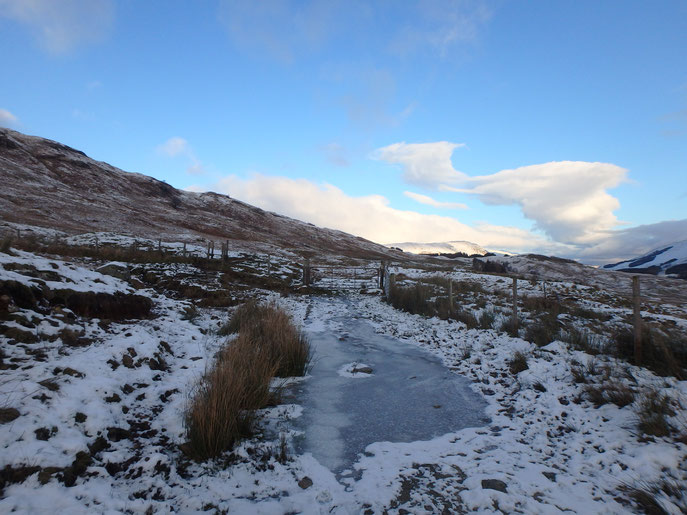 Never too far from the road, the path well-defined and farms dotting our route, that first day felt rather tame. Icicles decorated the banks, showing us it was still below freezing but, feeling temperate from the excursion, I began to relax.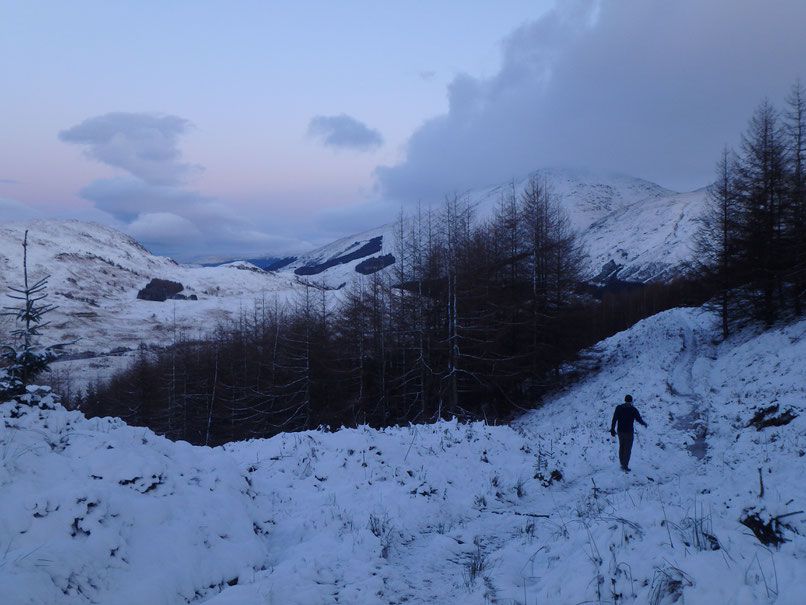 We reached the forest near Crianlarich at around three in the afternoon. Ascending through the trees as the sun set, tired now, we began to look for a place to camp. The temperature plummeted and by the time our tent was up and dinner was soft enough to eat, I could barely uncurl my clawed fingers. Allegedly somewhere between minus nine and minus twelve degrees centigrade, the chill penetrated my head-to-toe layer of wool. It wasn't the worst night I've ever spent in a tent (at least our equipment was decent and we didn't get wet), but it was hard to sleep through the chill. From 4pm until 8 in the morning, the darkness lasted a lifetime.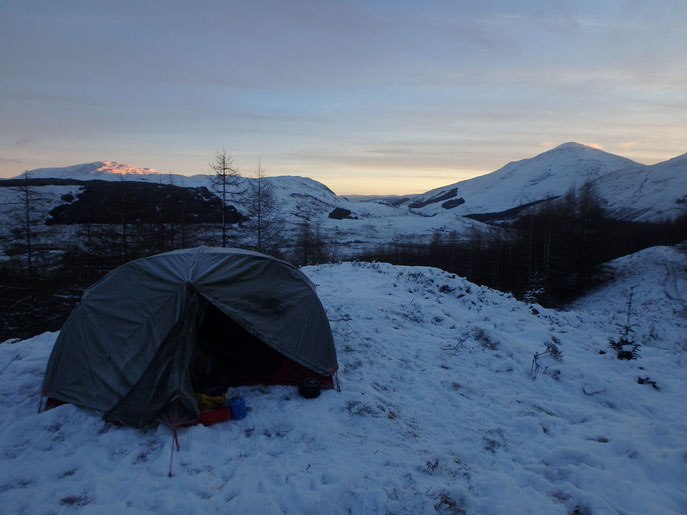 Less energy now, we tramped though the Christmas forest. Fairy streams froze at their edges and the ground was as solid as rock. Regardless, before long, we were shedding our layers again.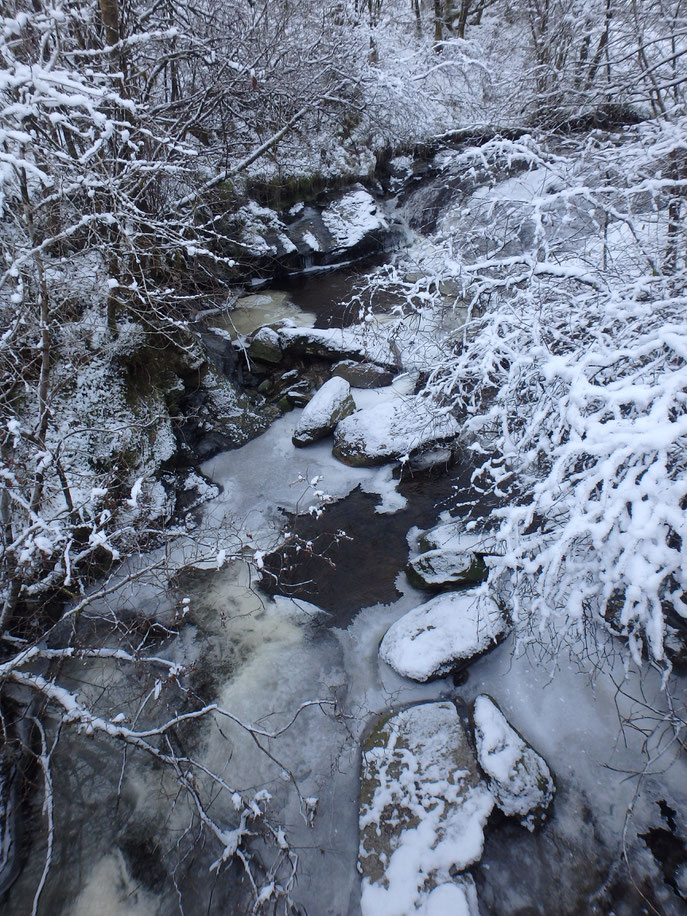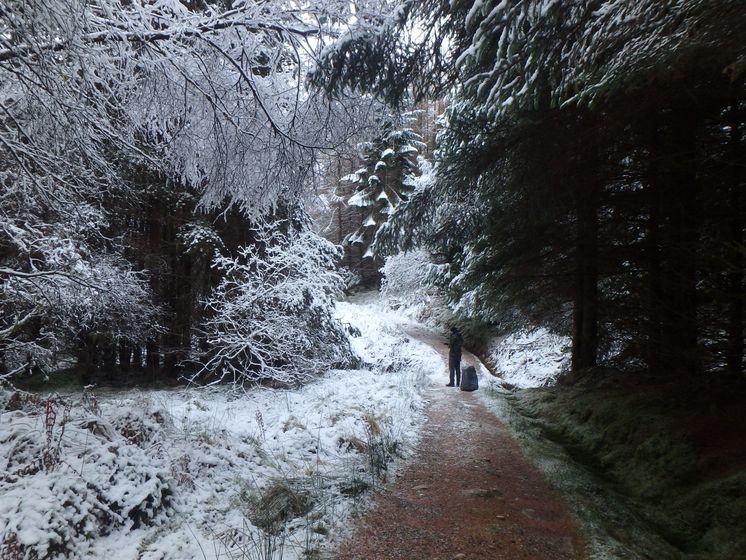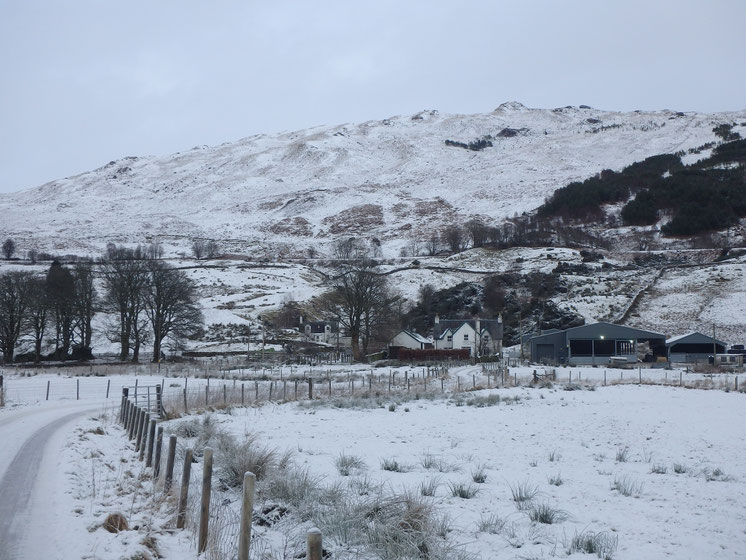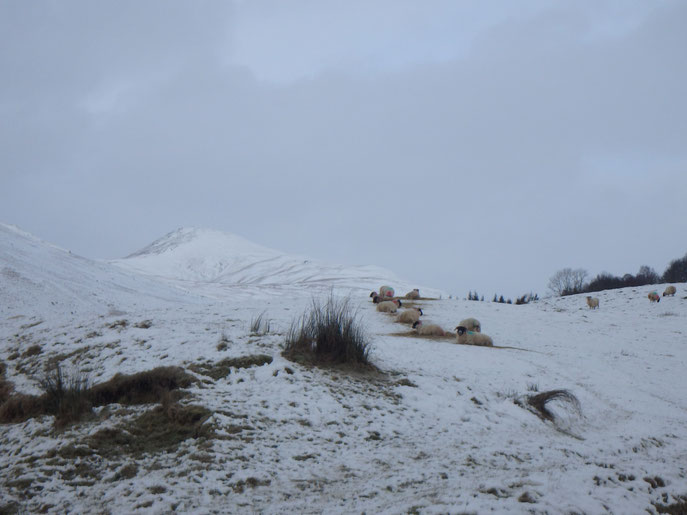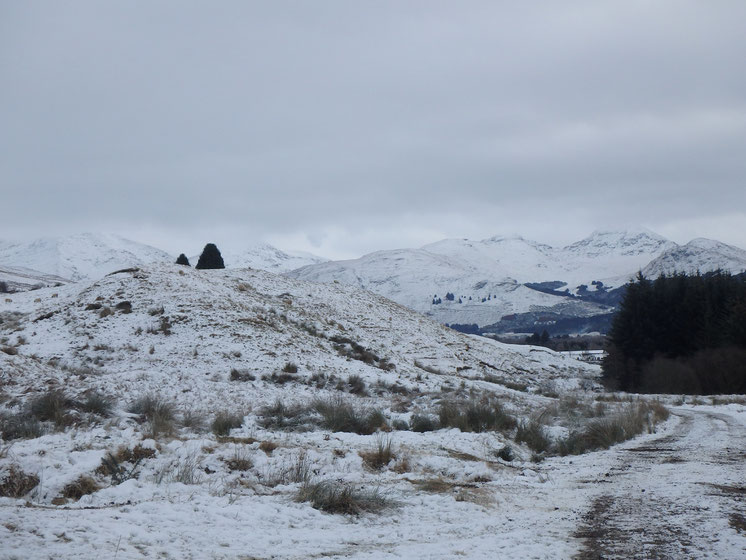 Relenting at the first opportunity, we stopped at Tyndrum for lunch [and a toilet]. The warmth and calories spurred us on and we embraced the afternoon in higher spirits.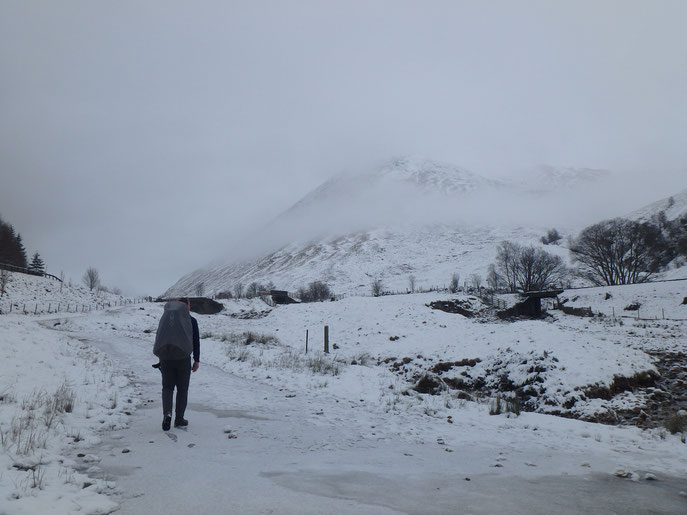 In places where erosion had channelled the pathway, wearing it down into a watercourse, the way was now frozen solid. This slowed our progress enormously. In some places, we could walk gingerly over the ice; others were impossibly smooth. We probably should have had crampons! 
The mountains loomed over us as we picked around their skirts and before long we were running out of light again.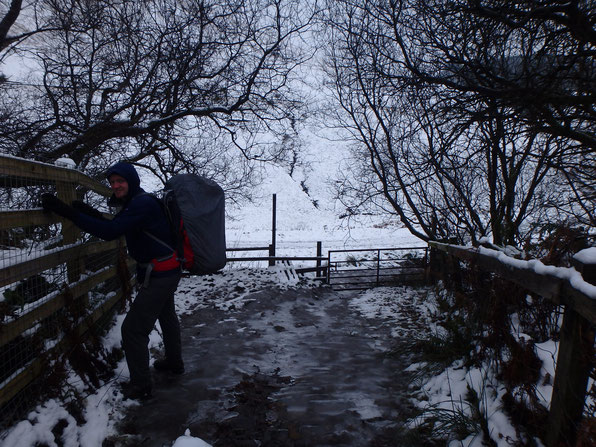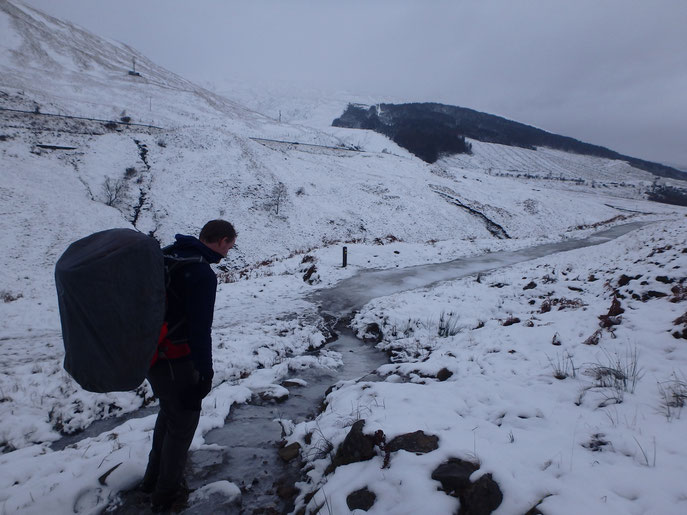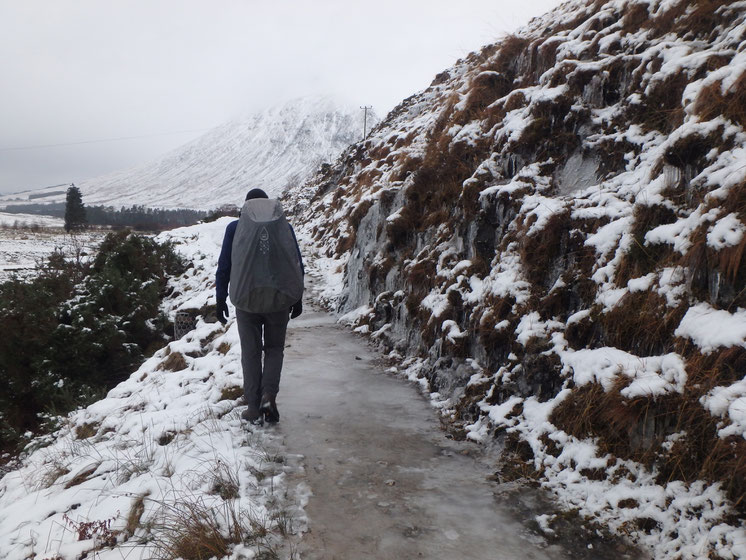 Desperate not to camp on snow again, we delved into a tiny managed forest. Set in rows, the trees were so close together, we had to leave one of our porch-ways hanging slack. I slept on a ridge, but with even more clothes on and this more sheltered spot, we slept relatively well.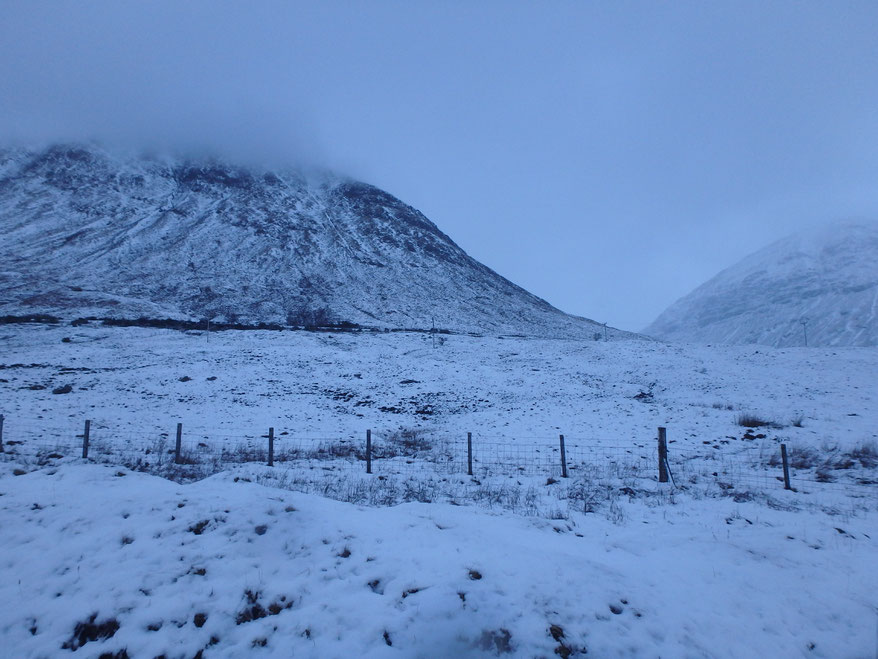 In the morning, it was raining. We tramped towards Bridge of Orchy imagining the egg roll that would greet us there, but the village was silent and shut. Our supplies were plentiful and depressing. I felt some sort of sickness and lost my appetite, only eating the dry crackers and lumps of cheese in fear of running out of steam. Despite the picturesque scenery, we fell into a slump, silently trudging around Loch Tulla. It was hard to pick up any momentum without slipping, and progress was painfully slow. My enthusiasm, until now an irritating constant, began to slide — until we reached the fringes of Rannoch Moor.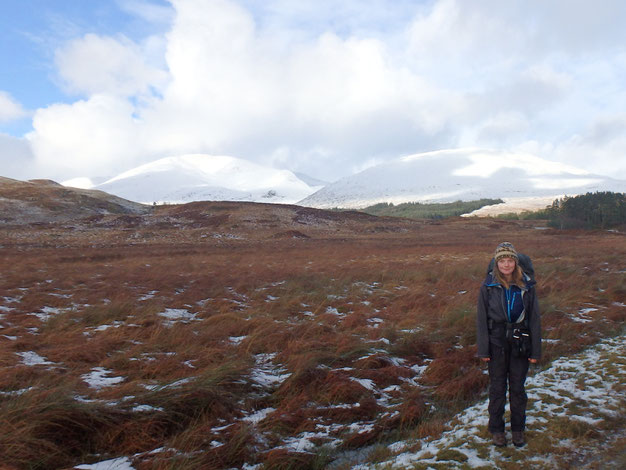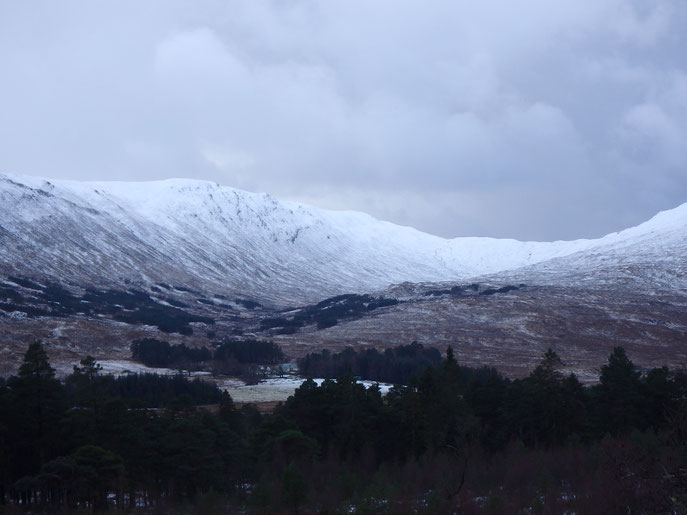 By far the most remote part of our hike, this moorland was vast in the expense between mountains. I was in awe...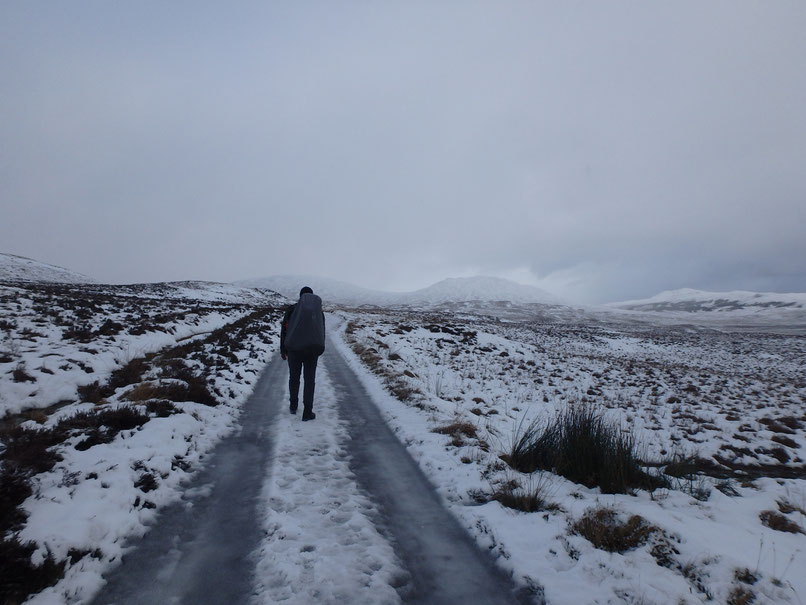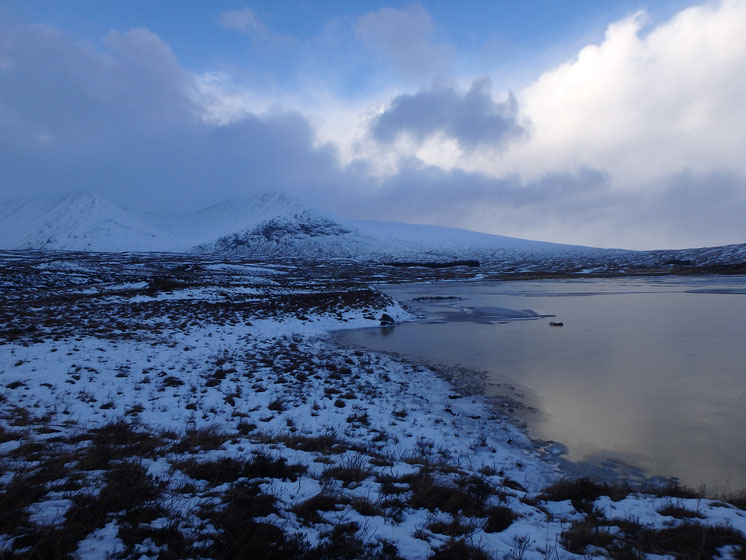 Losing another few miles off that day's leg, we were luckier with our camping place that night, finding one that was both big enough for our tent and sheltered from the wind and snow.
As we'd gone to bed the ground was clear, so we were surprised to wake up dusted in white. As it turned out, the light layer on our tent in the forest was nothing compared to the amount that had fallen outside. Thirty centimetres deep in places, our morning's progress was pitiful.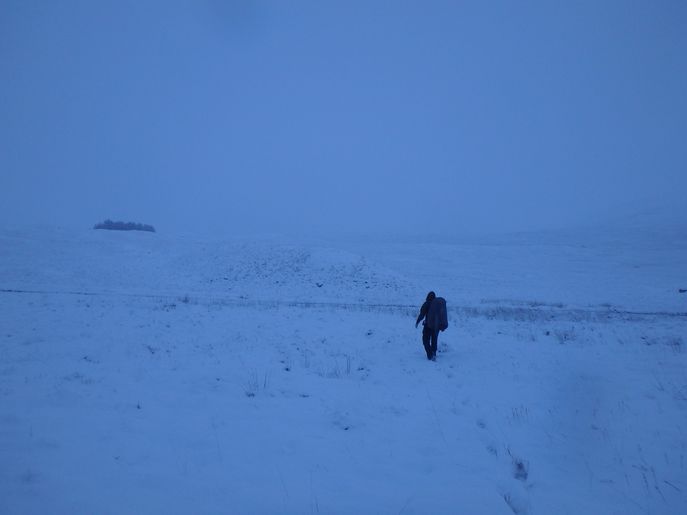 We took it in turns to walk ahead; one clearing a track for the other.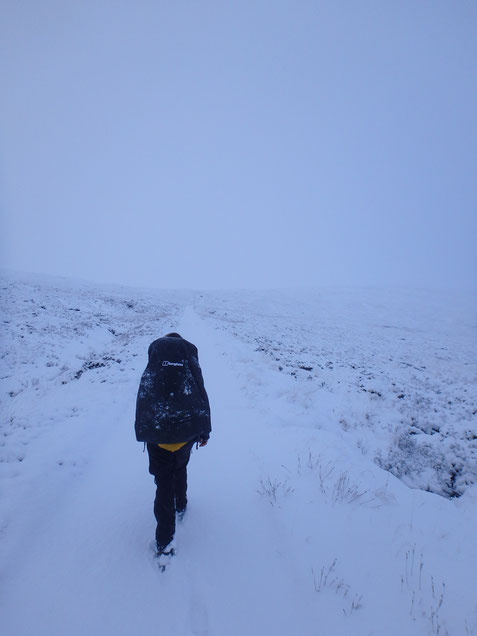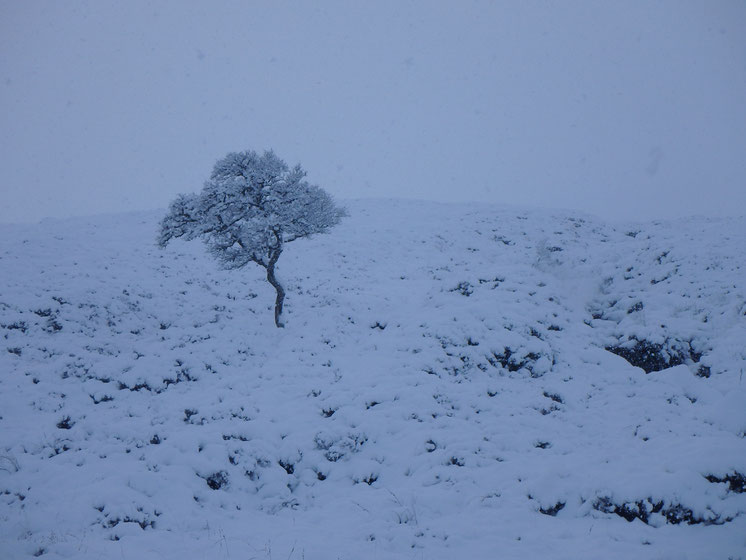 As we came close to Glen Coe, the cloud began to lift.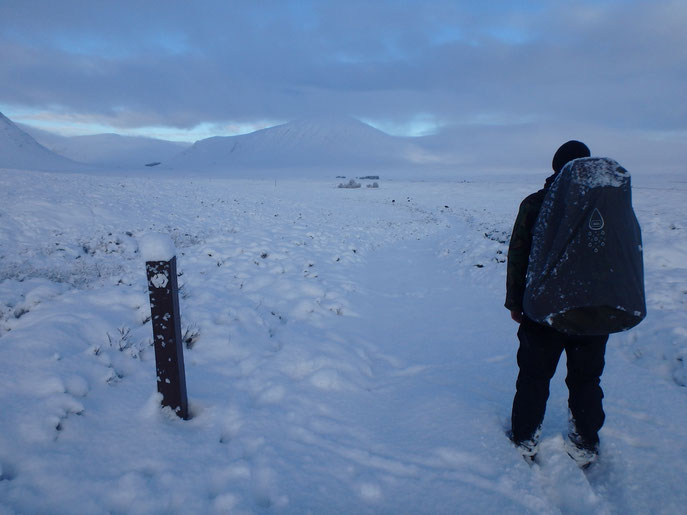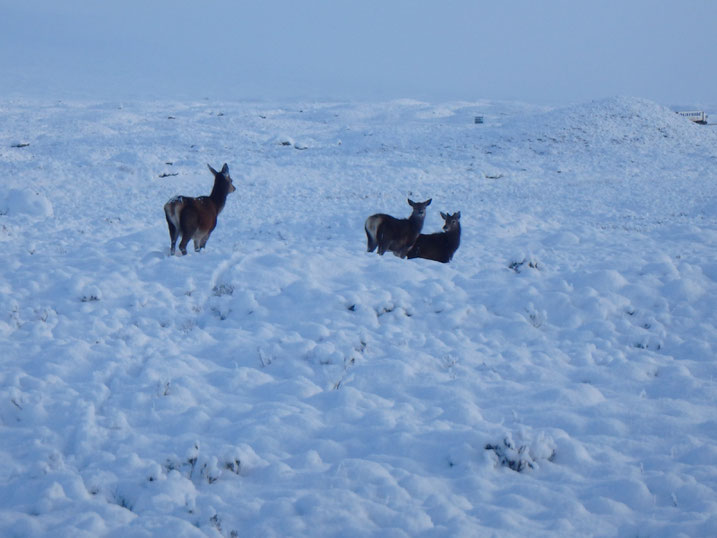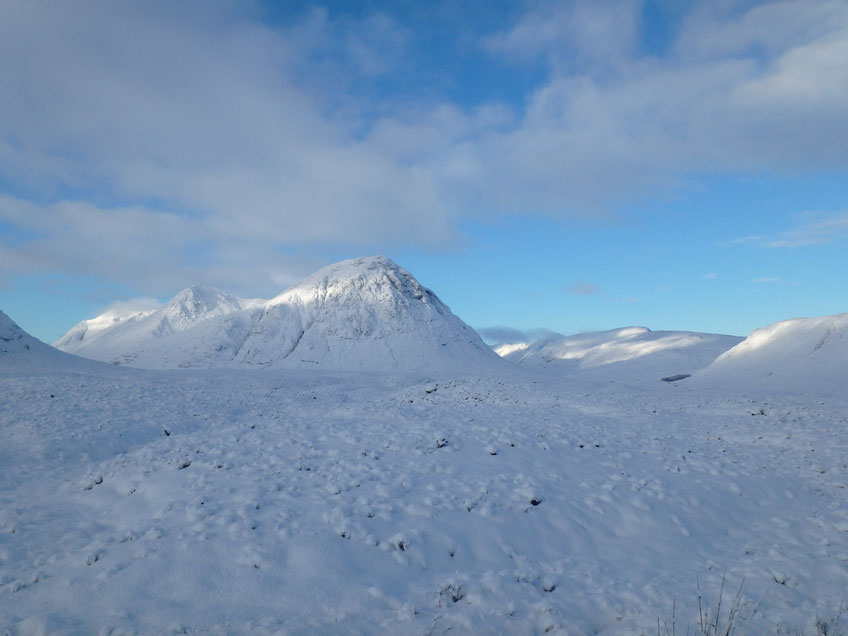 With the "Devil's Staircase" ahead, gaining even more altitude, and too many miles to cover before any shelter, we decided to tap out where the path crossed a road. I would have liked to continue, but we didn't want to end up on the news. Without trouble, we hitchhiked back to Oban for the ferry and that was that until the next time.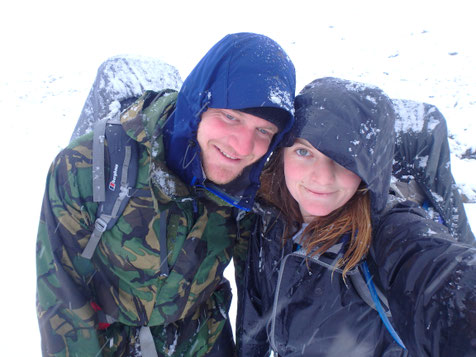 Sort of sensible things:
Although I am flippant in much of this post, the Scottish Highlands are no joke in Winter. We only saw one other group of people on the hike and they were in military uniform.
I do not recommend trying the West Highland Way at this time of year unless you are experienced at hiking long distances in snow, can navigate properly (in case the path is snowed over), you have good equipment, have checked the weather forecast and are flexible in your plans. Do not expect accommodation or amenities to be open without ringing ahead. 
Notes on "Wild Camping":
Due to huge numbers of visitors, I believe wild camping has become a problem on the West Highland Way in summer. If you can afford it, it is more comfortable and beneficial to the local area to pay for your accommodation in campsites, bed and breakfasts or hostels (book ahead). Free camping is now not allowed at all around Loch Lomond, but you should also be considerate elsewhere on the trail:
Use public toilets or visit cafes (buying something too!) on the way. If you have to poo in the wild, bury it at least 20cm down. Do not relieve yourself near waterways or leave paper behind.
Do not camp around farm animals, on enclosed farmers' fields, in site of buildings, roads or historic structures.
Take your litter (and preferably any more that you find) with you.
If you are making a fire, first dig out a piece of turf you can replace in the morning. Do not pull wood off trees or burn plastic. Keep it as small as you can.
Preferably, head to these designated free campsites (one night allowed, no fires):
Garadhban Forest - north of Drymen
Ardess - north of Youth Hostel at Rowardennan
Inversnaid Boathouse - north of Inversnaid Hotel
Kingshouse Bridge
I am not the authority on this in any way, as the situation was very different in December; please do your own research. The following sites are a good place to start.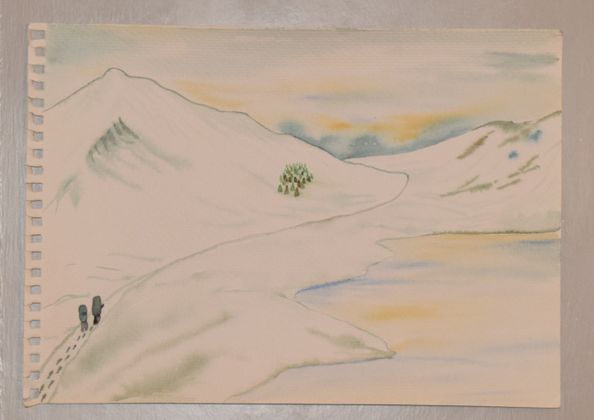 For me, 2017 was a year sprinkled in snow: