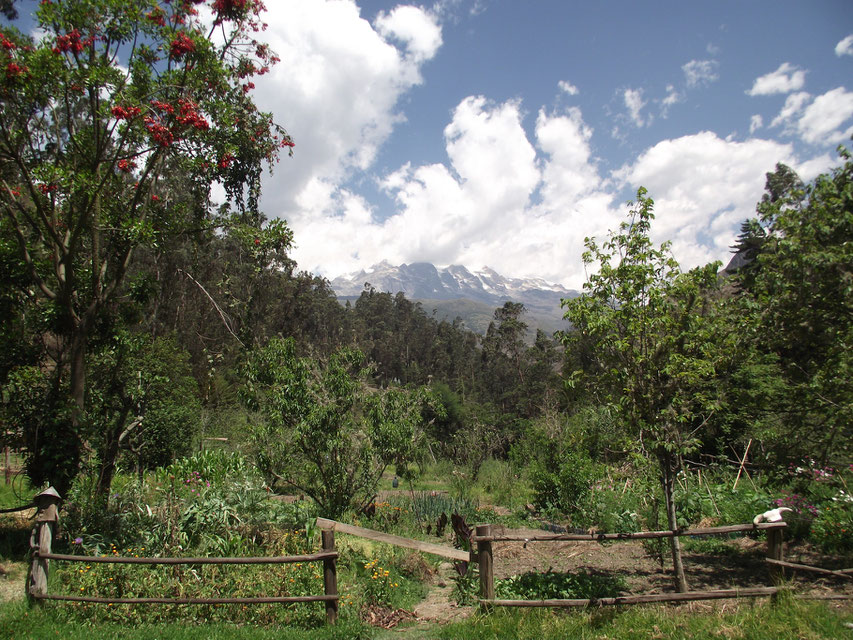 As usual we'd been searching for somewhere cheap, relaxed and beautiful to stay...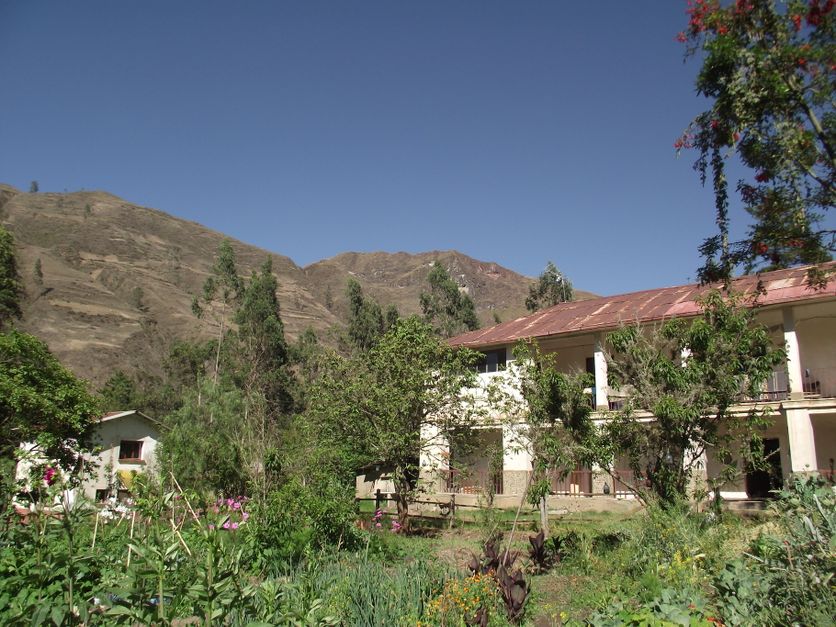 Situated next to the river, with a direct view out towards the snow capped mountains behind Sorata village and shielded from the outside world by tall eucalyptus trees, El Vergel (The Orchard) has a perfect location. After being greeted by a medley of juggling, guitar-playing hippies, my first impression was of a tranquil oasis.
In addition, David and his family have done their best to work alongside their land and reap it's benefits without destroying the natural setting. Having inherited a grand old earthen house, they've experimented with other sustainable building techniques elsewhere. There's a compost toilet with walls made from plastic coke bottles, two cob ovens and a hob, plenty of rocks from the river and lots of hand carved wooden furniture.
Although upstream pollution has killed all the trout in the river and the large-scale excavation of it's banks has destroyed the habitat of many small birds, El Vergel has created a small haven for wildlife to live unthreatened by machinery or chemicals. Just sitting in the porch, (which runs the length of the house allowing you to sit outside sheltered from the scorching sun or rain) I saw plenty of small green and red parrots, little song birds, intriguing insects, birds of prey, moths and even bats as the night closed in. A little further from the house, the family keep a pig and several cows which graze in the clover-rich, grassy fields below. With two dopey, ineffectual guard dogs and a small family of hungry cats, you're rarely alone despite the isolation.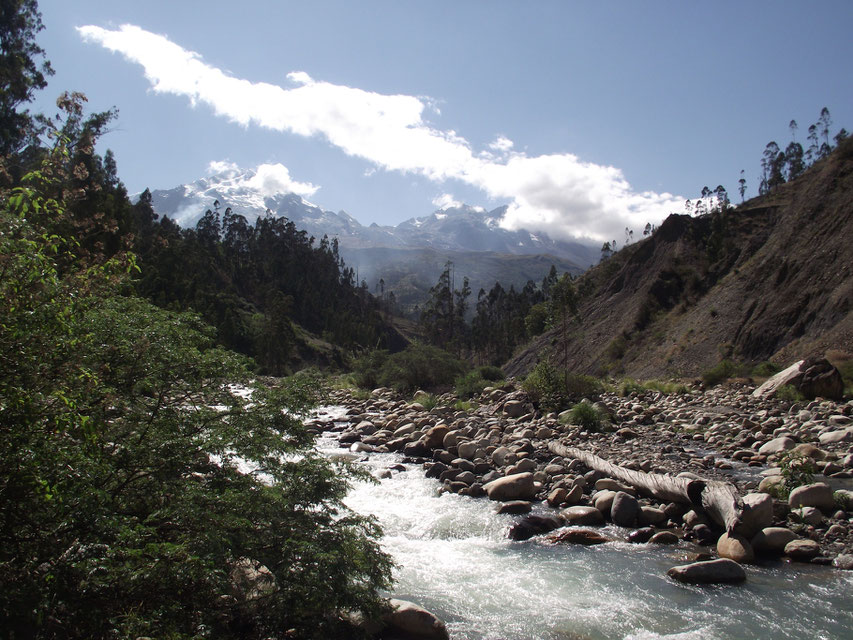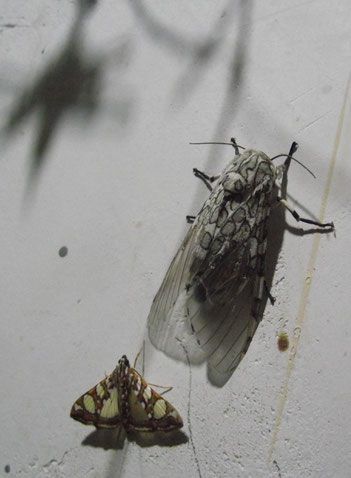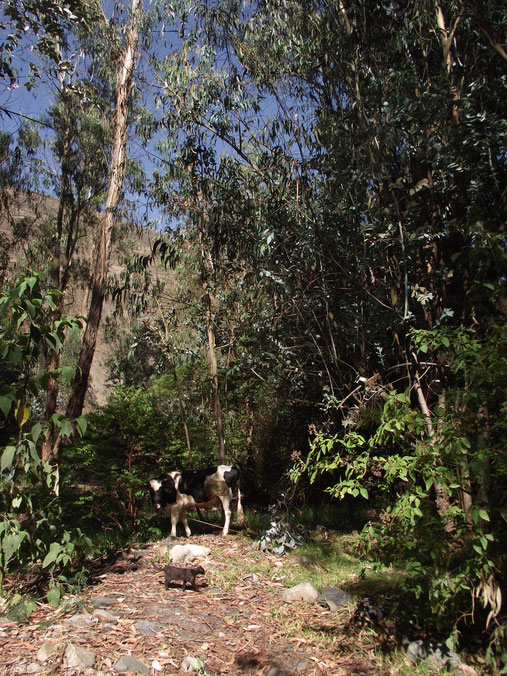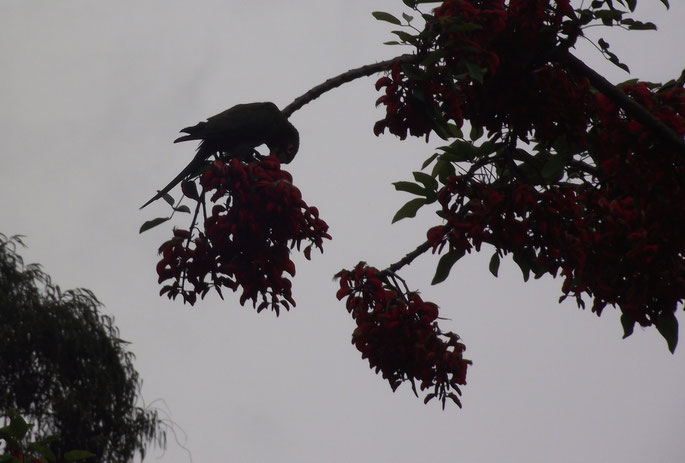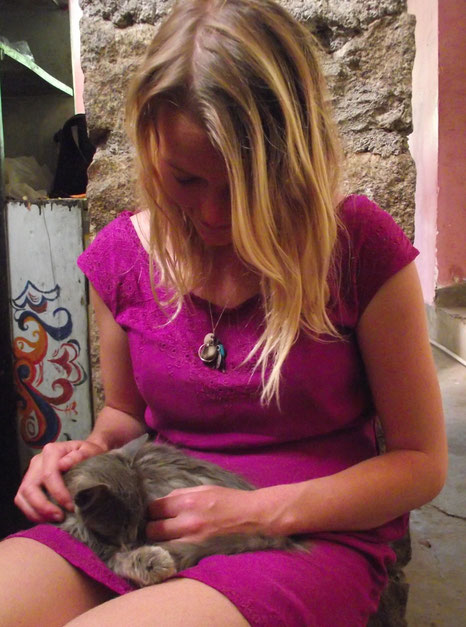 Had I been staying in Bolivia permanently, I definitely would have adopted this little cat when David´s mother offered her to me!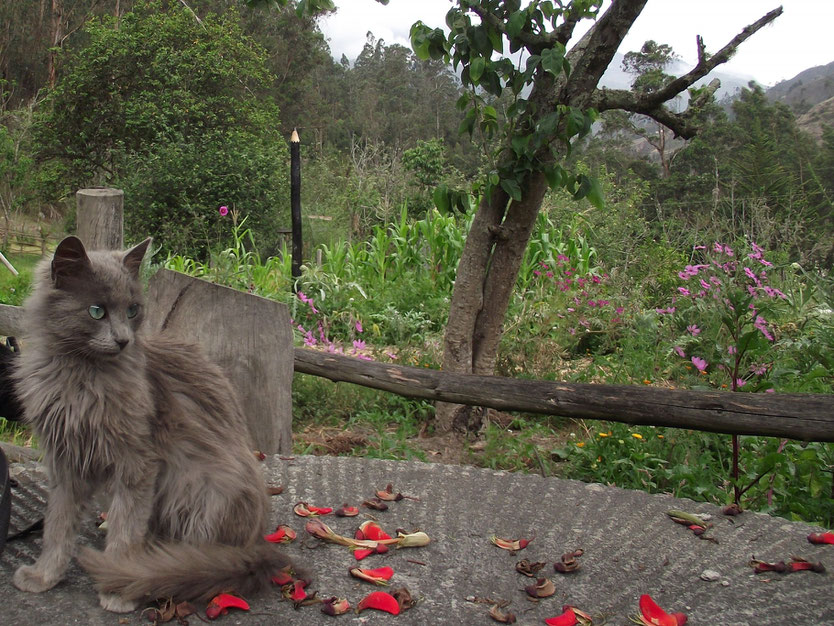 At first glance El Vergel appears to be a bit of a hodge-podge- all manner of plants, flowers and trees grow along-side each other and you could be forgiven for interpreting the visiting hippies´ art-work as a sign the lack of any form of order. The rustic appearance is deceiving however, and after a little time it become obvious how well everything has been thought out. The idea of permiculture is to use different plants together to produce the best crops without using chemicals. For example, to keep insects away from your fruit it´s possible to plant the occasional banana tree, which they usually prefer to eat. The soil is kept rich by the variety and there should be no need to use chemical fertilisers. Anyone who plays David at chess will realise he is not a man who would fail to think things through.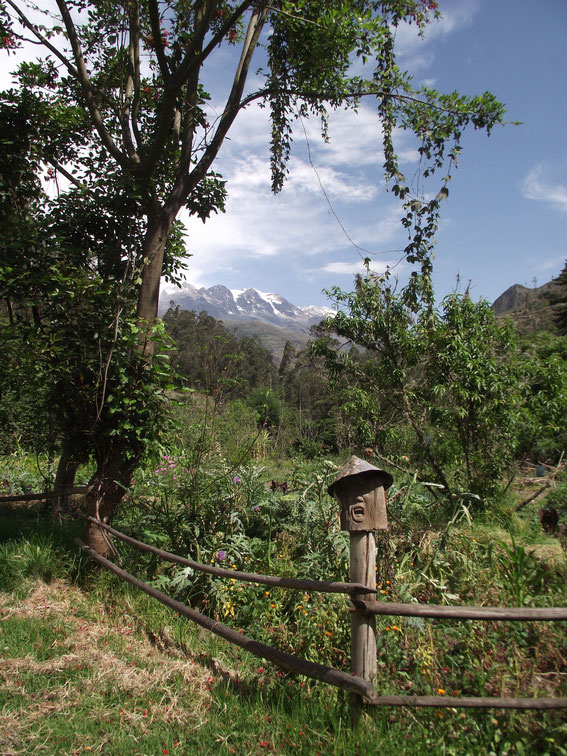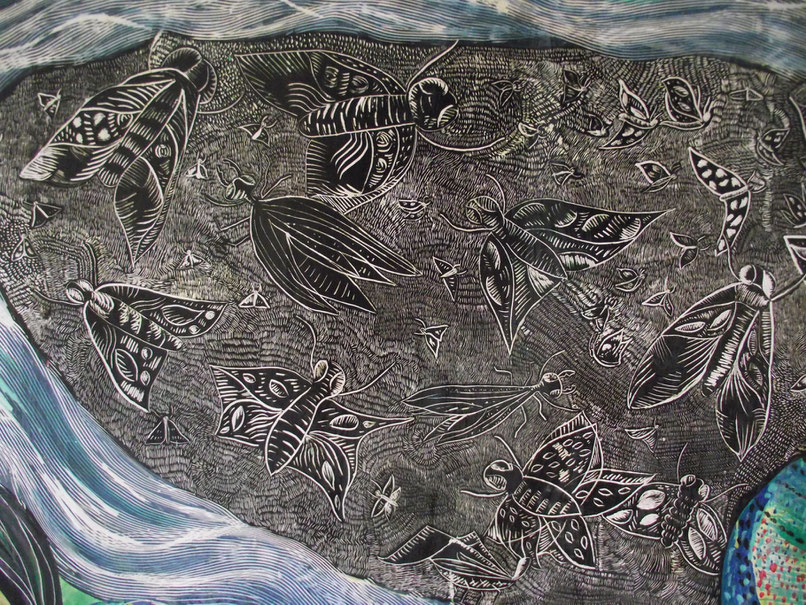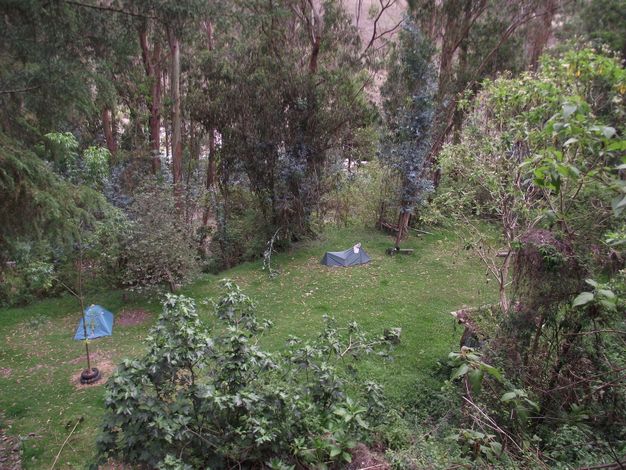 Although there are inexpensive private rooms, the camping area is a little world of it's own. Right down by the river on a different level to the rest of the property, sheltered by trees, with lush grass to soften the ground, this was my favourite place to relax. Carefully planned as usual, there is a compost toilet which doesn't seem to smell, tap supplying drinkable water (a valuable commodity in Bolivia) and even a fire place surrounded by wooden seats. Dry wood is readily available on the ground, so a camp-fire is a perfect way to celebrate or enjoy the evening. Our new friends taught us how to cook pizza this way and we baked everything from potatoes to maize, onion and banana in the embers.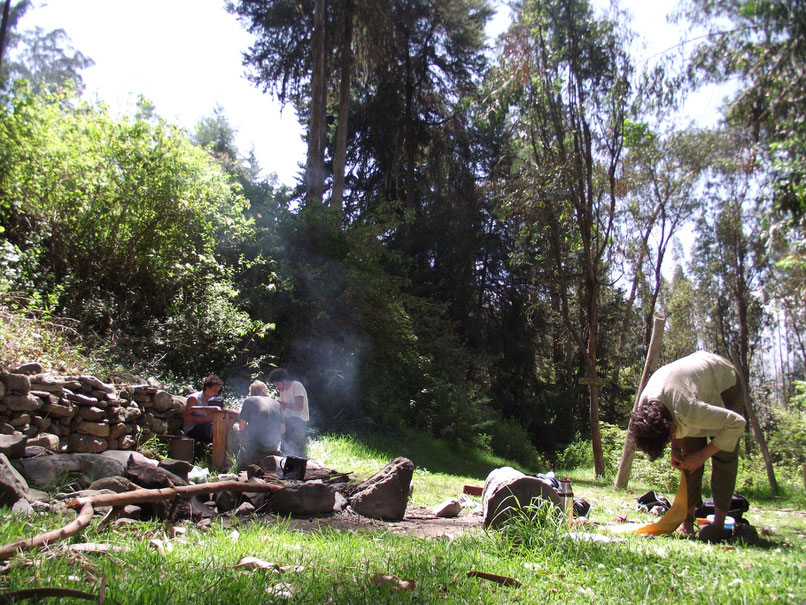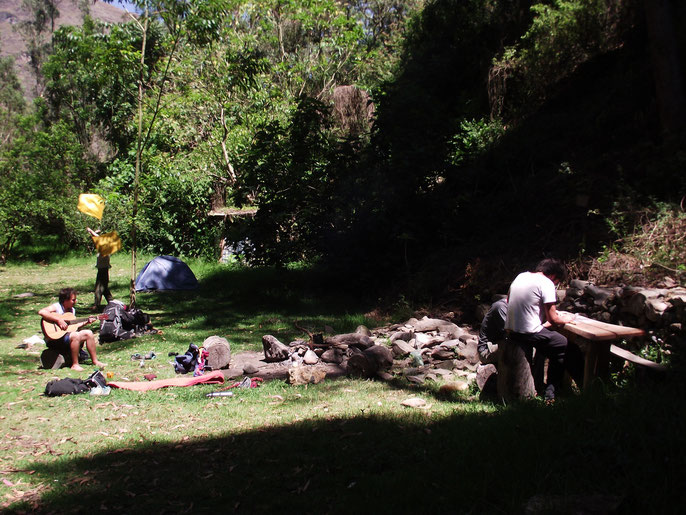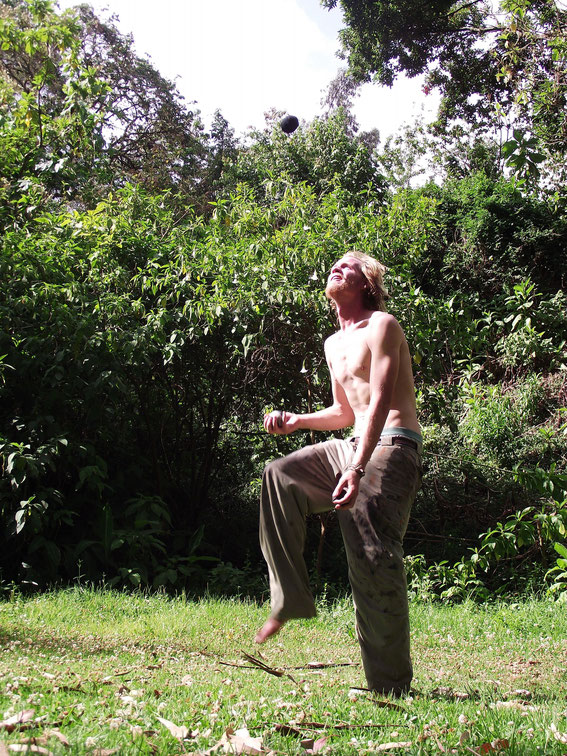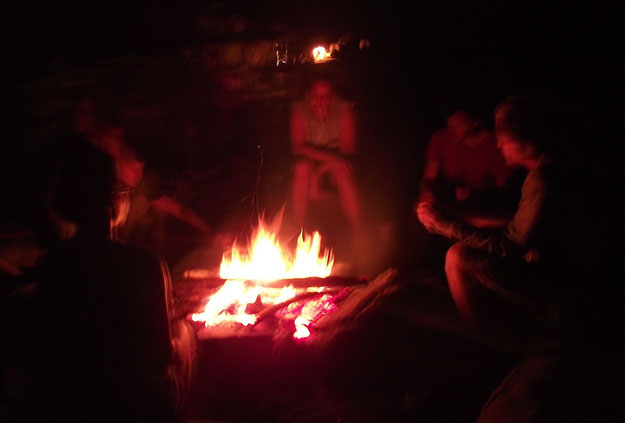 More through word of mouth than the internet or guide-books, El Vergel attracts an eclectic collection of guests. Most come from within South America, with the usual disproportional amount of Argentinians, but other strangers like us are lucky enough to meet somebody who's visited or hear the story elsewhere. With such a variety of people and plenty of time and space to socialise, people practice their hobbies and are often willing to help you try.
Dan has been learning to juggle with outstanding dedication and success, making balls from old socks and perfecting new tricks. Nobody who knows me would question why I haven't been trying that, but I'm happy to have learnt how to knot a traditional sort of bracelets and make chapatti bread.
With a feeling of the 1960s well and truly alive in El Vergel, people are happy to share, so the easiest way to make friends is to offer them food. After making one salad and pudding for everybody to try, we never had to cook alone again. Practically, with a half hour hike uphill back to the shops it can be helpful to combine ingredients.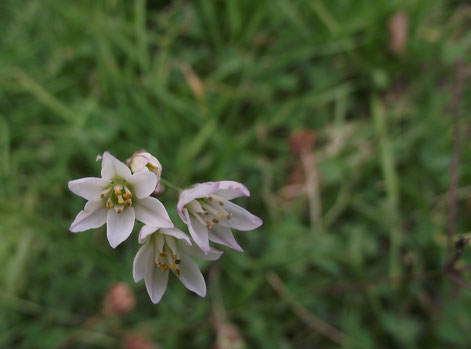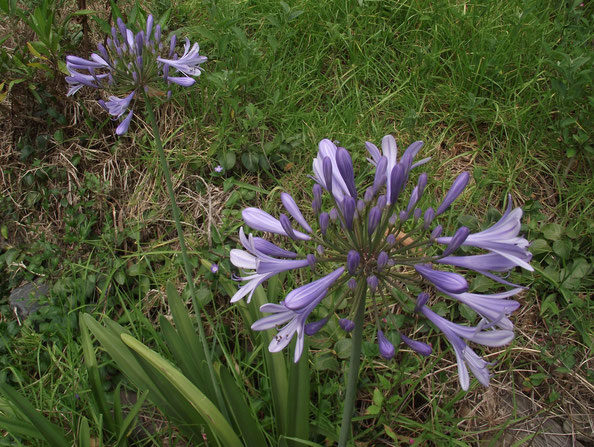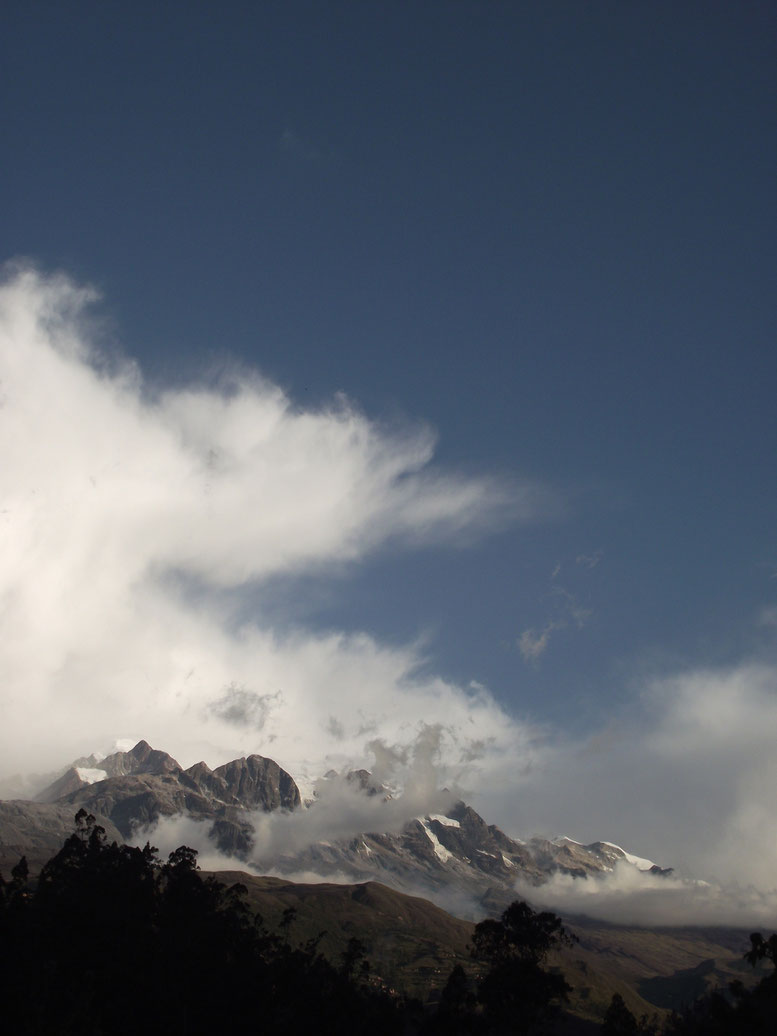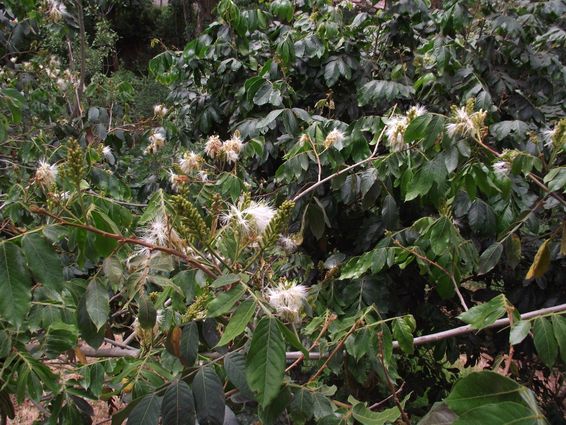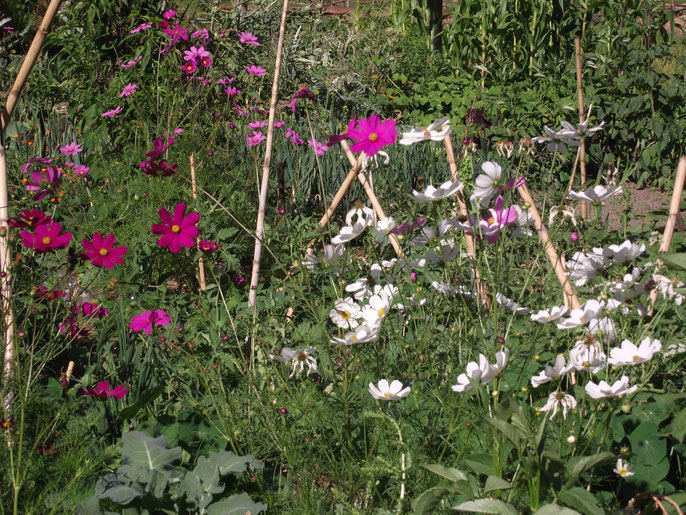 To find El Vergel, you must first catch a min-bus to Sorata. From La Paz, in the area Cemeterio, a ticket will cost you B17 and takes around 3 hours to reach the village. If you arrive in the evening, it's best to stay in town for the night. Hostal Santander comes highly recommended at B20 (£2) per person with a private room, spotlessly clean bathrooms and a well-equipped kitchen too. The owner is enthusiastically friendly and was even  happy to tell us how to get down to El Vergel. Otherwise, for helpful information ask the tourist information on the Plaza or simply begin walking downhill until the road peters out to a dirt track. From here just ask for David's Finca or try your luck heading down to the bottom (head a little left from the road). Camping at El Vergel costs B12 per person per night and rooms range from B20 to B35. It's also possible to volunteer through HelpX, but they still need to pay an amount for food and bills.
Contact
Email- elvergelsoratabolivia@gmail.com
Phone (from Bolivia)- 67064565
Facebook- facebook.com/elvergelecolodge