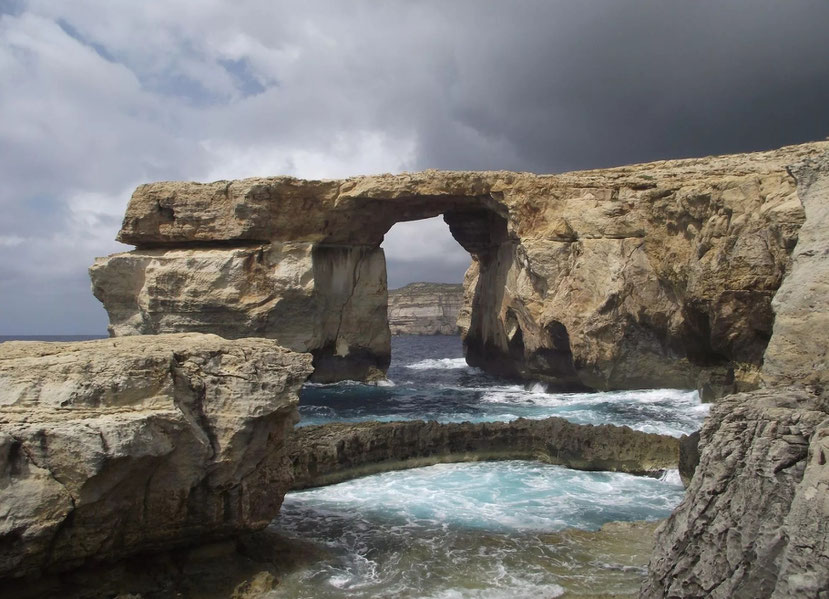 Something I wrote this time last year...
As the second time our family had ever gone abroad together, my Mum chose well with Gozo. Visiting in the Spring, it was warm (but not roasting!), the flowers were blooming and most importantly for the Featherstones, we almost had the beaches to ourselves. 

Gozo is one of the Maltese Islands, little dots in the Mediterranean between Italy and Libya...
Here's why you should visit this Spring: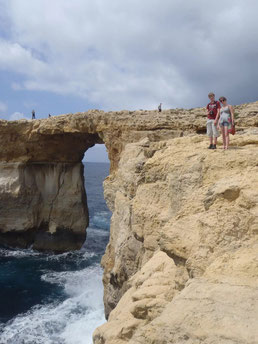 1. Crazy rock formations
For dramatic, weathered limestone sculptures head to San Lawrenz- here you'll find Dwejra Bay, the famous Azure Window, Blue Hole, Inland Sea and Fungus Rock...
The flat top of the 60 meter high lump at the entrance to Dwejra Bay, Fungus Rock, is covered something known as Malta Fungus. It's a kind of parasitic flowering plant and apparently has a repulsive smell. Doctors at the time of its discovery around 300 years ago, believed that it had medicinal properties and apparently used it as a dressing for wounds and cure for dysentery. Funnily enough I didn't see any on sale.
According to Wikipedia, Grand Master Pinto valued this fungus so much that he decreed Fungus Rock out of bounds in 1746- trespassers risked a three-year stint as oarsmen in the Knights' galleys. As a precautionary measure, he ordered the sides smoothed to remove handholds, posted a permanent guard there and even built a precarious cable-car basket from the rock to the mainland. I would have loved to see that!
It's not just around San Lawrenz that you'll find crazy cliffs- explore the coastline and find your own spot to dangle your legs over the water.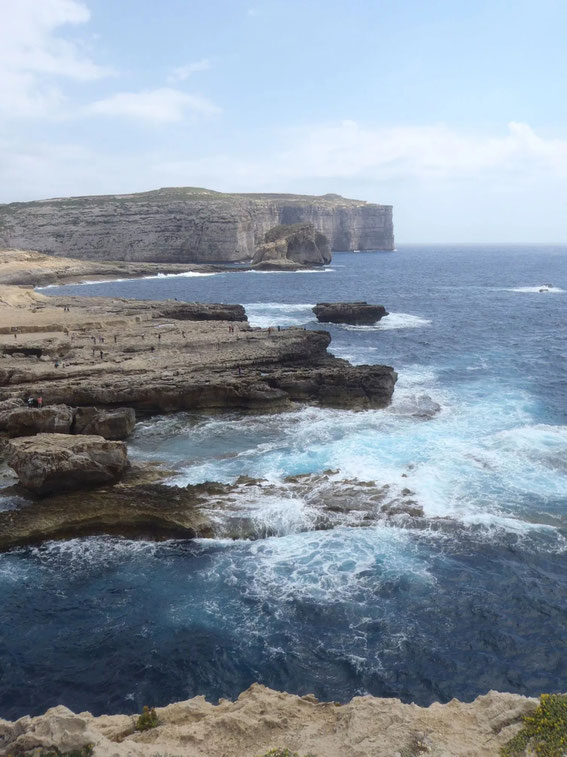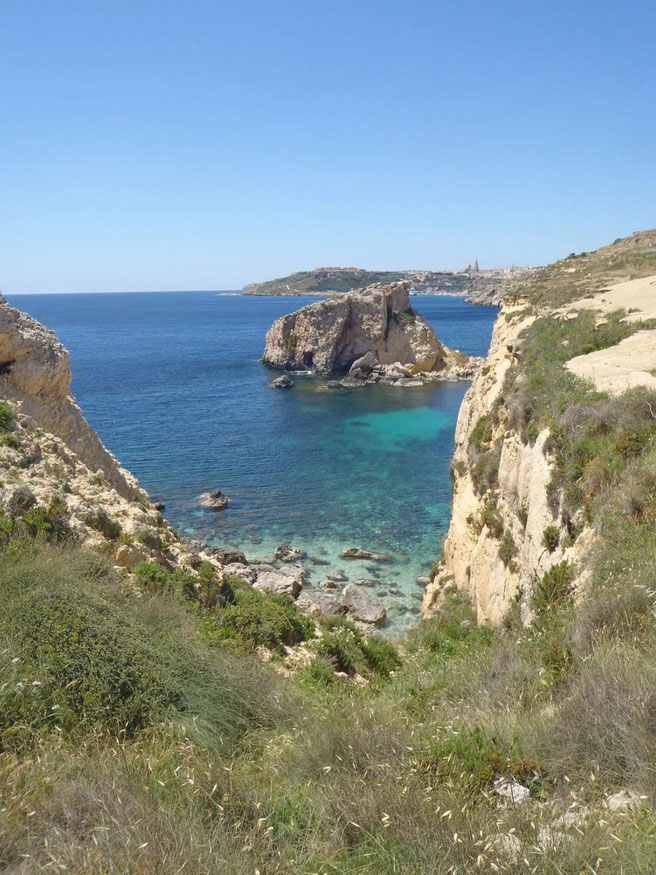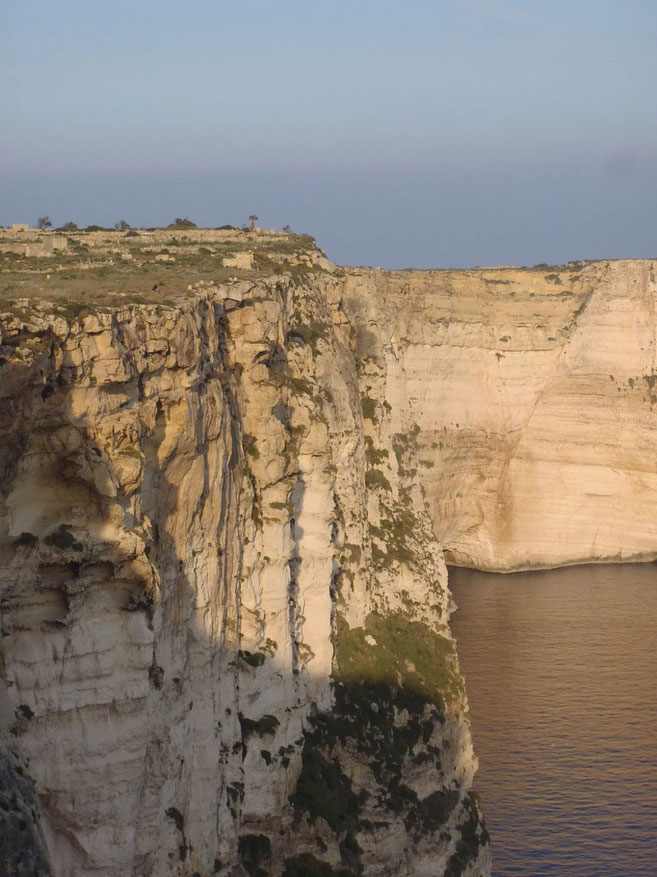 2. Fossils
Despite growing up on England's "Jurassic Coast", I've never seen so many fossils!
The geology of Gozo is largely formed of limestone sea beds built up from sediment over 25 million years ago- the fossils of hundreds of sea creatures are easily spotted on the exposed rock around Dwejra Bay and the Azure Window.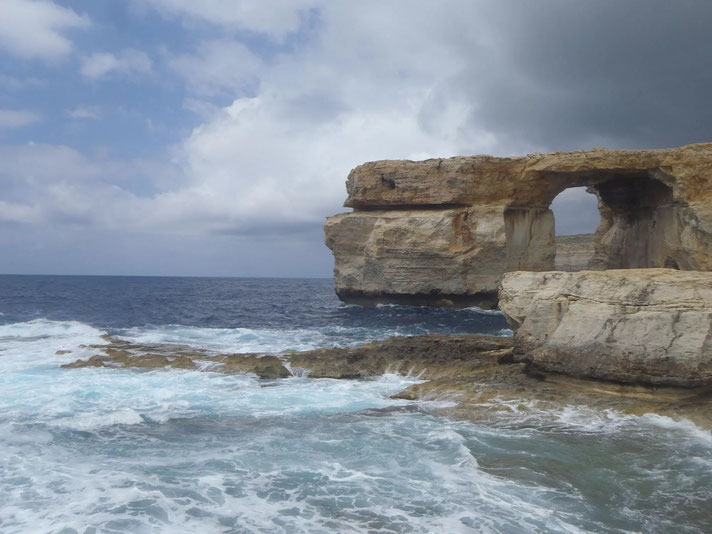 Even when the sea is rough around the Azure Window, the Inland Sea is calm enough to paddle about. If you're a decent swimmer you can go right inside the cave and feel the swell coming through the channel. With a few concrete beach huts and a flock of tourists it's not as picturesque as it could be, but sheltered from the elements and a nice spot to relax.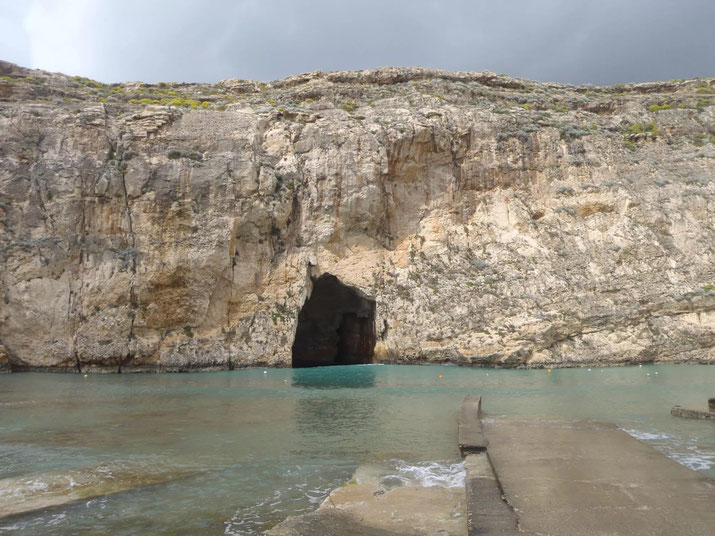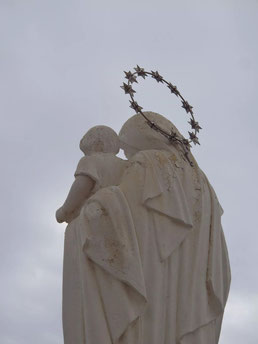 4. Architecture
Gozo is mostly rural, but the capital Victoria (Rabat to locals) and other sleepy villages such as the unpronounceable Xaghra, Nadur and Xewkija boast impressive churches and solid limestone architecture. 
The hilly island creates a perfect setting for rambling streets and quirky corners. From the Citadel walls in Victoria you can see views of the whole island on a clear day.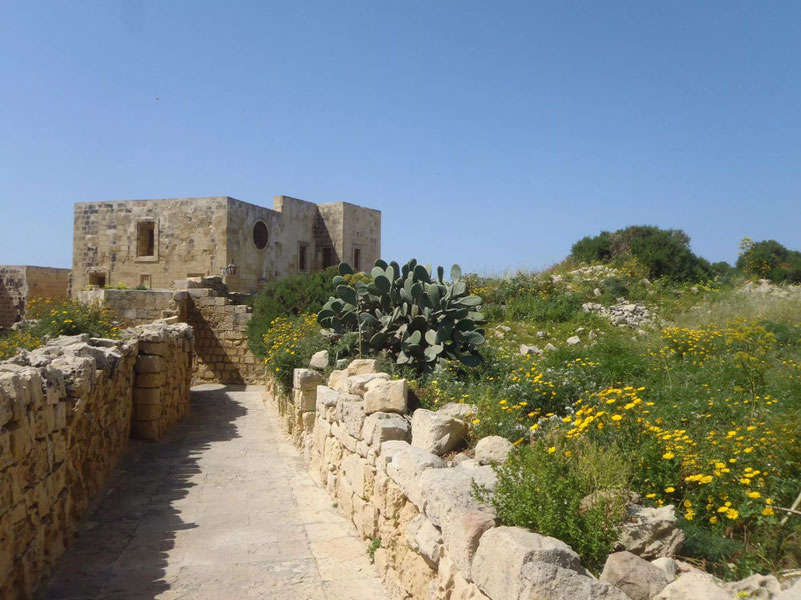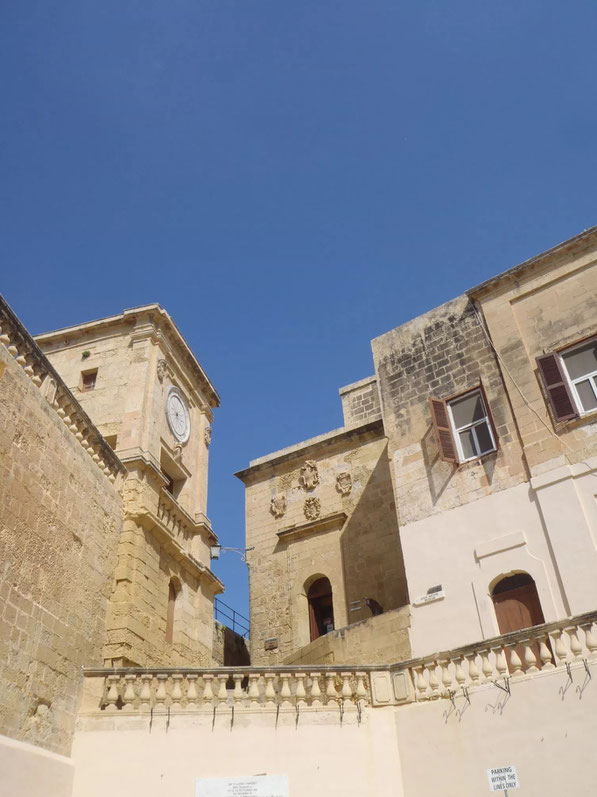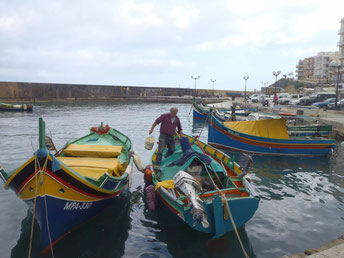 5. Colourfully decorated boats
A luzzu is the name for these traditional fishing boats.
The colourful design, with eyes to protect fishermen at sea, is iconic of the Maltese islands. It's thought to have existed in some form since ancient times.
The fishing villages of Xlendi and Marsalforn are good places for boat enthusiasts.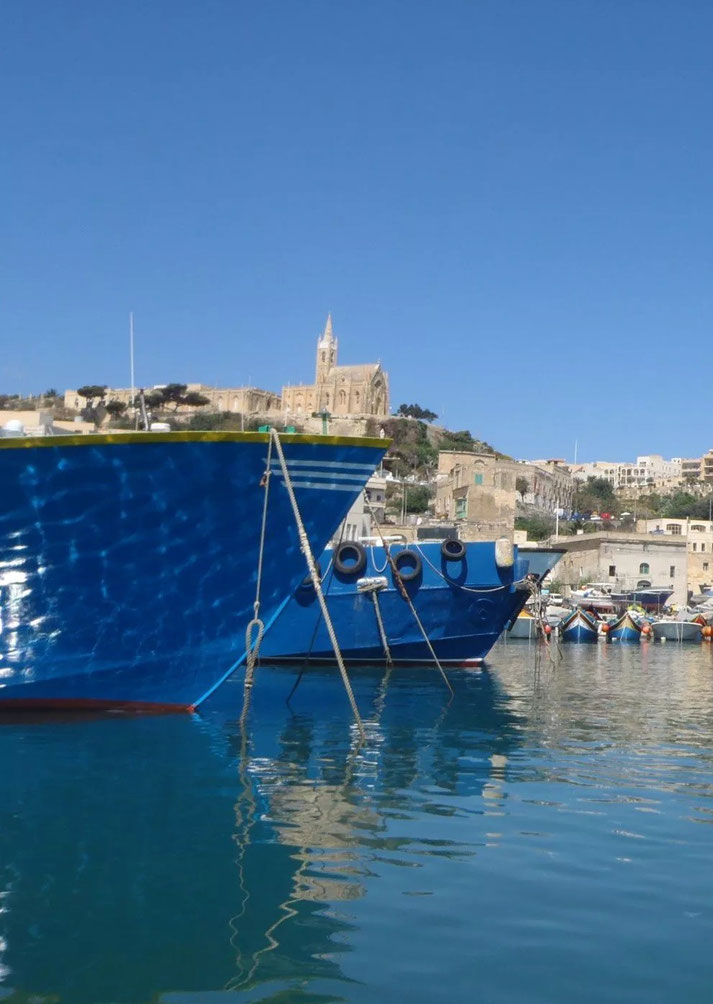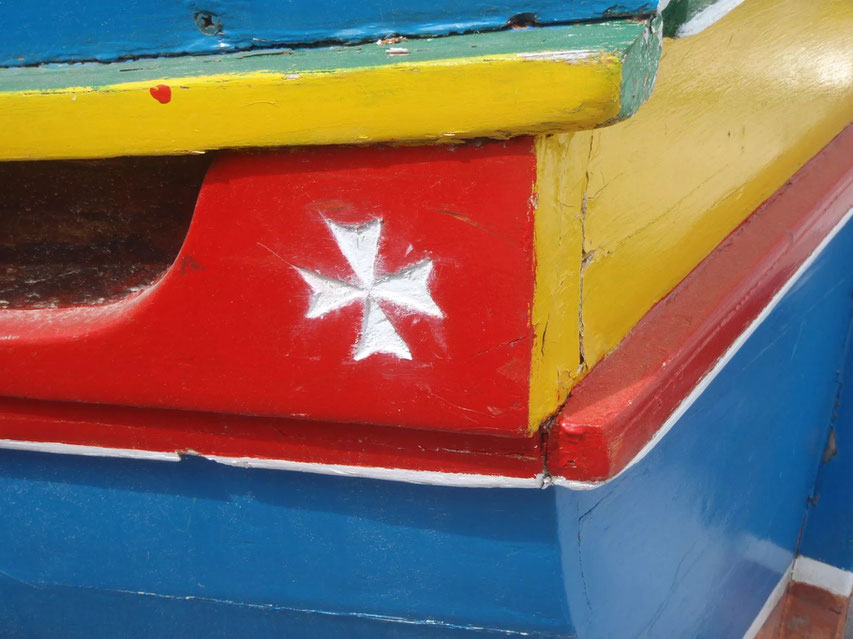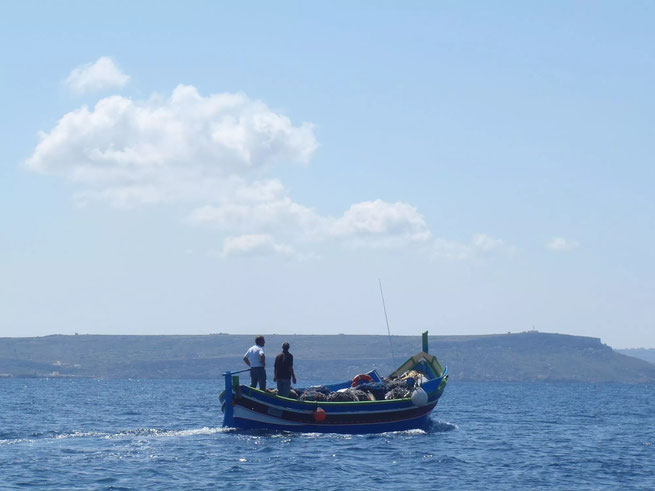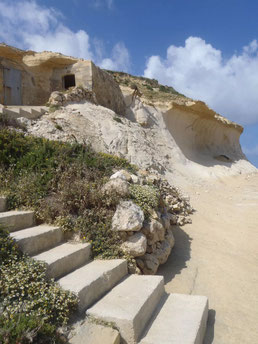 6. Salt Pans
These 350-year-old salt pans create a surreal fringe for the crashing waves along almost three kilometers of the Northern coastline. 
Locals still scrape the salt before storing and processing it in caves that have been carved into the rock. If there is anyone about, you can even buy some to take home.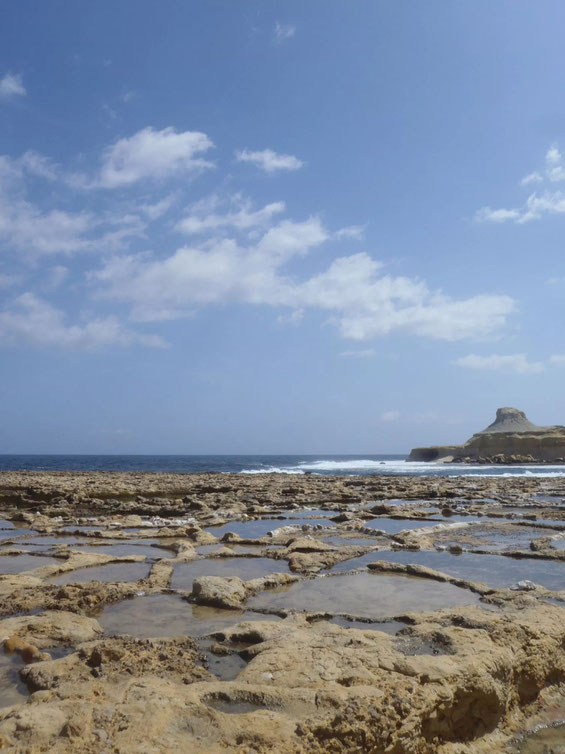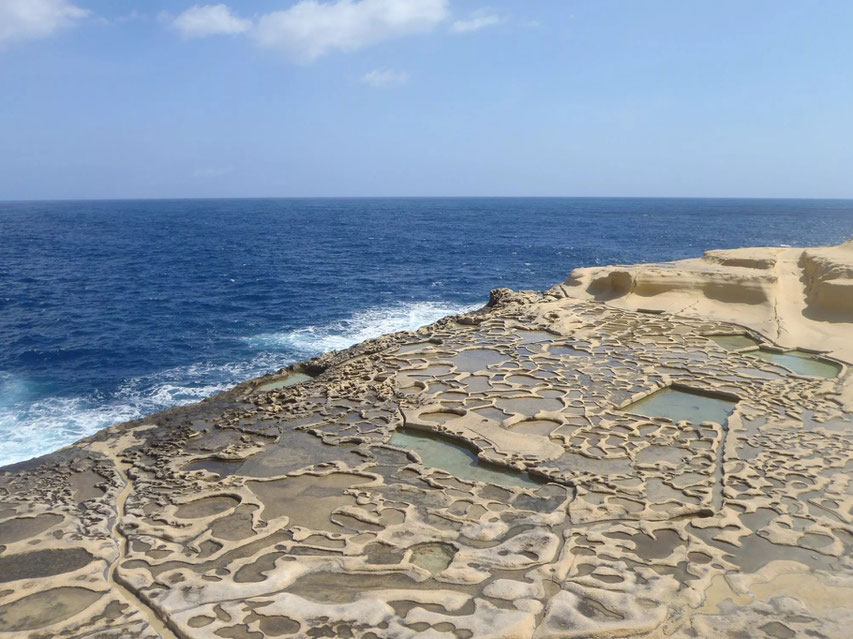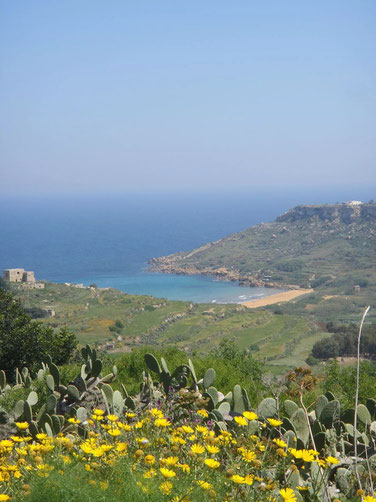 7. Nearly deserted beaches
Ramla Bay is the biggest, most popular of Gozo's beaches and apparently gets quite crowded in the Summer. In Spring we only had to share it with a couple of other families. The rocks around the sides of the bay are a good place to snorkel, find some sea creatures and enjoy the amazing water visibility. 
A sandy path on the eastern hillside leads up to Calypso Cave. This is apparently the same cave Homer mentioned in The Odyssey where Calypso, the nymph, kept Odysseus as a prisoner of love for seven years. Although Calypso promised him immortality to stay with her, he escaped and returned to his wife Penelope. It's relatively unimpressive these days and you'll need a torch, but I like the story.
San Blas Bay (below) is more secluded and just as pretty.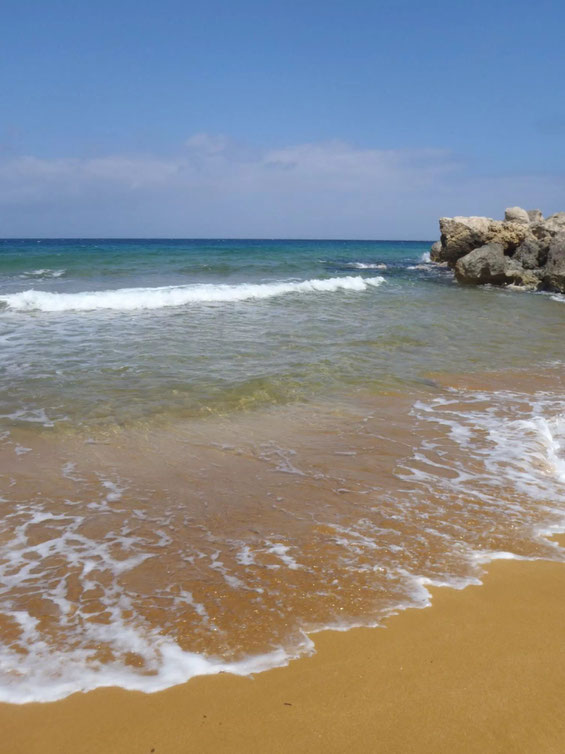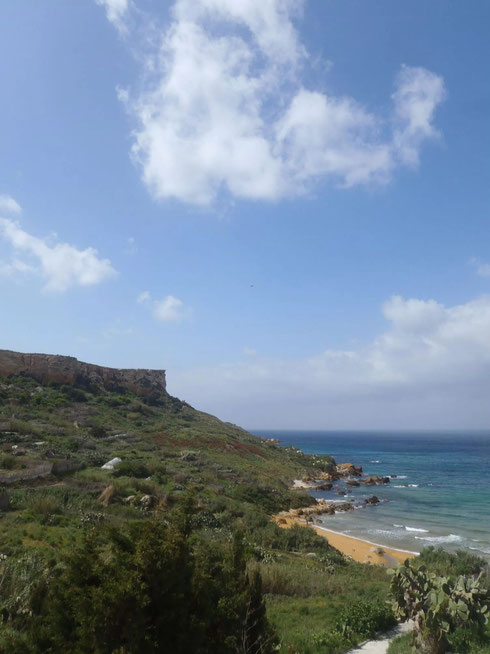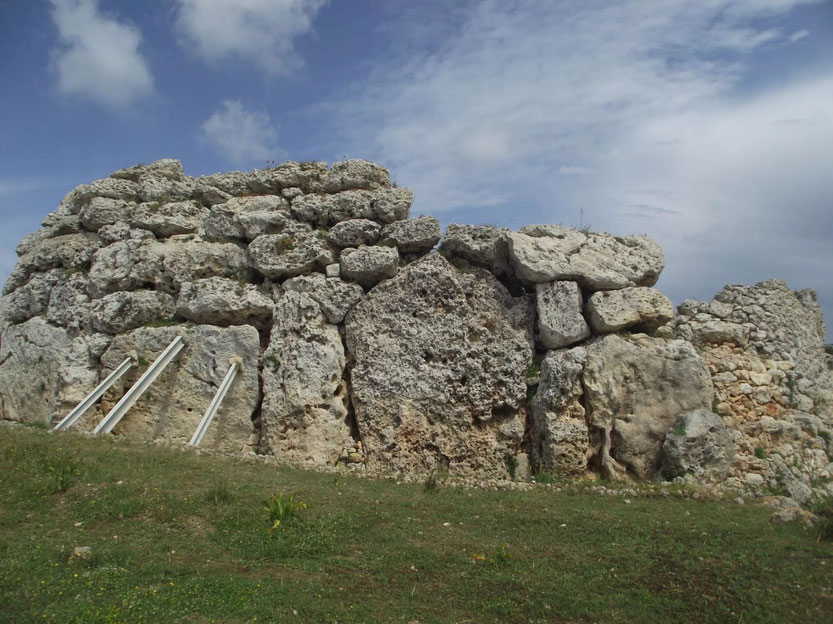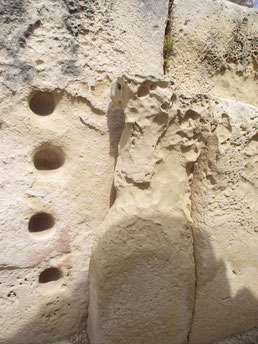 8. Ġgantija Temples
The Ġgantija temples (near the little town of Xaghra) are the earliest of a series of megalithic* temples in Malta. They were erected during the Neolithic Age (c. 3600-2500 BC), which impressively makes them world's second oldest man-made religious structure.** 
Archaeologists suggest that the temples, figurines and statues found at the site might point towards it being the site of an ancient Fertility cult.
The local myth is a little more flamboyant. The story describes a giantess who ate nothing but broad beans and honey. She had a child with a human man and then, with the child hanging from her shoulder, built these temples as places of worship.
*A megalith is a large stone that has been used to construct a structure or monument, either alone or together with other stones. The word "megalithic" describes structures made of such large stones, utilizing an interlocking system without the use of mortar or concrete, as well as representing periods of prehistory characterised by such constructions.
**The oldest is Göbekli Tepe in Turkey.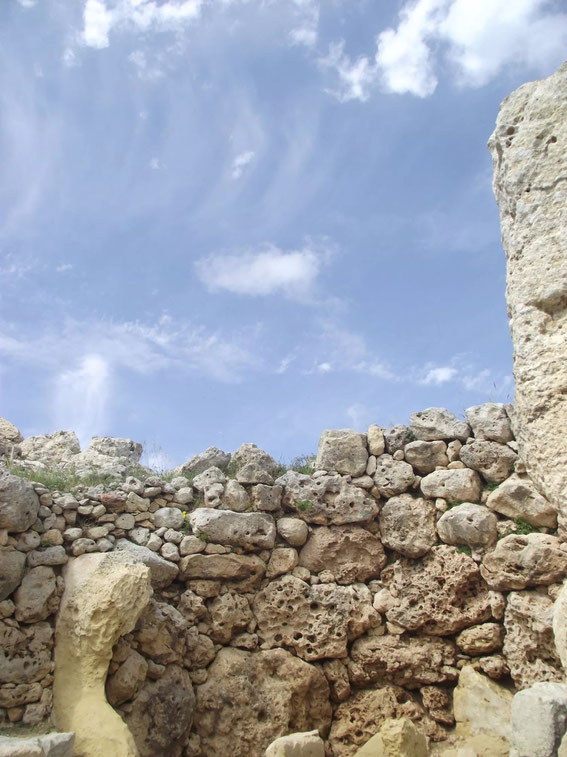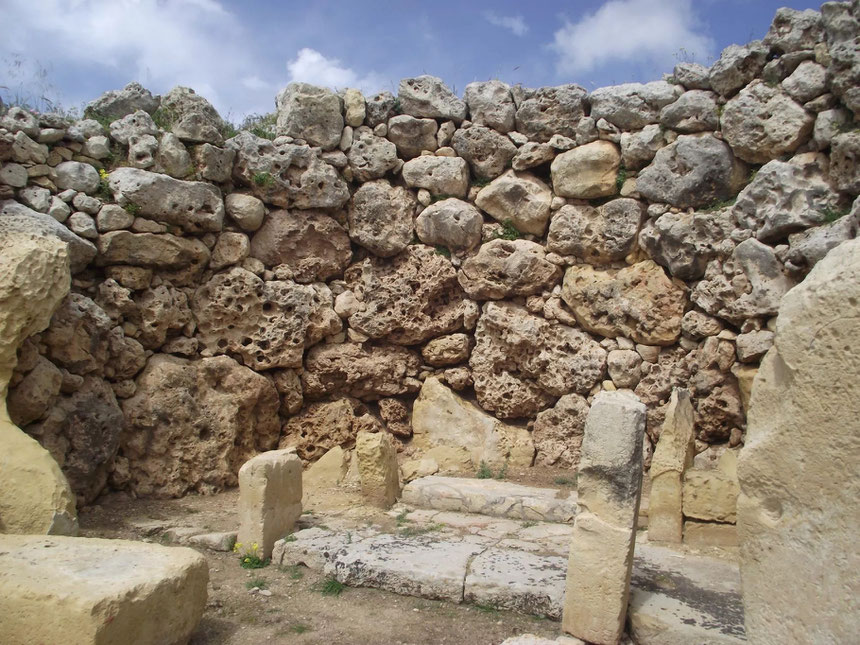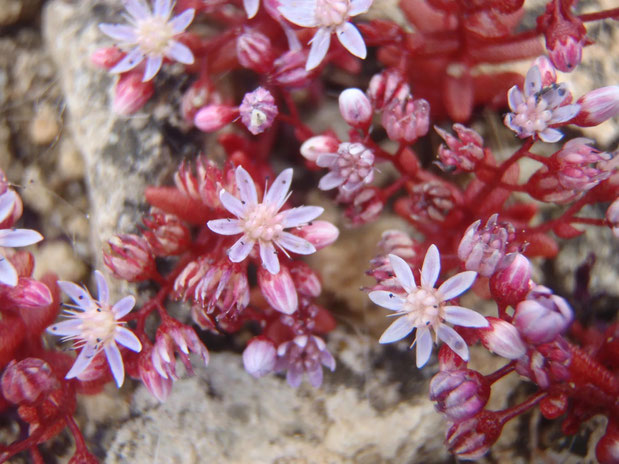 9. Wild flowers
This is why you need to visit in Spring...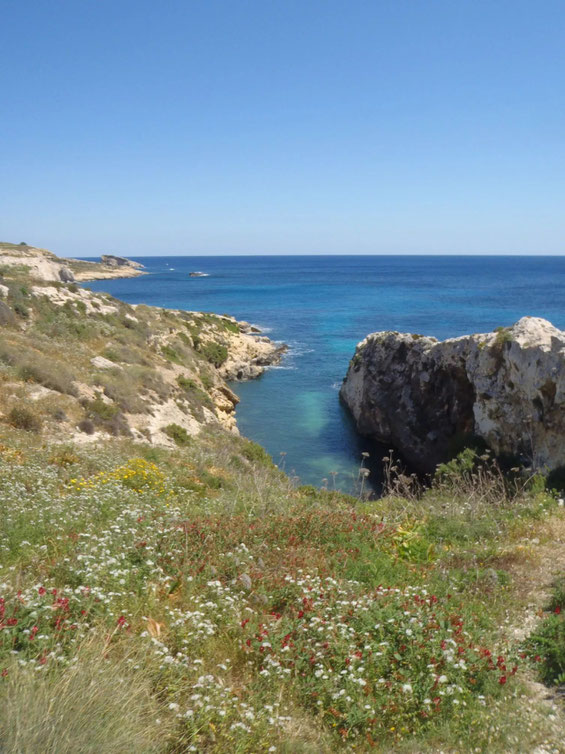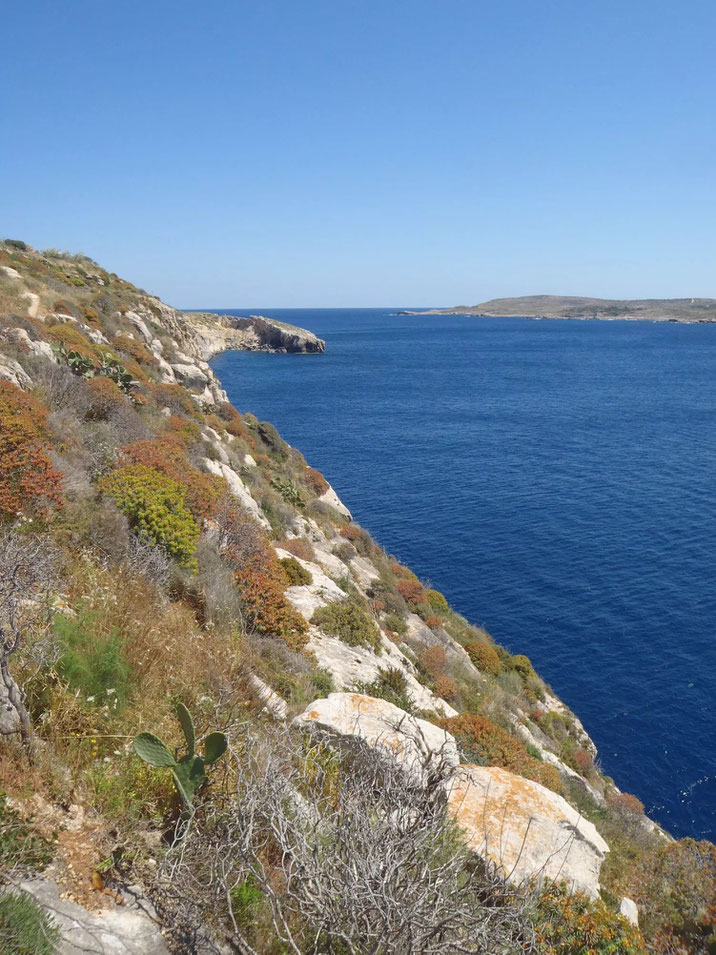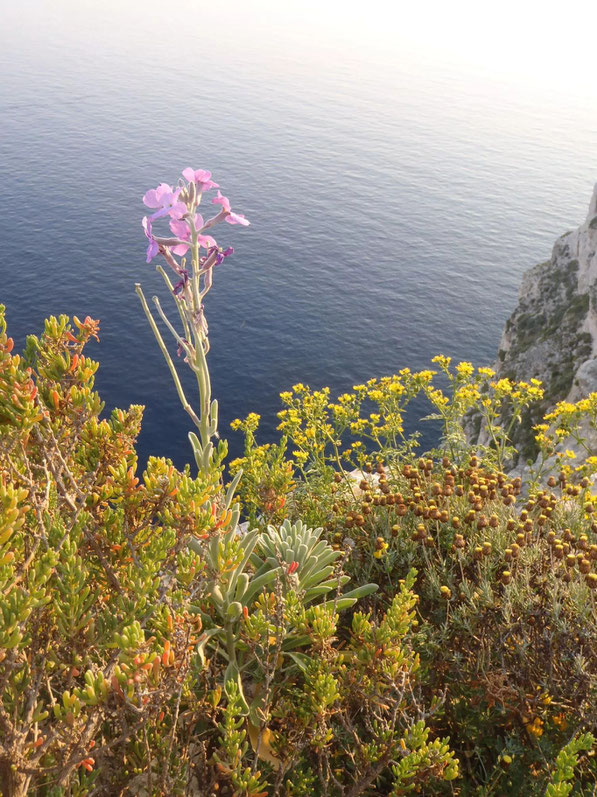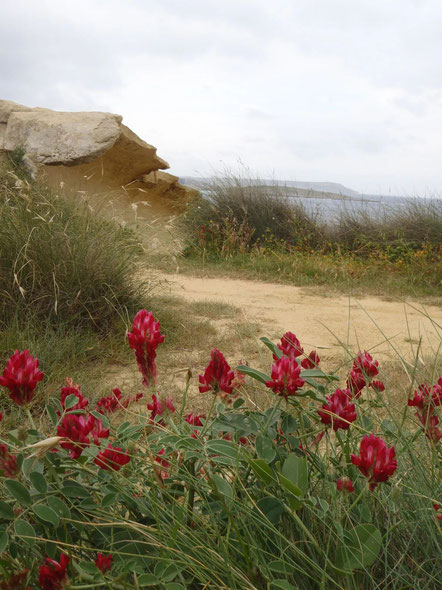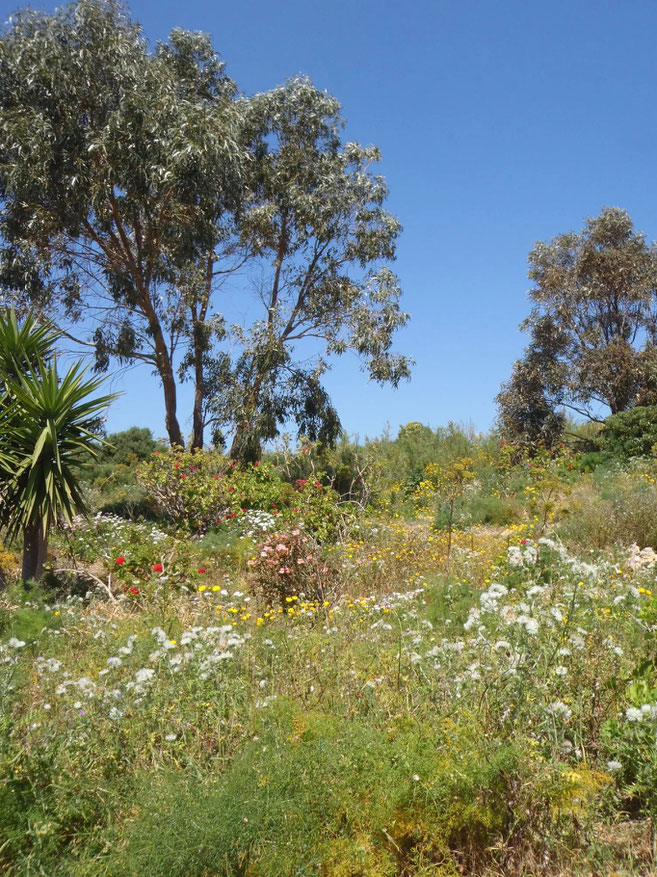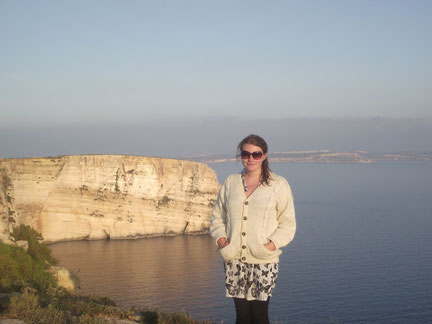 10. Local handicrafts
Have a look for locally made lace, silver jewelry and over-sized knitted jumpers like this lovely woolen cardigan of mine... 
11. Dazzelingly clear water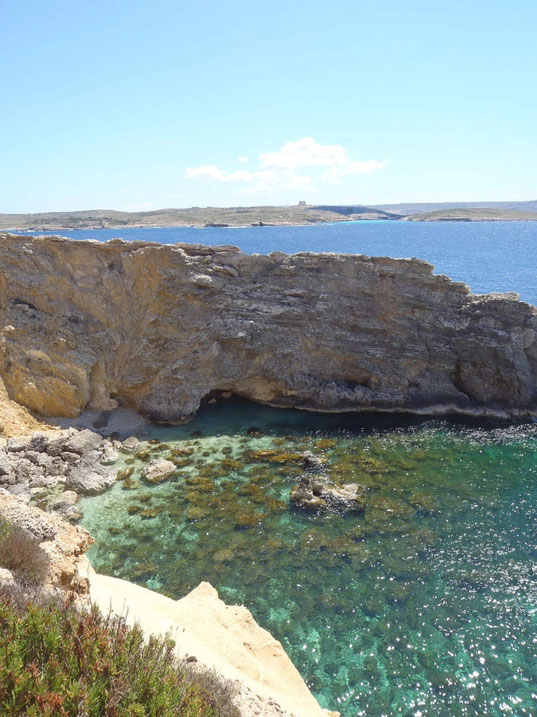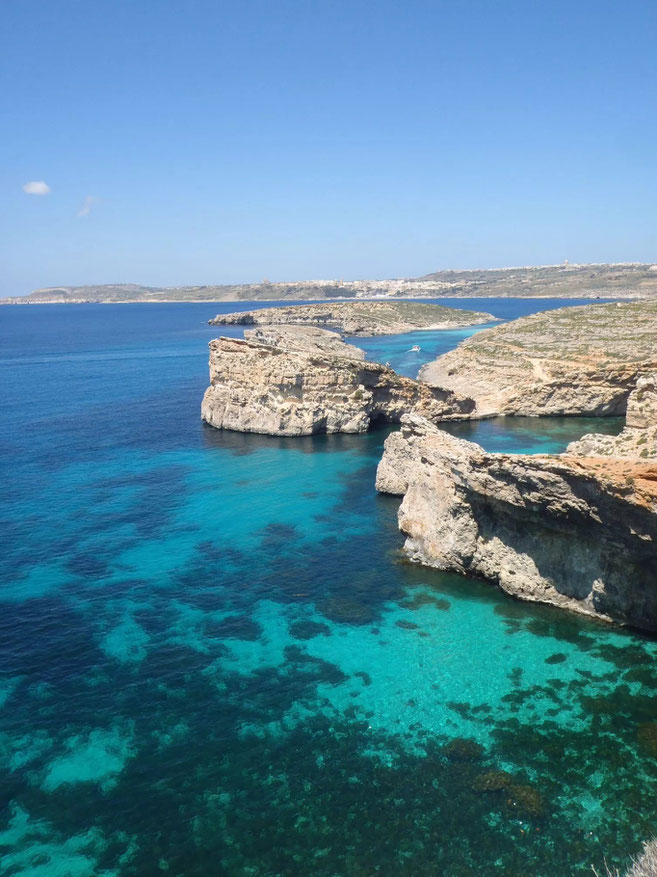 It's possible to see most of Comino in a day trip. Boats leave from Mgarr on the Eastern side of Gozo and you can walk around the little island yourself. The Blue Lagoon below is a beautiful place for swimming and snorkelling around the rocks. It's popular though, so you may like to discover your own little spot elsewhere. The jagged limestone blocks, caves and cliffs surrounded by crystal clear water make Comino even more stunning than Gozo in my opinion.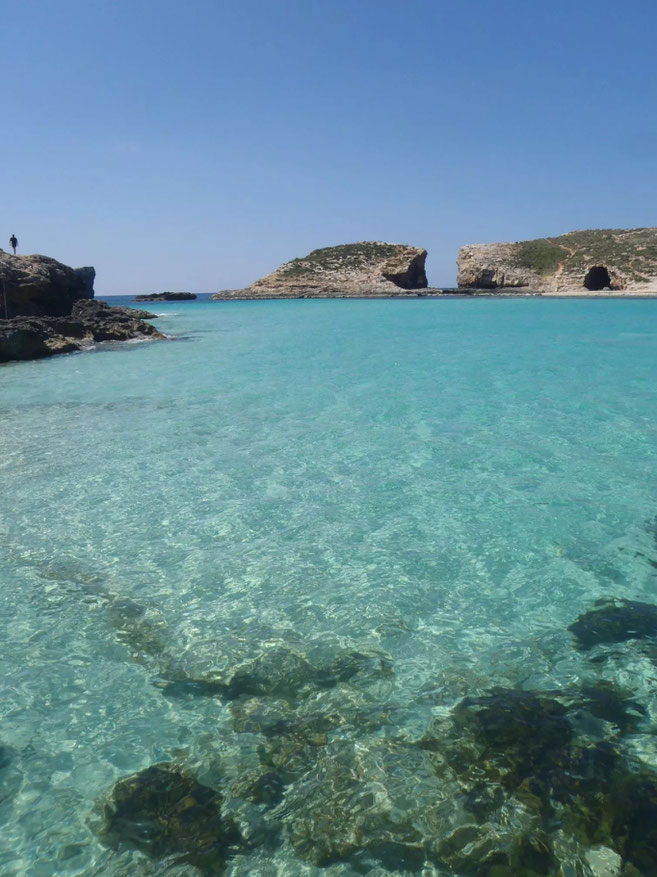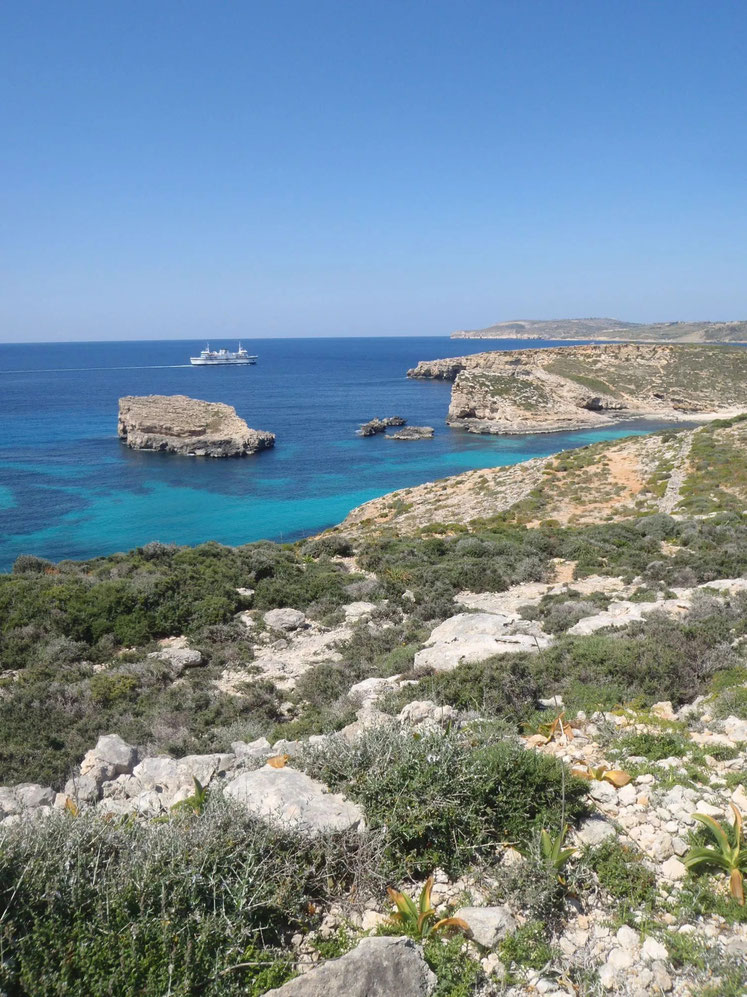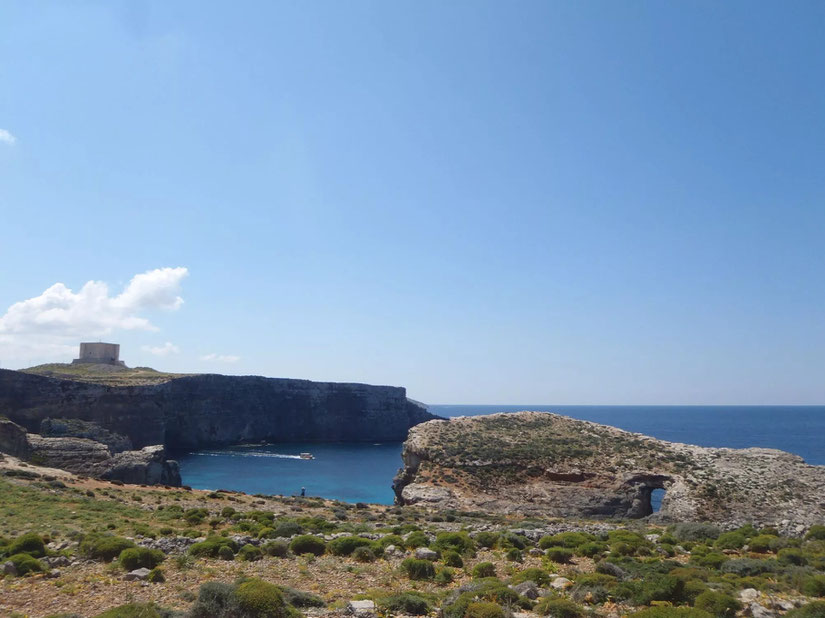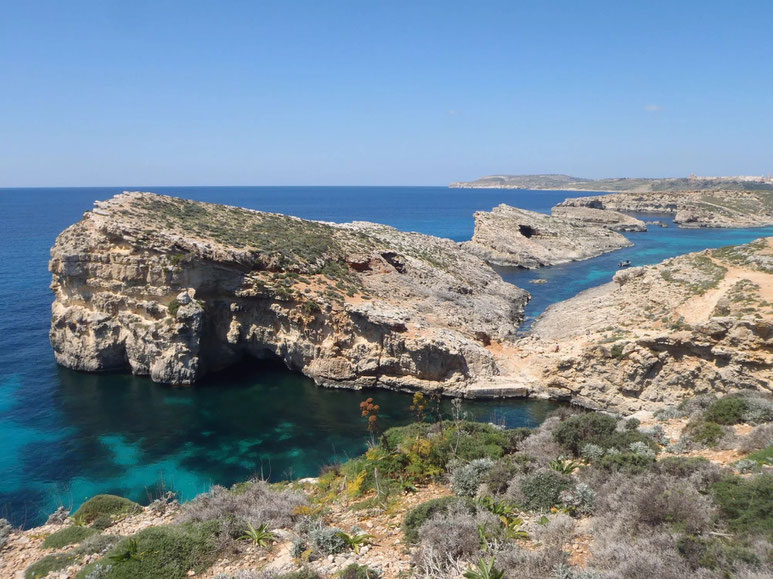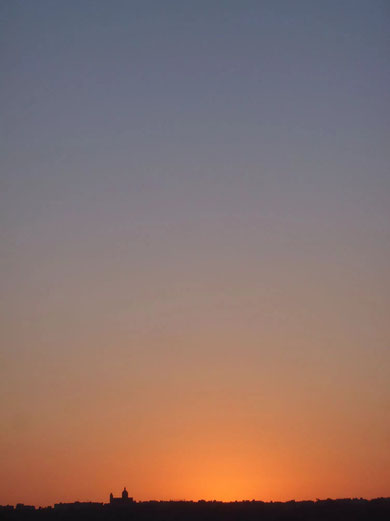 13. Sunsets
With a 360 degree coastline you'd be hard pushed to find a spot that wasn't perfect to see the sun either rise or sink down into the sea. 
---------------------------------------
I travelled to Gozo with my family and therefore had the luxuries of accommodation, food and travel organised for me. Wow. If I were to travel there alone I'd try and find camp-sites and either hitch-hike, catch buses or cycle to get around. There's plenty of great hiking opportunities and it would be a wonderful place for kayaking.