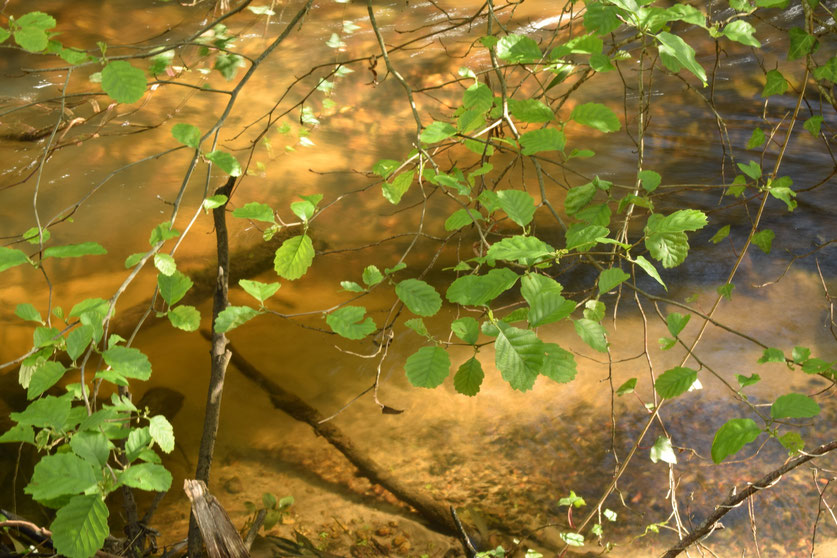 This is a bitty sort of story, partially filled with a combination of places I didn't really like that much and their best bits. I saw the biggest waves of my life, nearly fell to my death off a Roman aqueduct and got eaten alive by mosquitoes. Enjoy...

After the best part of a week, the rain descended on Sagres and we fled up the coast. There are many more dramatic cliffs and windswept beaches past Bordeira and further north, but we didn't venture out for more than five minutes at a time, my hair blown horizontal, until the sun came out two days later. In the interim, we slept on the cliffs beside Monte Clérigo; I hadn't felt so buffeted since being in a storm under canvas and cooking was more or less impossible. 
Moorish ruins
Past Vila Nova de Milfontes it finally cleared. Drinking up the sunshine despite the persistent wind, I walked along the deserted Malhão appreciating the bitter/sweet magic of breaking the perfection with my footprints. It wasn't quite perfect anyway; the Atlantic had spat out a tide-line of debris, anything from fishing pots and bottles to tiny scraps of plastic that shone like jewels until I looked closer.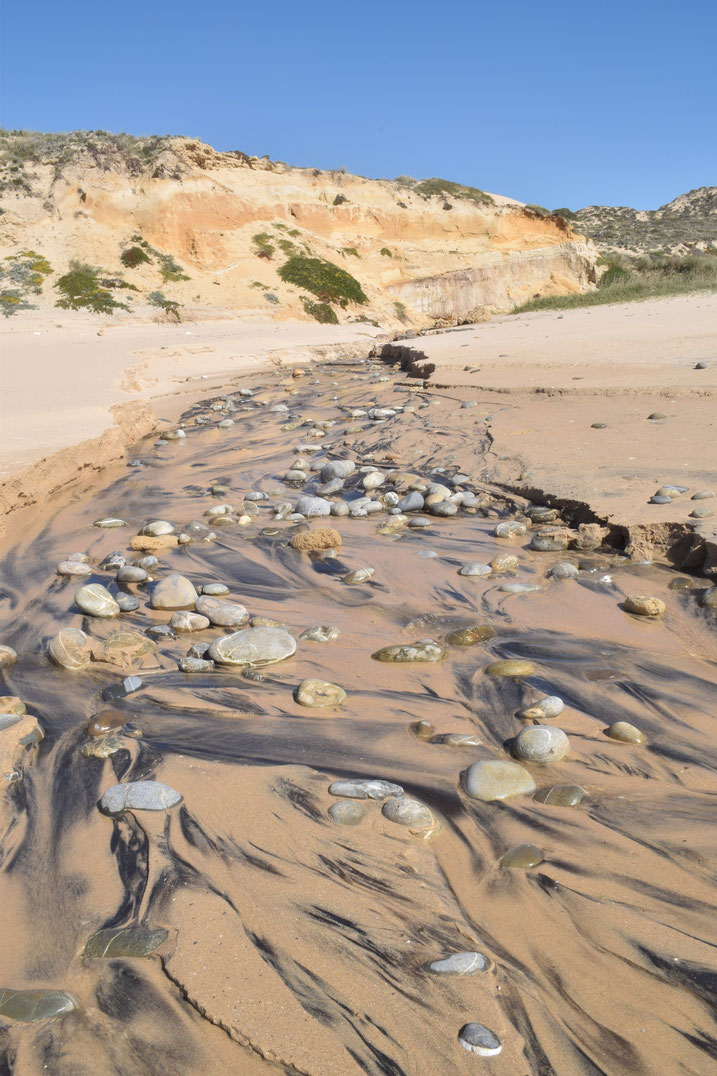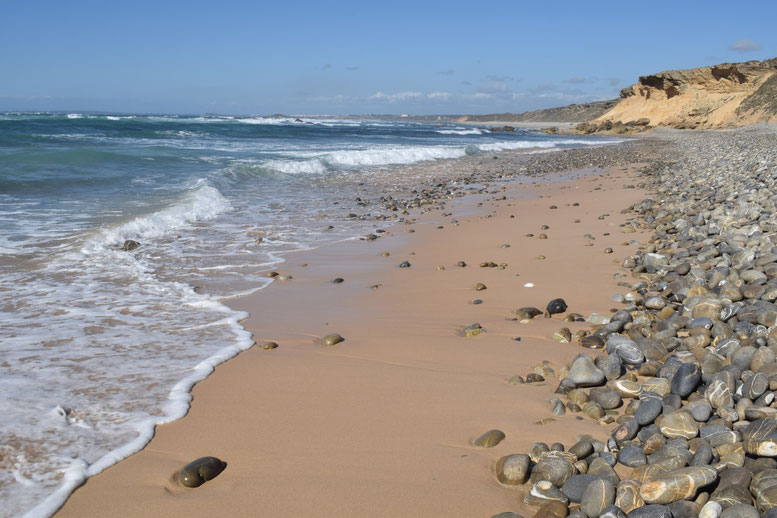 As we had travelled north, the coastline had changed from rocky cliffs to living sand dunes, which now, shifting as they are prone to, threatening to envelope our sandy exit route. We escaped while the rain held off, in case it turned to slush. 
Even further north, but similarly deep with sand, the deserted track between Costa de Santo Andre and Sismarias, along Praia da Vigia, proved to be another isolated place to sleep. Quiet in terms of other people, it was nevertheless aroar with elements no matter how hard we tried to shelter amongst the stunted fir trees.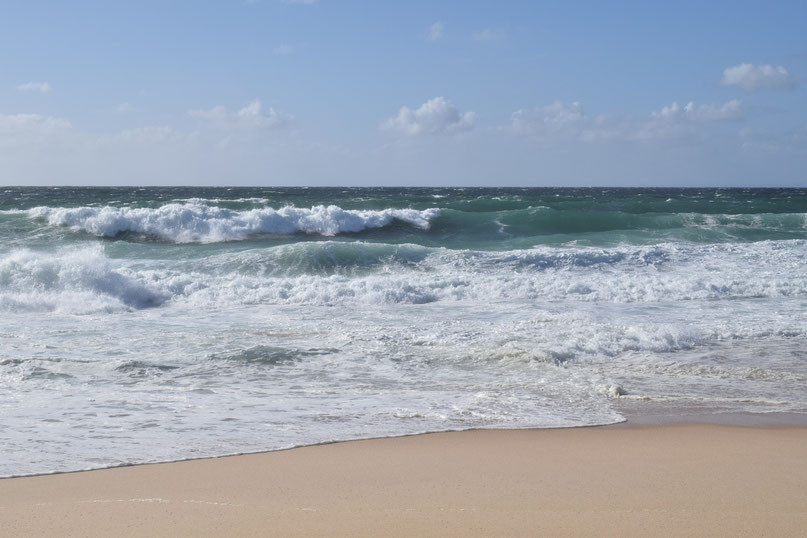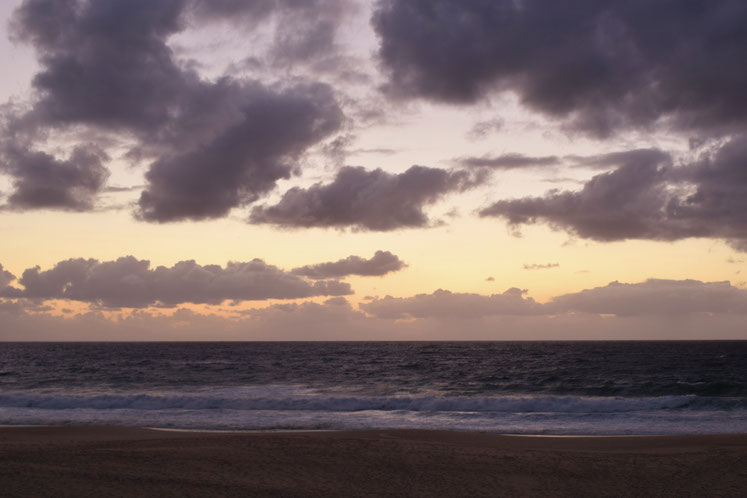 We travelled inland, through endless cork plantations, empty villages and miles of flat horizon. Serra de São Mamede, one thousand meters above sea level, had a severe chill and I shivered in more layers than I'd worn since Switzerland. We slept near the small Barregem da Apartadura, attractive from afar but strewn with used condoms and toilet paper where we parked. In the morning, the mist swept prettily across the water. After a barrage of hailstones the previous night, the sky was now spotlessly blue. I chose an inopportune moment to wash some desperately needed underwear and we were graced with black clouds for the rest of the day, feeling unable to flee until it was at least dry enough not to drip.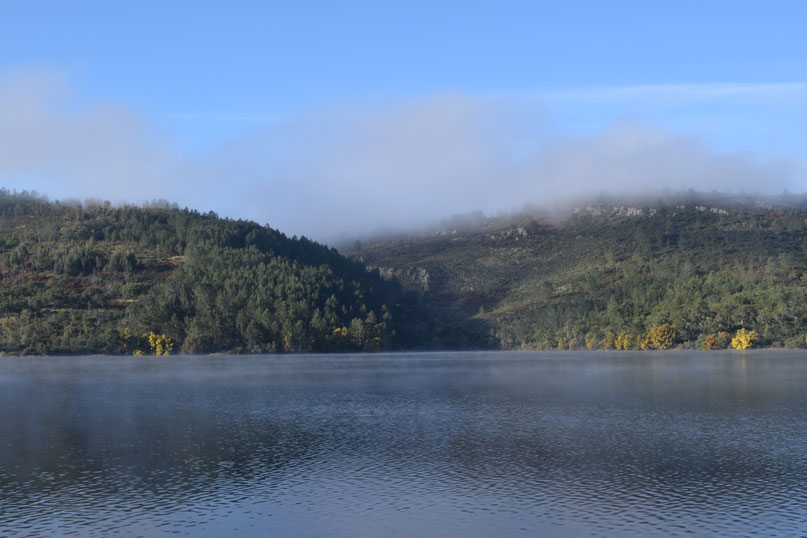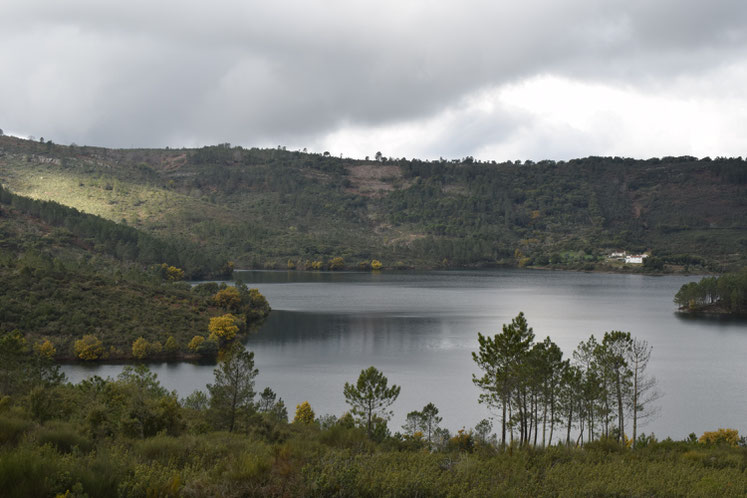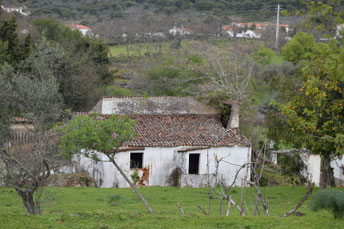 We drove around the small villages of Teixinha, Ribeirinha and Carvalhal, finding nowhere open and few people out in the elements.
The whole area was totally undeveloped; its hills, not really impressive enough to be called mountains, left to scrubby woodland and plains of partially cultivated grassy farmland in between. Outside of the villages, cottages were sporadically dotted across the valleys. Hedges were too closely planted for heavy machinery and many of the buildings were abandoned, orange tiles falling in on themselves and severe cracks tracing through the render. Herds of five or six horned brown cows wore large clocking bells, but they were few and far between. Different to the regulated (and somewhat oppressive) preservation of the Spanish Sierras, Serra de São Mamede had an air of neglect, a layer of moss half drowning it.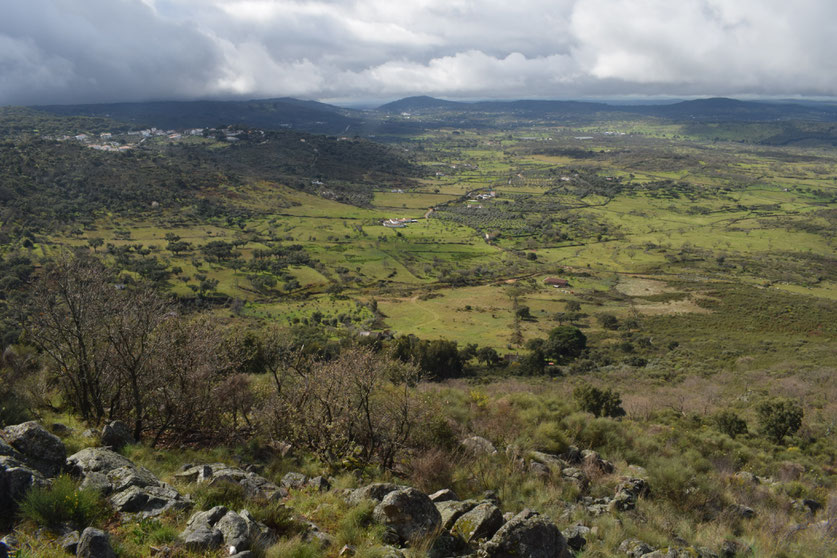 The north of the Serra from Castelo de Vide was more maintained, with the road out towards Alpalhão being particularly scenic; marked walking tracks, wild flowers and large mossy boulders. We were on our way out though.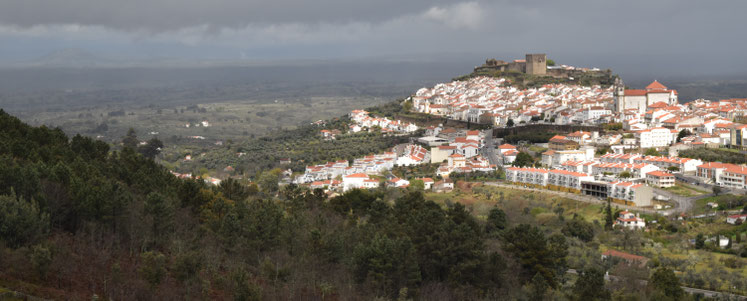 We left and zagged back West again, stopping on the south bank of one of the river Tejo's 
reservoirs, opposite Ortiga. On foot, towards Alamal, we past another derelict house on the banks, growing plants and moss where its roof had once rested. The path soon dwindled to be just wide enough for one at a time and led us through ancient trees, before opening out to high rocky cliffs above.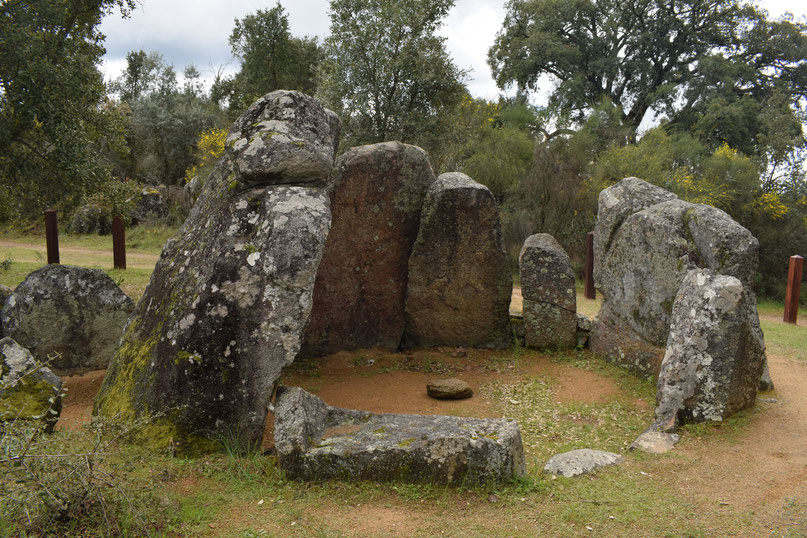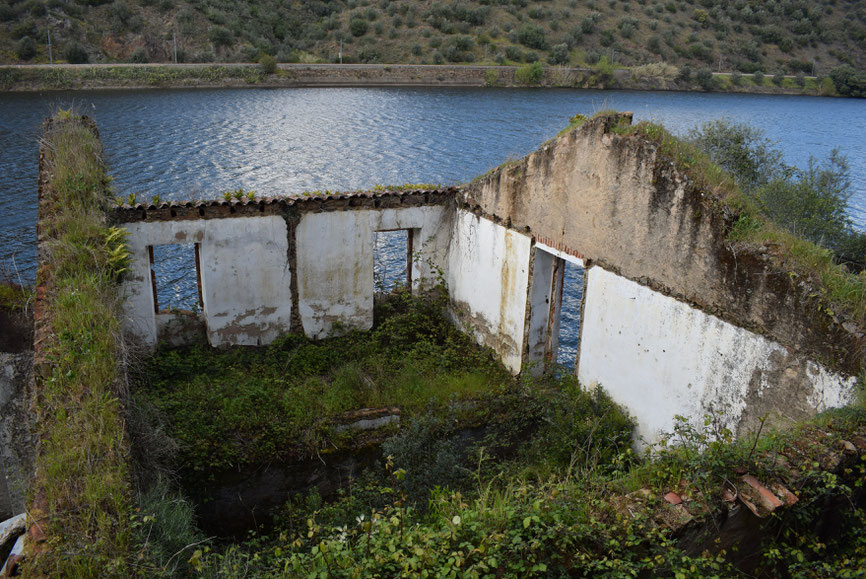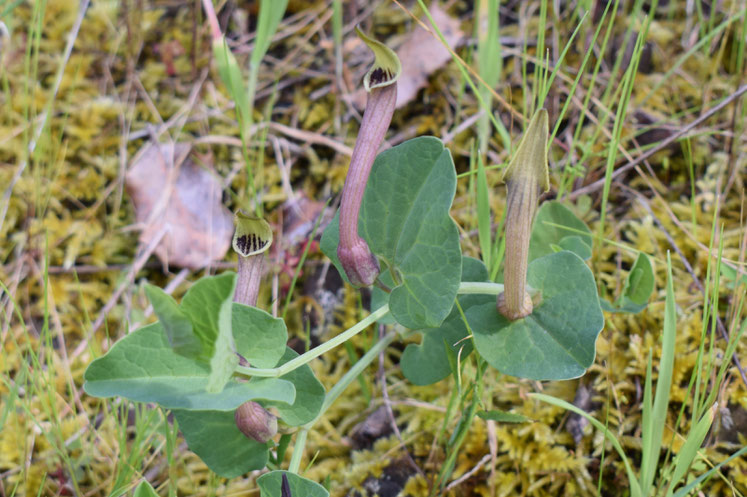 Past Mação, we drove through clouds of heather and yellow flowers amongst a forest of eucalyptus; signs of a huge fire north of Sardoal. In Tomar, I scuttled along the top of the seventeenth century Acueducto de los Pegões, enthusiastically marvelling at the lack of barriers, until one of my laces got caught on the other boot's hook and I went flying towards near certain death, only breaking my fall by sheer luck of an automatic arm grappling with the stone on my left. My elbow and camera were grazed, but I was thankful to still be on top rather than a splat below or comical figure dangling from my finger tips. If you are careful then I can recommend the view.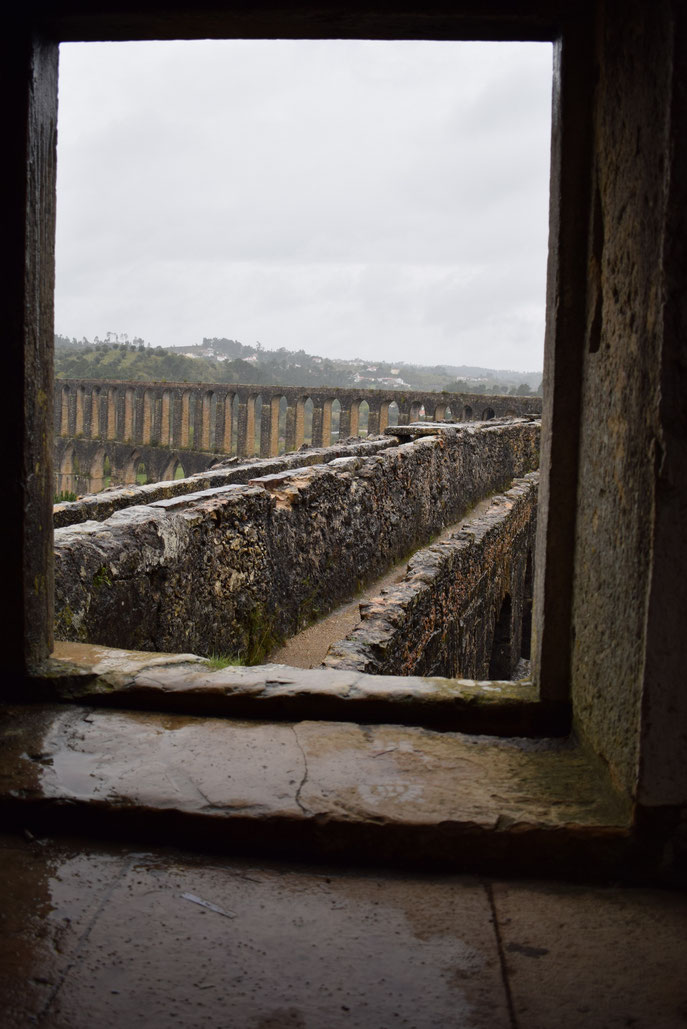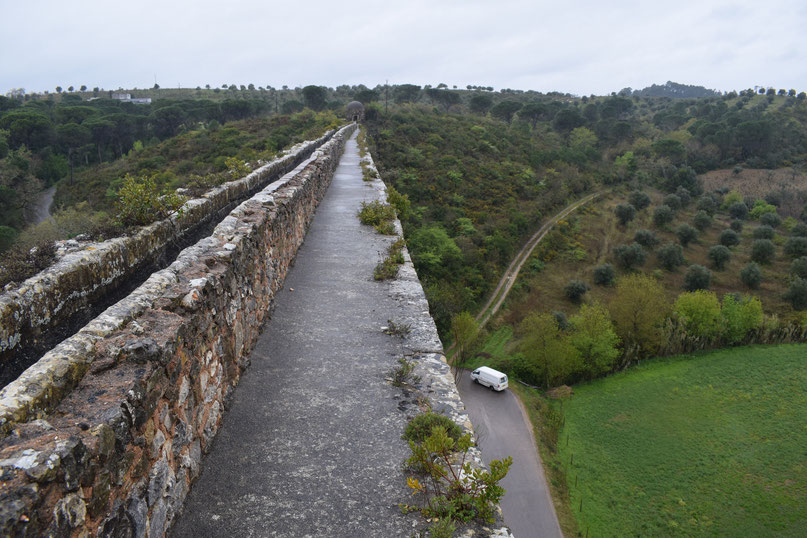 Dan, who sometimes has to be shoe-horned out of the van in dubious weather, stood outside in the torrential rain, down on the beach or up on the cliffs around Nazaré, seemingly indifferent to anything other than the waves (some of the largest in the world in the right conditions). 
Over the few days we stayed in Nazaré, exploring the coastline as far south as São Martinho do Porto and the forest of huge eucalyptus trees to the north, the weather steadily improved and the surf got exponentially larger.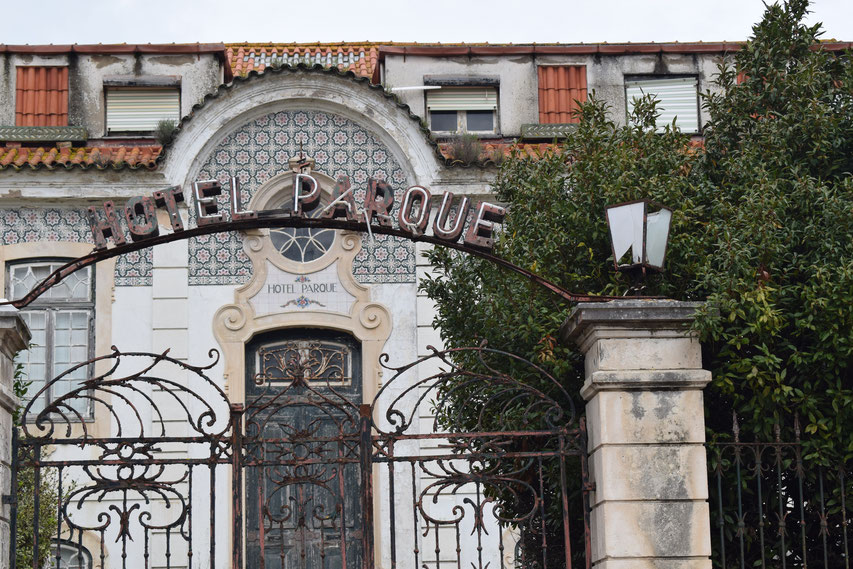 Sleeping in the van around Nazaré...
The forest was perfect and peaceful, apart from soup of mosquitoes and tiny biting flies which descended in the evening - I don't think sleeping is really allowed though. Praia da Légua was also quiet, but after I noticed a man "pleasuring himself" from the top of the wooden steps as I waded into the sea, I didn't much fancy staying there again. Further south, Salgado was peaceful and housed a few camper-vans, but a friendly little lady offering us her "more secure" field for five euros a night shamed us into fleeing elsewhere. The cliffs over Praia do Norte are an obvious choice, but though there were a good few other vans staying there, I didn't sleep well so close to the town. 
Picturesque in a way, I didn't take to Nazaré itself. Traditional clothing worn as a mark of authenticity by people selling tourist goodies to the throngs with their selfie sticks, leave a strange taint on my impression of anywhere and the sight of those women wearing their colourful woven skirts and accessories in the rain made me a little miserable- I hadn't seen these outfits anywhere rural. The buildings, either sparkling newly painted concrete or traditional materials crumbling to the ground, "Se Vende" and a phone number scrawled in spray-paint on one wall, also made me wonder if foreign money had forced out many of the original locals.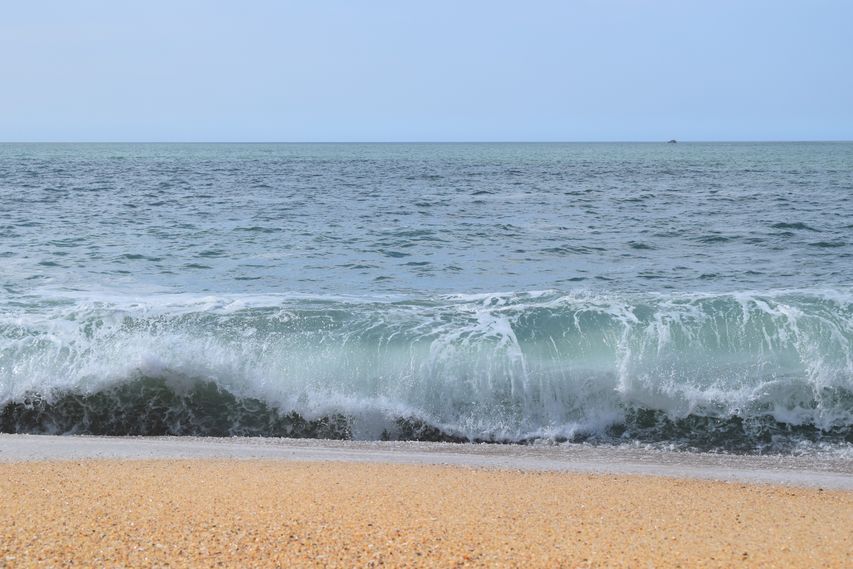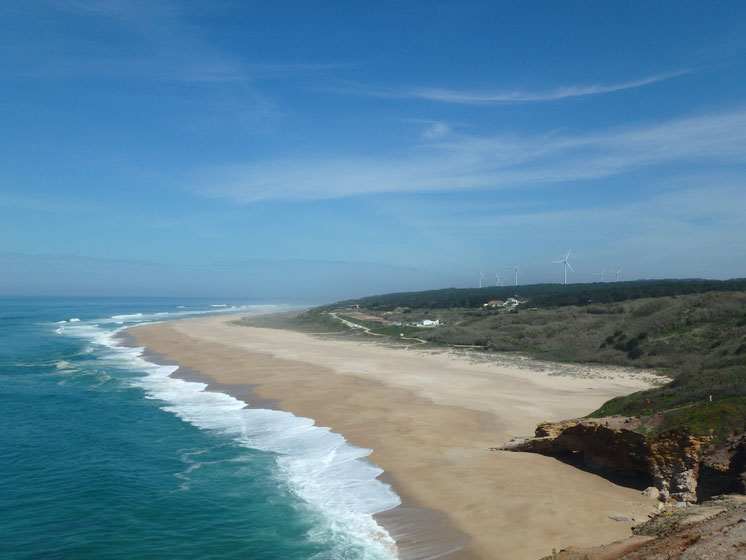 We watched novice para-gliders (a disturbing concept) struggling to lift off the ground, popping up and down like string puppets operated by malevolent children. They took comically giant steps, being dragged up a nearby hill, leaping off and flying for thirty seconds before crashing sideways into the ground. Others simply erected their gliders and stepped into the air, before gracefully floating fifty meters above the waves.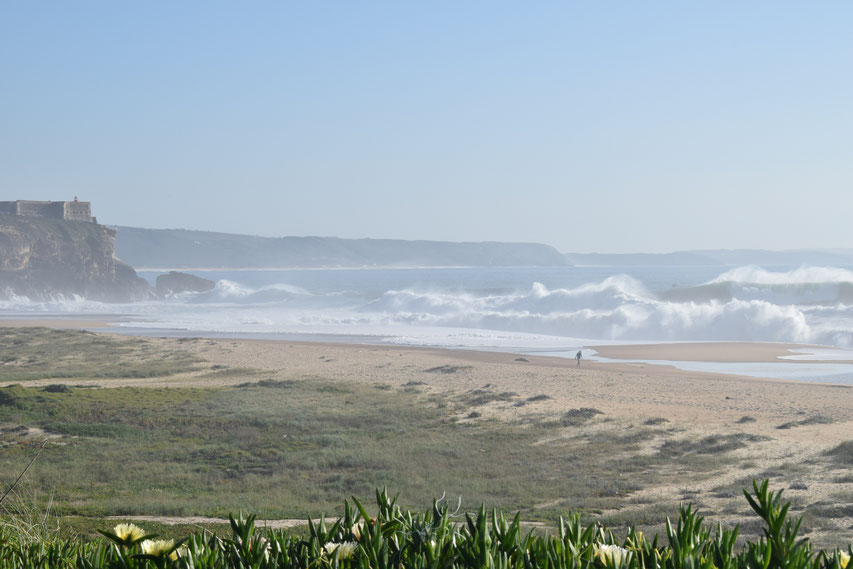 On the third day, the waves were the biggest I'd ever seen. Crashing straight in from the Atlantic, we watched a couple of incredible surfer/jet ski pairs dodging in and narrowly missing being mushed - one unfortunate/lucky man lost in the froth as his jet-ski rider darted precariously near the rocks, looking for him before he washed up on the shore and had to be abandoned. We watched as several enthusiastic photographers got swamped on the beach when an unexpected swell came twenty meters further inland than expected. It swallowed their stuff and swamped them up to the waists, swilling small dogs around in the froth. That was my favourite part.